Jiuquan
The
Buddhist
gods, meditating in their sequestered shrines which peep out over the cliffs of
Jiuquan
in northwest China's
Gansu Province
, have witnessed the desert change over a millennium. Although this pivotal oasis along the ancient
Silk Road
may appear a small sandpile without any unique characteristics, for the trading and cultural exchanges of the East and the West, this couldn't be further from the truth.
It is a common question for the tour operators like us.
Jiuquan
has been a transportation fortress from the Central Plains to the Western Regions.
Yangguan Pass
is a crucial gateway to ancient Chinese land transportation and the necessary pass of the Silk Road.
The Jade Gate
is an essential military pass and traffic route during the Han Dynasty.
Dunhuang
is one of China's representative business cards, and it contains an incredibly profound cultural background. Dunhuang studies such as study the
Mogao Grottoes
have long been widely discussed internationally as a subject. Among them, the
Echoing Sand Mountain & Crescent Moon Spring
, and
Yardang Landform
are unmissable desert wonders.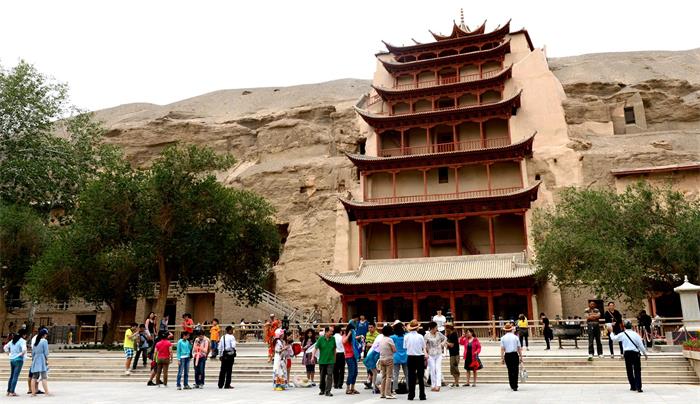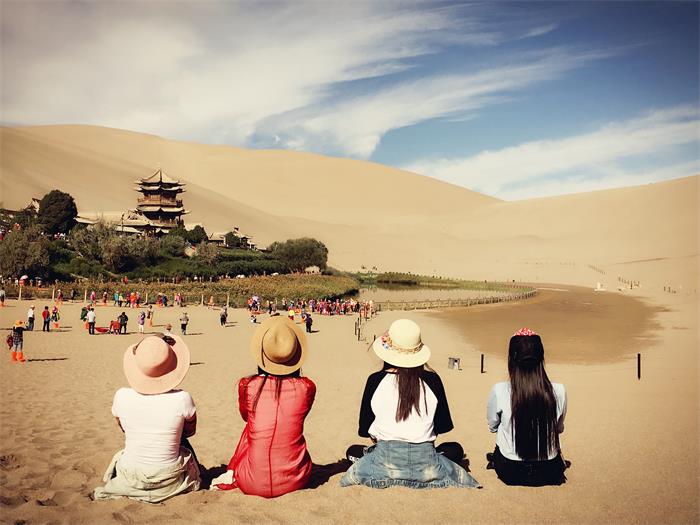 Jiuquan Satellite Launch Center is the earliest and largest integrated missile and satellite launch center and is currently the only operated space launch site in China.

The history of the Jiuquan can be traced back to the legendary era of mythology. The long history and unique geographical location have also created a vibrant, diverse, and profound culture. As early as the long Neolithic age, the ancient Qiang people, known as the "Western Shepherd," created a Fire Burning Valley ( Huoshao Gou ) culture. Later, the nomadic people galloping on the vast grasslands carved their hopes and feelings for life on the rocks, injecting a thick connotation into the rough and bold grassland culture.
The Great Wall of Han and Ming Dynasty, Yangguan Pass,
and
Jade Gate ( Yumenguan Pass )
has added the splendid history record to the majestic Great Wall culture. The ancient caves, including
Mogao Grottoes and Yulin Grottoes
, have represented the art of Jiuquan. The ancient Great Wall and Guanai Ruins represented by Jade Gate, Yangguan,
Han Great Walls
, and other
beacon towers
, etc., all trace the old style have shown the variety of the Jiuquan culture.
Climate and Environment of Jiuquan:
Jiuquan is located in the northwest inland, with a vast territory, and the Gobi and desert in the area. It belongs to an arid continental climate, with dry and cold weather, and rare precipitation. It is dry and hot in summer, cold and long in
winter
, and the temperature is different between day and night.
In winter
and
summer
vary widely from 24.7 °C (76.5 °F) in July to −9.3 °C (15 °F) in January.
The best seasons to visit Jiuquan are summer and autumn
, which is to say in May, June, September, or October. At this time, Jiuquan has a comfortable climate, and you can also enjoy the magnificent scenery. Furthermore, there are few rivers in the territory, and the water source mainly comes from the Nanshan glacier snow area.
Annual Temperature of the Year/℃ ( High-Low )
| | | | | | |
| --- | --- | --- | --- | --- | --- |
| Jan. | Feb. | Mar. | Apr. | May. | Jun. |
| -12/-22 | -10/-22 | -4/-17 | 15/1 | 19/7 | 25/12 |
| July | Aug. | Sept. | Oct. | Nov. | Dec. |
| 27/16 | 27/15 | 19/5 | 9/-2 | -1/-12 | -12/-21 |
There are three ways to go to Jiuquan: Flight, Train, and Driving
1. Go to Jiuquan By Air:
There is no civil airport in the urban area of Jiuquan, but tourists can fly to
Jiayuguan
Airport or Dunhuang Airport and then drive to Jiuquan City.
a) Dunhuang Airport
is situated 378.2 km away from Jiuquan City. At present, the regular airlines from Dunhuang to Lanzhou,
Xi'an
,
Beijing
,
Jiayuguan
, and
Urumqi
are available at 38 flights each week.
b) Jiayuguan Airport
is situated 27 km away from Jiuquan City. At present, the regular airlines from Jiayuguan to
Beijing
,
Lanzhou
,
Xi'an
,
Chengdu
, and
Shanghai
.

2. Go to Jiuquan By Train:
Jiuquan Railway Station is located 12 kilometers south of Jiuquan City, and it has no departure train from the railway station. From Jiuquan Railway Station, you can only take the passing train to reach Lanzhou, Jiayuguan, Korla, Urumqi, Xi'an, Shangqiu, Chongqing, Chengdu, Beijing, etc.
3. Drive to Jiuquan:
The coverage of the Jiuquan highway network is relatively complete, and transportation with the surrounding provinces and cities is very convenient.
Driving from Jiuquan to
Mogao Grottoes
is 393 kilometers (about 4 hrs and 3 mins ).
Driving from Jiuquan to
Echoing Sand Mountain and Crescent Moon Spring
is 395 kilometers (about 4 hrs and 2 mins ).

Ethnic Groups in Jiuquan:
Many
ethnic groups
are living in Jiuquan, including Han, Mongolian, Kazak, Hui, etc., mainly Han. The Aksay Kazakh Autonomous County and the Subei Mongolian Autonomous County in the administrative divisions are significant settlements for ethnic minorities.
Related Articles & Posts
* Silk Road and Hexi Corridor Adventure
* Top Gansu Attractions
* Gansu Essence Tour
* Best Time to Gansu