Labrang Monastery
Labrang Monastery
, built-in 1709 is a large-scale Tibetan Buddhist temple in
China
; it has six Buddhist colleges and 48 Buddha halls. The monastery is one of the six great monasteries of the Gelug Sect located in Xiahe County in
Gannan Tibetan Autonomous Prefecture
,
Gansu
. It has its full name of Happy Preach Blessing Youxuan Temple in Tibetan.
Sprawling across an area of more than 800,000 square meters, Labrang means "the Living Buddha's Mansion" in the Tibetan. The monastery is famed for its architecture. It has been a national social protection site in 1982.
As a
must-see attraction in Gansu
, there are magnificent monastery buildings. When you visit the monasteries, you will see the numerous giant Buddha statues and exquisite sculptures, murals, artifacts, to name just a few. Furthermore, you can also accumulate the merits and pray for your relatives and friends by turning scripture here.
The Longest Prayer Wheel Corridors:
Labrang Monastery has the longest prayer wheel corridors in the world, with over 1,700 scripture wheels. Each side of the hexagonal wooden cylinder is engraved with different scriptures and patterns. The whole monastery is encircled by the corridor, stretching as long as 2.2 miles. It takes more than an hour to walk to the end of the hall. Some venerable Buddhists told me as long as you walking clockwise along the hallway and rotating the wheels, you can get rid of your troubles.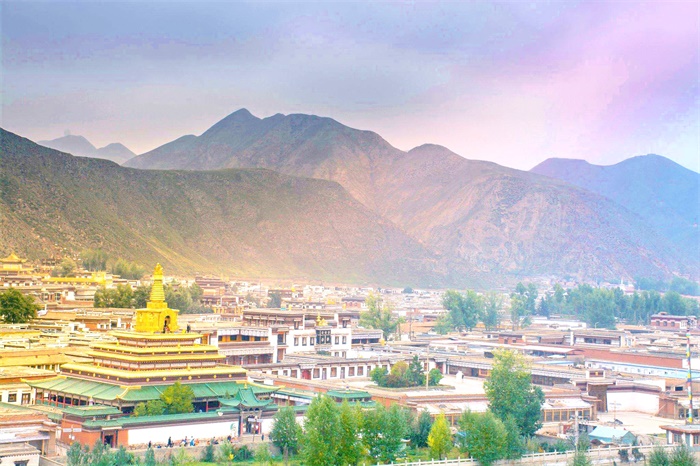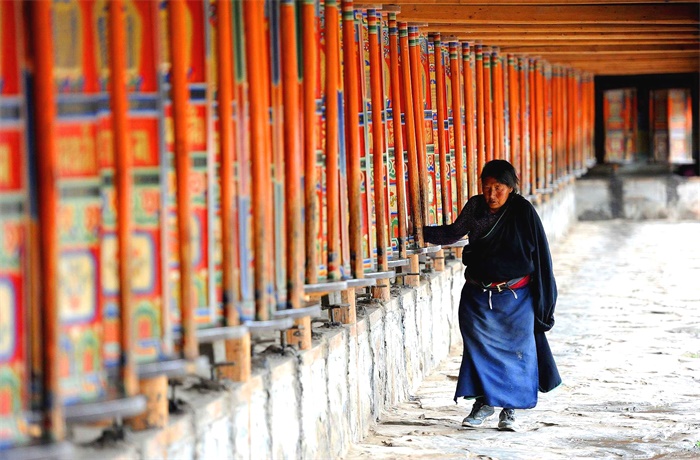 Tibetology Education Institution:
Labrang Monastery has developed with constant, unremitting efforts from the Jam-yang-shay-ba Trulku"Jiamuxiang Living Buddhas, monks, and the secular followers. Now it has become a sizeable comprehensive temple monastery of 6 schools, 108 temples, and eight parishes, including Wensi, Xubuxia, Xubushang, medicine, Shilun, and Xijingang Hevajra under Exoteric and Esoteric Buddhism. During its development, it has formed a unique culture of Tibetan Buddhism, including buildings, schools, Dharma assemblies. Buddhist arts, Tibetan Buddhist scripture, etc. It has been one of the highest education institutions of Gelu School of Tibetan Buddhism, known as the World Tibetology Education Institution In the world.
Opening Hours & Admission Fee
| | |
| --- | --- |
| Opening Hours | 08:00 - 18:00 |
| Admission Fee | CNY 50 |
| Recommended Time For a Visit | Four Hours |
Xiahe County has a plateau continental climate with an average altitude of more than 3000 meters. The annual average temperature is 2.6℃; the average yearly precipitation is 516 mm. Among them
from June to August is the best time to travel to Labrang Monastery
, at this time the temperature of Gannan is between 15 and 30 degrees Celsius, which is quite proper to visit.
The Religious Ceremonies in Labrang Monastery:
The religious ceremonies such as Milarepa Persuasion Puja and Death of Tsongkapa of Tibetan ( Randeng Festival ) will be held at Labrang Monastery in February, April, July, September, and October.
Every October is Zongkabanepani Day. During that period, the monastery will open to the public, and travelers can not only see the monks chanting sutras and worshipping but also enjoy the 'Light Festival' in the evening, which is quite magnificent.
Travel strategies of Labrang Monastery:
In general, tourists can take a coach to Xiahe (about 4 hours' drive), then visit the temple in the afternoon and leave Xiahe after experiencing the Morning class.
Enjoy the authentic Tibetan Meal in the temple is also a marvelous tour experience. There is no recipe here; instead, you can just sitting right there, and those monks will serve you with local dishes one by one. The first is a bowl of milk tea, and then comes the boiled mutton and highland barley wine. Interestingly, you will not be served with rice until you finish the wine. The last course is a Tibetan bun with mutton stuffing. In summer, the meal always ends up with a cup of yogurt.
1.You can reach this fantastic site taking a bus from Lanzhou South Bus Station (7:30, 8:30, 9:30, 14:00, and 15:00).
2.Langmusi Temple Town has a shuttle bus to Xiahe every day at 14:00, which takes about 4 hours.
3.Driving from Lanzhou City to Labrang Monastery is 234.4 kilometers (about 4 hrs ).
1.Tourists have to respect the beliefs and customs of the local minorities. After entering the temple, tourists are not allowed to make noise and take pictures.
2.It is also an excellent place to watch and shoot the stars in the temple area at night.
3.Gannan has a high altitude and intense ultraviolet radiation. Travelers should take some sunscreen products, moisturizing cream, and anti-altitude medicines.
4.Due to the temperamental weather, visitors need to bring a coat to keep out the cold in the morning and at night.
Related Articles & Posts
* My Travel Experience of Labrang Monastery I
* Binglingsi Temple and Labrang Exploration
* Lanzhou-Zhangye-Dunhuang Tour
* Lanzhou-Zhangye-Dunhuang Tour