Xinjiang Tour Story from Singapore Group
Post Time:2020-12-22 Views:
This is the travel story of our Singapore Group booked their
Xinjiang Tour
Package with us to the South, we are very proud and delighted with their great support!
The tour starts from Urumqi, pronounced as 'Wulumuchi', and then we proceed by road for the next 1700kms over the next 9 days.
We will be following the ancient caravan trail from the heavenly mountains (Wulumuchi) through the flaming mountains (Kurpan) and into the Gobi desert (Korla) and into the Talakiman desert (Kusan and Aksu) and finally reach Kashgar in the Himalayas also known as Kashi.
From Kashgar, we will be returning by train to Urumqi and then flying back to Singapore.
Day 1
The flight to China was as at 2 am on the 22nd and all six of us met up at Mr. Shashi's house for dinner, a sumptuous meal of fish, chicken and lamb curry prepared by Siti. Paul was appointed as the official photographer with a Canon SLR camera. The flight to Chengdu in China was uneventful and from there we caught a connecting flight to Urumqi the capital city of Xinjiang. We were met by Miss Aysha a 30 year old, attractive 'Uyghur' girl, whose appearance pepped up the guys who were pleased that she would be accompanying us throughout our journey as the local guide. The uyghur are a tribe from turkey who follow Islam and have been the local residents of Xinjiang Province. The Chinese took over the Province 250 years ago and since then the uyghur have been fighting for more autonomy. We had a 14 seater van exclusively for ourselves with an ex army driver, who was good but knew only mandarin and uyghur, so only Ah Chung and Francis could speak to him and the rest of us just smiled.
Urumqi is a large city teeming with people and cars and modern buildings. Being the capital of the Province or state, it had all the government buildings, malls and branded shops. After checking in at a mediocre hotel we went walking round the block to all the street side shops and picked up pistachio and almonds and walnuts and raisins by the kilo for the journey ahead. We ate at a road side restaurant and had no problem ordering as most of my fellow travelers were fluent in Chinese and made sure that beef and pork were not served. Unlike our common belief, in this part of China, dogs and rabbits are not eaten at all. As a matter of fact, Wulumuchi did not feel like the China we imagine. The people are Muslim and Chinese. Any way the people are friendly and cannot understand a word of English, sign language works.
The sun sets at 10:30 pm and we came back only at 10 and then had a fruit party! Since Desserts that we would like is not served in the restaurants we buy fresh fruits like melon, banana, and apricot, peach and water melon and cut it and all 6 of us indulge. All these fruits are grown in this region.
The Chinese restaurant we went to for dinner served us in individual rooms which were quiet convenient.The food was good and not like the Chinese food in Singapore or India.
Day 2
The next day we went to the heavenly lake, on the mountains next to Urumqi, also called heavenly mountains and which are a part of the Himalayan range. The drive was by our van then a government bus and then a smaller van to reach a lovely lake and presto we could see snow capped mountains in the back ground! We went for a boat ride after forcing Jerry who said he was scared of water! It was a very nice place. From the lake we attended a cultural program, in Wulumuchi, by the uyghur consisting of Dances and songs including belly dancing where the lead dancer had a snake around her. In the morning we visited the museum which was informative. All the cities have Indian like names but due to passage of time Kashi became Kashgar; Kushan became Kuqa.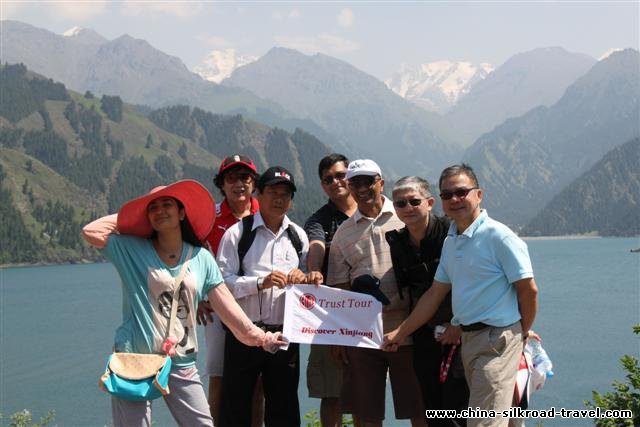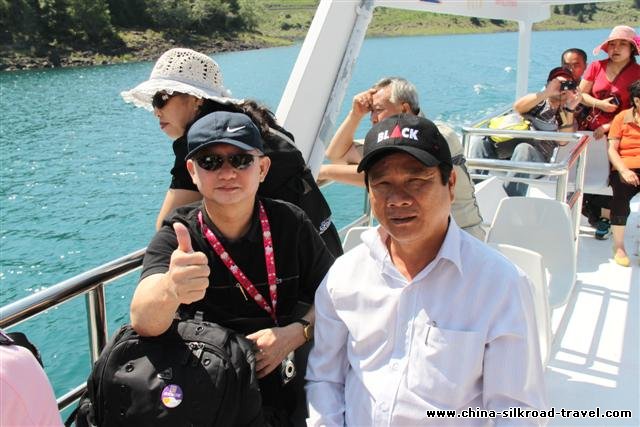 Xinjiang China Travel is specialiesed in organizing the Classic Ancient Silk Road Tour,and we are the professional Xinjiang Tour experts.We arrange both large and small group tours and specialize in vacation planning. We pride ourselves in helping people plan the vacation adventure that is right for them. Even only one person coming, we also can provide personalized service for you. With many years of experiencebehind us,we always offer the best value,most comfort and flexible tour for you,you will never feel rush and tired.