Bayanbulak
As the second-largest grassland in China,
Bayanbulak Grassland 巴音布鲁克草原
sits in the Banyanbulak Basin of the
Tianshan Mountains 天山
in
Xinjiang Uyghur Autonomous Region 新疆
, NW China, and it is also an attractive tourist destination along the
Silk Road 丝绸之路
. Bayanbulak means " Rich Spring Water " in Mongolian, indicating that the grassland has an abundant water source. Being mostly flat and surrounded by snow mountains, the prairie abounds in the grass and studded with seven lakes and 20 rivers.
Bayanbulak Grassland 巴音布鲁克草原
is located at an altitude of about 2,500 meters. Surrounded by snowy mountains, the vast grassland's water supply comes from both melting ice and rainfall. Lakes and marshes are like a vast green carpet covering the prairie, with winding rivers cutting it into different pieces.
The History of Bayanbulak:
As early as 2600 years ago, there were activities of
Jushi 车师
here. In the early Ming and Qing Dynasties 明朝和清朝前期, the Huite part 辉特部 of Western Mongolia was nomadic in the
Yuledus River Basin 裕勒都斯河流域
(now Bayanbulak Grassland 巴音布鲁克草原 ).
In the summer of 1676, because of the conflict with Galdan Boshugtu Khan ( the Mongolian part of Junggar 准噶尔蒙古部噶尔丹 ), many Mongol tribes arrived at the Yuledus River Basin, where the Huite Tribe was located and stayed in this area for several months.
In the thirty-sixth year of Qianlong's reign 清乾隆三十六年 (1771), due to the harsh demands of tsarist Russia,
Turhute Khan Ubashi ( 土尔扈特汗渥巴锡 )
led more than 17,0000 people to return to the East
( Turhute returned to the East 土尔扈特部东归).
Finally, about 43,000 people successfully arrived in Xinjiang. In the spring of 37th year (1772) and the summer of the 38th year (1773) of the reign of Emperor Qianlong, Shuhede made specific arrangements for the pastures of Turhute. However, he wanted to move the land for grazing, so according to his wishes, emperor Qianlong gave him the Zhuledus Grassland (now known as Bayanbulak Grassland) with a suitable climate and abundant water plus lush grass; and moved to it in 1774.
Must See in Bayanbulak:
The main scenic spots of Bayanbulak Grassland Scenic Area are the Balun Kure Temple 巴润库热庙, Swan Lake 天鹅湖, and the Baxilike Viewing Platform 巴西里克观景台 (i.e., Nine Turns and Eighteen Bends Viewing Platform 九曲十八弯观景台).
1.Balun Kure Temple 巴润库热庙:
Balun Kure Temple refers to the moving temple. Because the natives are all Mongolian who believe in Tibetan Buddhism 藏传佛教, so they put the synagogue on the carriage; therefore, they can worship at any time when they are nomadic. This special herdsman's temple is entirely worth to visit.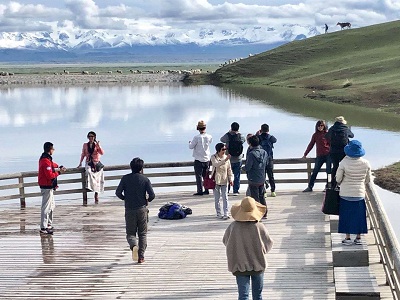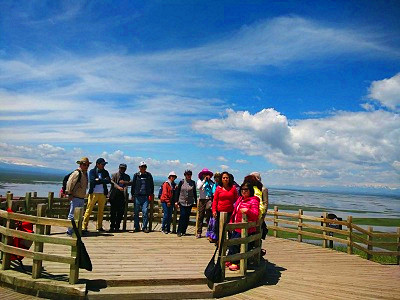 2.Bayanbulak Swan Lake 天鹅湖:
Sitting at an altitude of 2,000 to 2,500 meters, the Swan Lake on the reserve is an important breeding ground for birds and teals, and it is the only swan's habitat in China. The vast majority of swans and other rare birds would return to the lake, a connected series of wetlands, from the south to live and breed here for eight months from April each year.
3.Nine Turns and Eighteen Bends 九曲十八弯:
The Kaidu River 开都河 in natural reserve is famous for its "Nine Turns and Eighteen Bends 九曲十八弯" view and is a beautiful place to watch the sunset. It's said that if lucky enough, one can see nine suns in the river at one time. The best opportunity falls around the Mid-Autumn Festival.
Opening Hours & Admission Fee
Opening Hours
08:00-18:30
Stop Selling Time
18:30
Admission Fee
CNY 145 ( Including Shuttle Bus )
Recommended Time for Visit
0.5-1 day
The Natural Ecology of Bayanbulak:
Bayanbulak Prairie has reserved quite a lot of rare species of animals because this region is less affected by human activities, which become a beautiful Breeding habitat for wild animals, including swans. There are 128 types of birds; 24 types of beasts, four types of reptiles; 2 types of amphibians; 5 types of fishes.
The Chinese Government listed Bayanbulak as a national nature reserve in 1986. It is a paradise for flocks of the swan. Those swans are wandering on the lake like white sails, carefree and satisfied, hence the name "Swan Lake." This natural reserve is abundant in birds, particularly water birds of various kinds in large quantities. In spring, flocks of great swans, little swans, and swans with prominent nose nest are here to generate their offspring. According to the investigation, the total number of great swans here are over 6,000-7,000. Mongolian herdsmen regard the swans as angels or happy birds. They also take good care of them. Swan Lake is not only a serene resort in summer but also a fascinating tourist attraction.
Arts and Culture of Bayanbulak Grassland:
Bayanbulak grassland is inhabited by nine ethnic groups, including Mongolian 蒙古族, Han 汉, Tibetan 藏族, and Kazakh 哈萨克族, with splendid and colorful national customs.
Nadam Fair 那达慕
is a large-scale activity of Mongolian; it will be held on June 4 in the lunar calendar every year. Locals and tourists are entertained by various activities such as horse racing, wrestling, dancing, and archery. It is an excellent opportunity to experience local customs.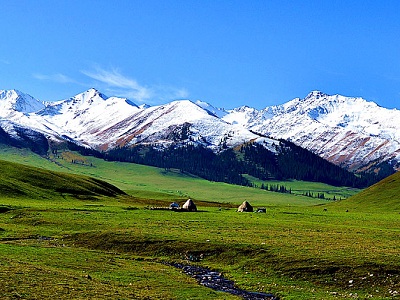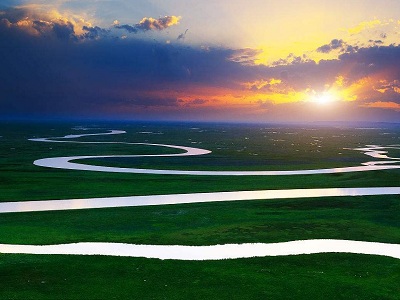 What to Taste in Bayanbulak Grassland:
The traditional Mongolian
Roasted Lamb 烤全羊, Barbecue 烧烤, Pilaf 抓饭, noodles, Baked Buns 烤包子
, and
Bayanbulak Tea 巴音布鲁克草原茶
are some of the must-try foods when you visit the Bayanbulak Grassland. And it's always lovely to drink a
bowl Kumiss 马奶酒
after dinner.
Climate & Weather of Bayanbulak Grassland:
Bayanbulak Grassland is a typical continental climate with four distinct seasons, the significant temperature difference between day and night, fast and unstable temperature rise in spring, short and rapid temperature drop in autumn, lack of rainfall, much evaporation, sufficient light, dry air, and more sandstorm. The annual average temperature is - 4.6 ℃, cold in winter, (average temperature in January - 26.6), and extended, without summer (the hottest average temperature in July is only 10.6 ℃).
Best Time to Visit Banyanbulak Grassland:
From June to September is the best time to travel to Bayanbulak Grassland. When Summer comes, the various flowers here are in blossom and contending. Moreover, during this period, many swans will come here to breed and rest, and the scene will be tranquil and peaceful.
How to Get to Bayanbulak Grassland:
Tourists can arrive at Hejing County from Urumqi, the capital of Xinjiang Uygur Autonomous Region by car or Turpan by train. Shuttle buses are available from Hejing County to the Bayanbulak government every other day.
Banyanbulak Grassland Travel Tips:
·
Xinjiang Travel
Permit is required to Bayanbulak, which need to apply three months in prior.
·
The temperature on the grassland is low, so passengers should take precautions.
·
Bring warm clothes as the temperature difference on the grassland in quite large between day and night.
·
There are many mosquitoes on the prairie in summer, so travelers are suggested to prepare mosquito repellent liquid.
Related Tour Package to Bayanbulak
Northern Xinjiang Group Tour
Visit the splendid Bayanbulak Grassland, this route is suitable for the travelers who is the fans of photography and still have the dream of nomadic life...
More
Xinjiang Panoramic Tour
Our route will take us to the picturesque Kanas region of Altay World Heritage Area on the China-Mongolia-Siberia border, visit the Southern Xinjiang via the Taklamakan Desert to Kashgar to experience the different folklore of minorities in Xinjiang...
More