Kanas Lake
Kanas Lake is located in Burqin County of Altay Region, about 800 kilometers away from Urumqi. It is one of the most famous beautiful scenic spots in Xinjiang and the world geological park recognized by the United Nations Educational, Scientific, and Cultural Organization (UNESCO).
In Mongolian, Kanas means gorgeous and mysterious. Kanas Lake is such a spectacular place. Influenced by the westerlies, the abundant rainfall makes the region shrouded by mist. The Taiga forest made up of Siberian larch, and Siberian spruce in the Kanas valley is home to abundant wildlife.
When you are visiting in the scenic spot, you can also board the Guanyu Viewing Platform ( Guanyutai ) with a relative height of 600 meters (there is a sightseeing bus at the foot of the mountain, which needs to be purchased separately). You can overlook Kanas Lake, the snow-capped peaks, and three Bays ( Moon Bay, Shenxian Bay, Wolong Bay ). You can also take a cruise ship for about 2 hours.
There is a large population of ethnic Tuvans and Kazakhs in the Kanas Valley. While most of these people have maintained their traditional agricultural and nomadic lifestyles, many works in the developing tourism industry and have established facilities for orienteering, hiking, rafting, rock climbing, paragliding, and camping.
1. Kanas Shuanghu Cruise Ship is a tourism project developed by Xinjiang Kanas Tourism Development Co., Ltd.: Shuanghu cruise ship began to sell tickets on June 1, 2015. It has more than six boats.
Shuang Hu Cruise Line: Shuanghu wharf Sandaowan (Shore view) - return trip. Shuang hu pier is located in the third Wharf on the east side of Kanas Lake, with a round-trip time of about 1 hour.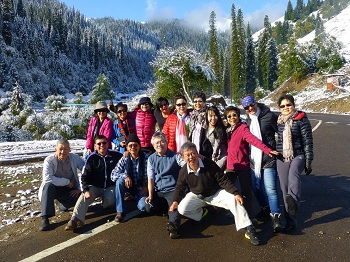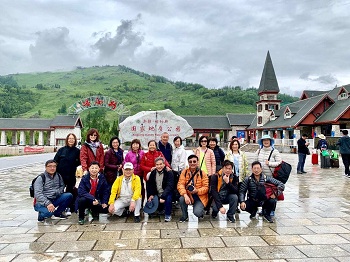 2. Hemu River Drifting in Kanas Lake: The total length of Hemu river rafting is 9km. The upper reaches of the river are mostly canyon areas with fast water flow. The river channels are mostly natural scoured channels with many river forks. In some places, the wave height can reach 1.5m-2m.
3. Hiking Routes in Kanas Lake: The eastern line is the ideal hiking route for Hiking enthusiasts, start from Jiadengyu, passes through Wolong Bay, Moon Bay, and Shenxian Bay, reaches Hemi, then from Heihu to Kanas from, finally returns to Jiadengyu. The whole journey is about 80 kilometers.
If you have plenty of time, you can hike to Naren ranch, visit the No. 5 boundary monument, and return to Jadengyu.
4. Home visit in Kanas Lake: Visit ethnic minority families to learn the natural history, culture, diet, religion, and customs.
5. Horse Riding in Kanas Lake is the best way to experience the prairie cultures. In Kanas Nature Park, you can ride a horse to the highest viewing platform ( Guanyutai ) to enjoy the magnificent landscape.
6. Bonfire Party in Kanas Lake: With the prosperous winter tourism industry, there are many unique winter Games and customs in Kanas Nature Reserve. Tourists can enjoy snow and ski in the daytime, and the evening bonfire party makes the night of Kanas Nature Park more lively.
Photography in Kanas Lake: Kanas Lake is one of the most beautiful photography places in Xinjiang, China. September is the best time for photography, the changeable lakes, Tuva villages far from the disturbing public.
Here, we listed three best photography routes for Kanas photography: Wuerhe - Burqin, Burqin - Kanas, and Kanas - Wuerhe.




Travel Information of

Kanas Lake
In addition to two hiking routes, you can also drive into the village. The main road of Hemu village starts from Jiadengyu, about 50 kilometers. Private cars are not allowed to enter the scenic area.
Opening Hours & Entrance Fee
Opening Hours
Peak season
(1st May - 15th October)
8:30 - 20:30
Off-season
(16th October - 30th April)
9:00 - 19:30
Entrance Fee
CNY 270
New route product price
| | |
| --- | --- |
| Project | Entrance Fee |
| Kanas Transfer to Black Lake crossing | CNY 300/Person |
Kanas Optional activities Charges
| | |
| --- | --- |
| Shuang Hu Cruise Ship | CNY 90 |
| Hemu River Drifting | CNY 120 |
| Home Visit | CNY 120 |
| Bonfire | CNY 60 |
Kanas Shuttle Bus Charge
Kanas Shuttle Bus ( Once )

CNY 70 / person

Kanas Shuttle Bus ( Twice )

CNY 110 / person

Kanas - Baihaba

CNY 45 / person

Jiadenyu - Hemu

CNY 50 for round trip

Guanyutai

CNY 20 for round trip

Airport shuttle bus line

CNY 70 for round trip
CNY 35 for one way

Through Ticket for all shuttle buses
(valid for 3 days)

CNY 180 for round trip
The average annual temperature in Kanas Lake is shallow - only 4℃. The coldest month is January, with an average temperature of -24 ℃. The hottest month, July, has an average temperature of only 18.8℃. The temperature differs significantly between daytime and nighttime. Therefore layered clothing, with a good coat or an insulated jacket, is highly advisable.
Generally speaking, from June to September are the best time to visit and experience the ethnic custom in Kanas. In winter, everything in Northern of Xinjiang has turned into a world of ice and snow, a magnificent snowfield, a glittering birch forest haze, a snow-covered ice lake, and you can also experience the wonderful snow bergs.

Annual Temperature of the Year/℃ ( High-Low )
| | | | | | |
| --- | --- | --- | --- | --- | --- |
| Jan. | Feb. | Mar. | Apr. | May. | Jun. |
| -12/-22 | -10/-22 | -4/-17 | 15/1 | 19/7 | 25/12 |
| July | Aug. | Sept. | Oct. | Nov. | Dec. |
| 27/16 | 27/15 | 19/5 | 9/-2 | -1/-12 | -12/-21 |
How to Get to Kanas Lake
In addition to two hiking routes, you can also drive into the village. The main road of Hemu village starts from Jiadengyu, about 50 kilometers. Private cars are not allowed to enter the scenic area.
1. Go to Kanas Lake By Air
a) Flight from Urumqi to Kanas, the airfare is from 150-200usd/pp include tax. Available from 10th June to 7th Oct
b) Air from Yining to Kanas airport. This route only available from July to Sept.
Xinjiang Kanas Airport: Built close to a world-renowned scenic spot in northwest China's Xinjiang Uyghur Autonomous Region. It is a seasonal airport that serves Burqin County and the nearby tourist destination Kanas Lake in Xinjiang. The airport was constructed in 2006 and opened on 15th August, 2007.
2.

Drive to Kanas Lake from

Urumqi
a) Urumqi - Beitun City (or Altay City) (National Highway 216, 650km) - Burqin county (National Highway 217, 98km) - Chonghul Township Kanas Lake (first automobile highway, 179km).
b) Urumqi - Wugongtai Town, Hutubi County (Wukui expressway or 312 National Road, 56km) - Karamay City (241 provincial roads, 320km) - Burqin county (217 National Road, 402km) - Chonghur Township - Kanas Lake (first automobile road, 179km).
Take the train from Urumqi - Beitun ( the train fare is from 150-300 CNY/pp include tax ); you can choose to go to Beitun railway station, Beitun station is 240 kilometers away from Kanas Nature Park. There are direct trains to Urumqi, Kuitun and Shihezi. You can take a bus from the railway station to Burqin, and then transfer from Burqin to Kanas.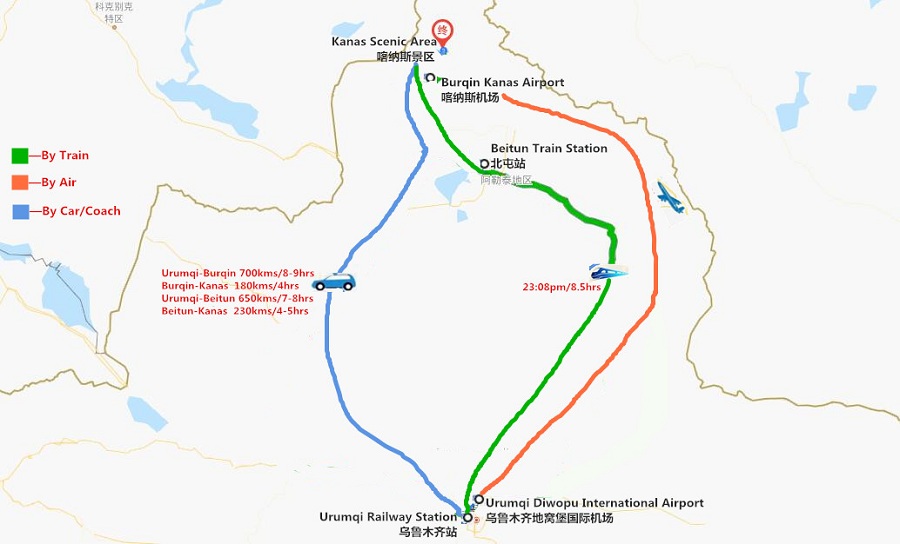 Accommodations in Kanas Lake:
1. With the development of tourists in Xinjiang, a growing number of hotels are built in the park. The class range from home-stay to 5star with modern toilets and facilities. Travelers stay in Jiadengyu, which is 40kms from the lakeside.
2. It is recommended that you stay with local families in Hemu Village if you want to experience a taste of the 'old days.'
3. Breaking news, all the hotels were moved out to Jiadengyu for the environmental protection in the winter of 2019.
The Kanas village is close to the kanas Lake. The local villagers are Tuva people. It is said that Tuva people are offspring of the old, weak, sick, and disabled soldiers left by Genghis Khan when he led his troops to attack the West. Tuva people have kept their unique customs and language. Their language falls into the Turkic language group of the Altaic language family and is closely related to the Kazakh language. They hold their first costume, focusing on pasturing, fishing, and collecting. Meanwhile, they still keep worshipping heaven, water, and mountains. The Kanas Lake and Tuwa people, in a harmonious union, constitute a unique view and folk culture at Kanas.
The Legend & Water Monster of Kanas Lake
When Genghis Khan, the Emperor of the Mongol Empire, traveled to the West, passed through the lake and named it. After he died, his body was preserved in the bottom of the lake, and the water monsters were his guards. In Mongolian, Kanas means gorgeous and mysterious.
As more observations are posted online in the 21st century, research and investigations were taken to discover the truth behind the water monsters. Scientists speculated the living giant creatures could be Hucho taimen, a species of freshwater fish in the salmon family.

Suggested Itinerary
9 Days Classical Xinjiang Tour North Xinjiang Tour from Urumqi to Kanas

Northern Xinjiang Tour 12 days Photography Tour on Northern Xinjiang