How to Select Your Transportation to Gansu
Interested in Gansu Tour, Xinjiang China Travel Gansu office are happy to guide you. First you have to know about the transplantation. If you go to Lanzhou, Dunhuang or Jiayuguan, you can take a plane. Of course, some people will choose to make some airport buses or taxis to arrive at the airport.

---
By Flight
► Jiayuguan Airport
Introduction :
located in Henggou Village, New Town and Country, 9 kilometers northeast of Jiayuguan City. It was built in 1938 at an elevation of 1556 meters. It was a military airport of the Kuomintang Government.
Major Gateway Cities to Jiayuguan :
Beijing, Xi'an, Shanghai, LaLanzhou,Nanjing,Guangzhou.Chengdu
---
► Lanzhou Zhongchuan International Airport
Introduction : situated in Lanzhou New Area, and its flight zone grade is 4E. Lanzhou Zhongchuan International Airport is currently one of the main airports in Northwest China, with passenger throughput of 10 million people
Major Gateway Cities to Lanzhou : Beijing, Xi'an, Shanghai,Guangzhou.Chengdu,Urumqi,Lijiang, Kunming etc
---
► Dunhuang Airport
Introduction : one of the eight civil airports in Gansu Province. It is an important trunk airport. With complete facilities and perfect functions, the airport is the main backup and landing site of Urumqi International Airport.
Major Gateway Cities to Dunhuang : Urumqi, Beijing, Lanzhou, Xi'an,Shanghai, Hangzhou, Wuhan.
---
► Gannan Xiahe Airport
Introduction : Located near Kusaitang Village, Xiahe County, 72 km and 56 km from Xiahe County and Hefei City, respectively.
Major Gateway Cities to Xiahe: Xi'an,Chongqing, Yinchuan, Lhasa,Chengdu, Tianjin.
---
By Train:
Trains or Train stations are available in following Cities: Lanzhou, Zhangye, Tianshui, Baiyin, Jiayuguan, Dunhuang, Liuyuan. Please note the express train launched from Lanzhou to Jiayuguan. And if you want to take the express train to Turpan from Dunhuang when you take the Silk Road Tour, you should buy the train start from Liuyuan which is 2-3hrs from Dunhuang City.
Lanzhou to Xinjiang Express trains stop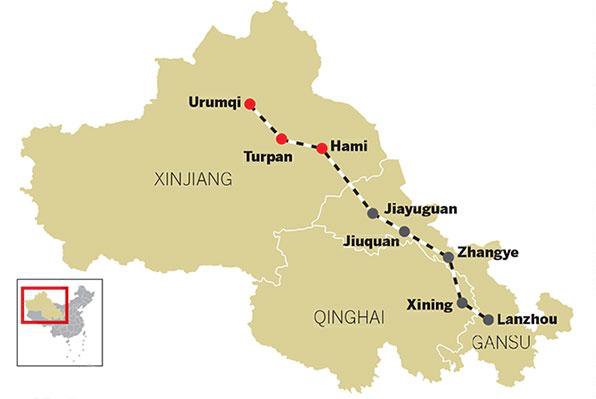 Xinjiang China Travel is specialiesed in organizing the Classic Ancient Silk Road Tour,and we are the professional Xinjiang Tour experts.We arrange both large and small group tours and specialize in vacation planning. We pride ourselves in helping people plan the vacation adventure that is right for them. Even only one person coming, we also can provide personalized service for you. With many years of experiencebehind us,we always offer the best value,most comfort and flexible tour for you,you will never feel rush and tired.