Xinjiang Regional Museum
Xinjiang Regional Museum is a large provincial museum which displays the history of Xinjiang and the folk customs of all ethnic groups, as well as some rare exhibitions in China.
Built-in 1953, the museum has an exhibition hall that covers an area of 41,000 square meters and an exhibiting area of 7800 square meters. Here, you will visit the history and the folk customs in Xinjiang, as well as some rare exhibitions such as the ancient corpse of Loulan beauty, "Five Stars Originated from China in the East " and other silk road cultural relics, which is an indispensable scenic spot in Xinjiang.

Exhibitions in Xinjiang Regional Museum:
From ancient times to the present, the exhibition of ancient historical relics in Xinjiang shows a variety of unearthed cultural relics on the Silk Road, including many Central Plains artifacts of the Han and Tang Dynasties, which have very ancient Chinese characteristics.
Xinjiang Regional Museum has more than 50 thousand pieces of various kinds of cultural relics stored in the museum, including the Ancient Corps, Chinese Manuscript, Qiuci, Yanji , Uyghur, and other characters prevailed in Western Regions, the silk, wool, cotton, and hemp fabrics, and folk clothing, etc.
The museum has made extensive contacts with domestic and abroad and held several exhibitions overseas. The leading exhibitions on display include "The Exhibition of Historic-Cultural Relics in Xinjiang, " "A Selection of the Unearthed Cultural Relics in Xinjiang," "The Exhibition of Ancient Mummies in Xinjiang," plus "The Exhibition of the Customs of the nationalities in Xinjiang " etc., and various special exhibitions held here.

Folk Customs Exhibitions in Xinjiang Regional Museum:
The exhibition covers an area of 1500 square meters and thousands of cultural relics. Through wax figures, they vividly illustrate for us the customs, religion, marriage customs, festivals of the 12 minorities that live in Xinjiang, including Uyghur, Kazakh, and Mongolian, to name just a few. The central main exhibition hall, which is mainly composed of Uygur dwellings, is also equipped with Kazakh, Kirgiz and Mongolian yurt, and various animal specimens.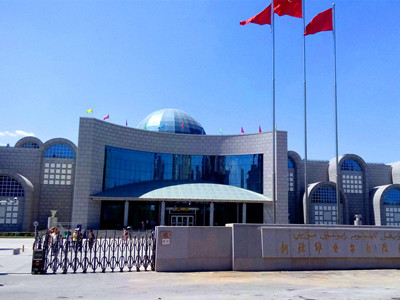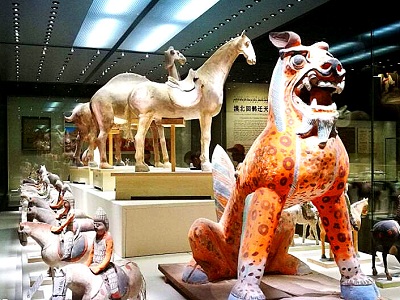 Historical Relics in Xinjiang Regional Museum:
Xinjiang Ancient Historical Relics Exhibition shows a variety of unearthed cultural relics on the Silk Road, including the artifacts of the Central Plains during the Han Dynasty and the Tang Dynasty, with ancient Chinese characteristics. In this area, you can also see the bright and beautiful brocades, tomb figures, pottery, coins, rubbings from stone inscriptions plus exquisite frescos, which are unique cultural relics characteristics of the western Xinjiang as a link between the East and the West.

Five Stars Originated from China in the East in Xinjiang Regional Museum:
"Five Stars Originated from China in the East" Brocade: Han Dynasty. It is 18.5cm long and 12.5cm wide. It was unearthed in 1995. The patterns and characters of this brocade were designed according to the five elements theory, which was popular in the Eastern Han Dynasty. The animals, such as tiger, bird, and deer weaved on the surface of brocade, are also related to the concept of space in the five elements theory of East, West, North, South, middle and five directions. There are four ring patterns arranged in four squares, which may be the symbol of the star map.

Exhibition on the Ancient Corpses of Xinjiang Regional Museum
The exhibition covers an area of 700 square meters. It shows several ancient corpses, with some exquisite cultural relics accompanied by funerals, and enriches the contents of the ExhibitionExhibition in various forms, such as photographs, pictures, multimedia touch screens, and so on. The whole Exhibitions is divided into seven units: Loulan Beauty, Xiaohe Cemetery, where thousands of coffins are buried, Zaghunluk Tombs, Owners of Astana Palace and Sarcophagus Tombs of Altai Stone Man.

Loulan Beauty Corpse in Xinjiang Regional Museum
Loulan Female Corpse was unearthed in Tiebanhe Tomb in North Lop Nur in 1980; it is one of the famous ancient bodies. From 3800 years ago, the age of death is about 40-45 years old, with a length of 152 cm and a height of 155.8 cm. She has a reddish-brown skin, thick eyelashes, charming large eyes, and long hair, even her nails and dermatoglyphics are visible. This particular 'charming' corpse has survived for an estimated 4,000 years.

The Memories of Western Regions Garments in Xinjiang Regional Museum
Theme exhibition launched in June 2010, more than 150 cultural relics and hundreds of restoration maps are on display. From Xiaohe Cemetery around 3800 to Qing Dynasty one hundred years ago, from Pre-Qin period costume to Han and Jin costume in Western Regions, to Sui, Tang, and Five Dynasties costume, finally, it evolved into Ming and Qing Western Regions costume with national style.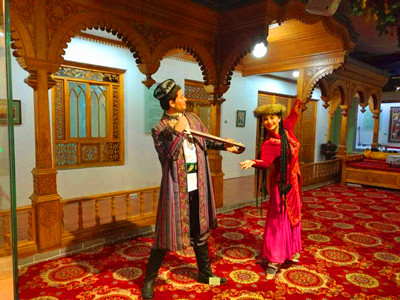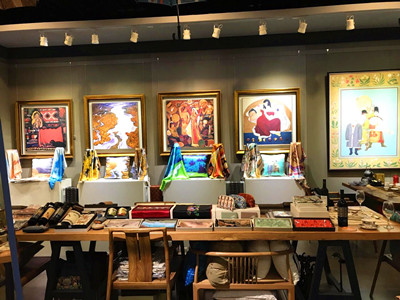 Travel Tips of Xinjiang Regional Museum:
· The museum offers free explanations at 10.00 AM, 11.00 AM, 3.00 PM and 4.00 PM in summer (15th April - 15th October) and 10.30 AM, 11.30 AM, 3.00 PM and 4.00 PM in winter ( 16th October - 14th April) respectively.
· The security check in the museum is quite strict, Lighters and water are not allowed to bring in, but they can deposit at the entrance.
· Photographs can be taken in the museum, to protect cultural relics, visitors are not allowed to use flashlights when taking photos.

Opening Hours & Admission Fee

Admission Fee

Free

Opening Hours

Tuesday to Sunday


Peak Season: 15th April - 15 October ( 10:00 - 18:00)
Off-season: 16th Oct - 14th Apr (10:30 - 18:00)
Note: No entry after 16:30

Recommended Time For Visit

1 - 3 Hours

How to Get to Xinjiang Regional Museum:
1. Tourists can take bus 7, 51, 68, 303, 305, 311, 518, 532, 906, 910, 912, 928, 5201, and BRT4 to Bowuguan Station ( Xinjiang Regional Museum).
2. Urumqi Railway Station is about 7.4km away from Xinjiang Regional Museum, which takes 14 minutes to drive.
3. Urumqinan Railway Station is about 5.8km away from Xinjiang Regional Museum, which takes 16 minutes to drive.
4. Urumqi Diwopu International Airport is about 15km away from Xinjiang Regional Museum, which takes 23 minutes to drive.
5. Urumqi Diwopu International Airport: Located in the northwest of the suburb of Urumqi, it is very close to the urban district. Urumqi Metro Line 1 has a station here.

Related Tour Package to Xinjiang Regional Museum
Urumqi City Tour
Urumqi City Tour with local travel agency, enjoy the very best arrangement to Regional Museum, Grand Bazaar and parks etc. Our friendly guide...More