Desert Kumutag - the world's nearest desert to the city
Post Time:2018-12-26 Views:
Kumutag desert is 90 kilometers away from downtown Turpan, it is the closest desert in the world to the city. For thousands of years, the desert does not expand into the city at all, it is magical and rare to see.Kumutag is a mobile desert, with numerous sand nests, sand hills and other spectacular scenery. The Uygur language "Kumutag" also means "sand hill".
Silk Road Travel
,Xi'an,Qinghai,Gansu,Xinjiang,Kashgar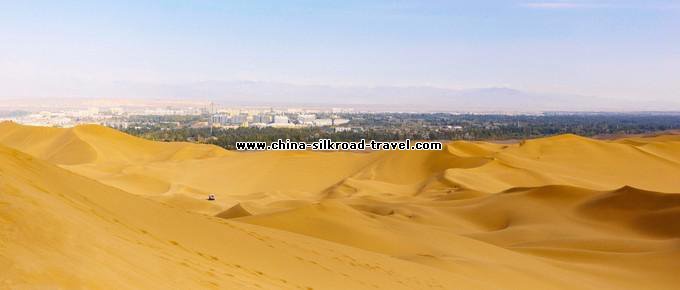 For ordinary tourists, going to Kumutag Desert is to visit Kumutag Desert Park, which is the most convenient place to visit in the desert. There are many amusement projects in the park, such as sand skating, desert motocross and so on.

Actually, there are two hiking trails in the KMU Tate desert. One is from the desert park to the balustrade Township, which is about 10 kilometers away, and it can be completed in one day.
Another is from the desert park across to the southwest of the desert village of Dikaner, more than 40 kilometers, also known as the North-South crossing, because the sand road is difficult to walk on, it takes about three days to complete, and the requirement of fitness is greater.