Leitai Han Tomb in Wuwei and the Bronze Galloping Horse
Post Time:2018-12-29 Views:
The Leitai Han Tomb in Wuwei is a large brick-and-stone structure built during the late Eastern Han Dynasty. A total of two hundred and twenty one pieces of relics were unearthed from the tomb including gold, silver, cooper, iron, jade, bone, stone and pottery. Among them there are ninety-nine bronze figurines of honor guards that are exquisitely made, as well as the bronze horse-pulled chariot. One of the relics that is very eye catching is a bronze galloping horse. This 34.5 centimeter high, 45 centimeter long bronze statue weighs 7.15 kilograms. Three of the horse's legs are up in the air with the last one stepping on a flying bird. The whole piece was designed with ingenuity and casted with superb techniques, deserving the honor of a top-notch artistic work. In 1985, the China National Tourism Bureau designated the bronze galloping horse as the logo for Chinese tourism. Since then this image appeared on all kinds of tourism products.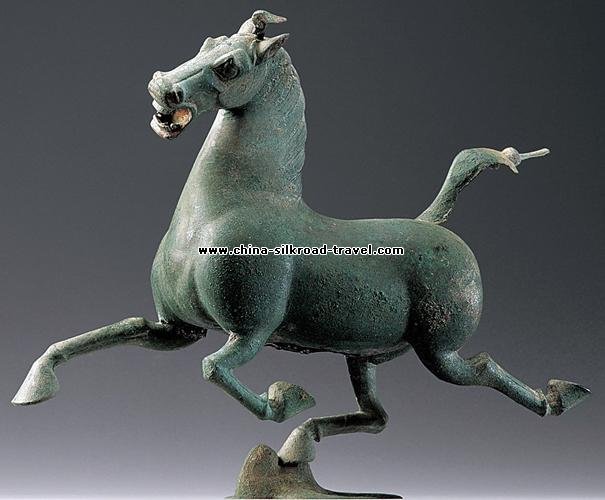 Xinjiang China Travel is specialiesed in organizing the Classic Ancient Silk Road Tour,and we are the professional Xinjiang Tour experts.We arrange both large and small group tours and specialize in vacation planning. We pride ourselves in helping people plan the vacation adventure that is right for them. Even only one person coming, we also can provide personalized service for you. With many years of experiencebehind us,we always offer the best value,most comfort and flexible tour for you,you will never feel rush and tired.