thesilkroadchina.com is Liar
Post Time:2018-12-26 Views:
It is the world of internet. understand that you (thesilkroadchina.com) copied our route and programme. but
It is so ridiculous and shame for you (thesilkroadchina.com) that even copy the feedback of our clients.
Here are only announcement:
1) we never and ever worked with thesilkroadchina.com. so their sayings on
(
1. We copy the content of other website? even the feedback?
TheSilkRoadChina.com is a big website with more than 3 thousand of pages covering all kinks of information about the Silk Road China and Central Asia travel; and our rival has a company website with much less information. For cooperation intention in late 2013, we had once shared one client feedback and several tour packages in the old version of our website. But the shard content had been deleted very soon in early 2014 because of the cooperation between us collapsed for some reasons)
are absolutely lies.
please gave evidents we ever worked together
2) our company website was built up as early as 2007. I believe all visitors can find out who is the experts of the
silk road
travel. which website covered more information about
silk road
and central asia destination.
3) we understand (thesilkroadchina.com) their saying that (
We are a web technology company?
About Google technology, all leading tour operators do very good at it on Internet in many countries. That is a trend! Even among our partners in Xinjiang, they have website ranking well in Google. There is no any "Fall Behind" or "Backward" excuse for "Local".) but please do not copy our clients' feedback. your business is your business.
here are some pictures of the evident. I believe all visitors have clear mind on every issue.
we do not want to argue with them. but you (thesilkroadchina.com) should feel shame on what you did.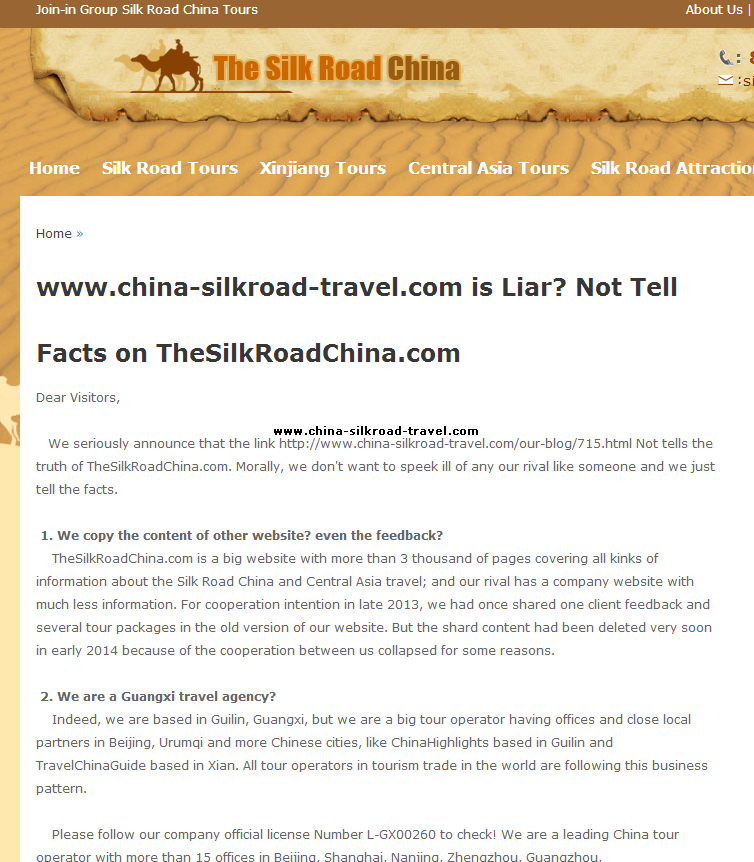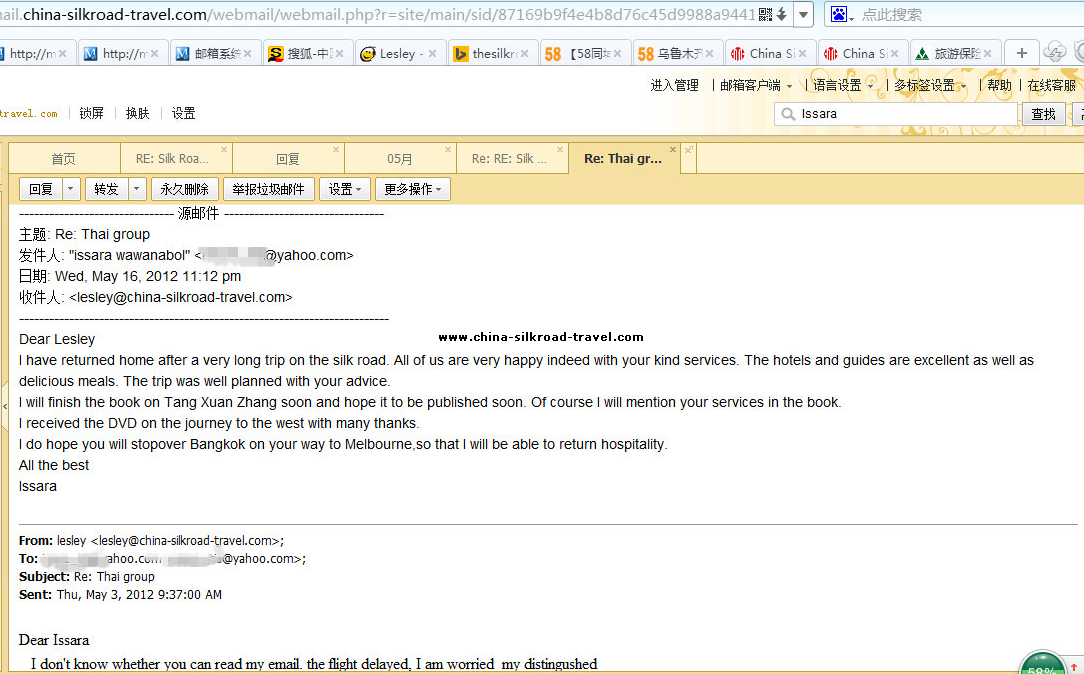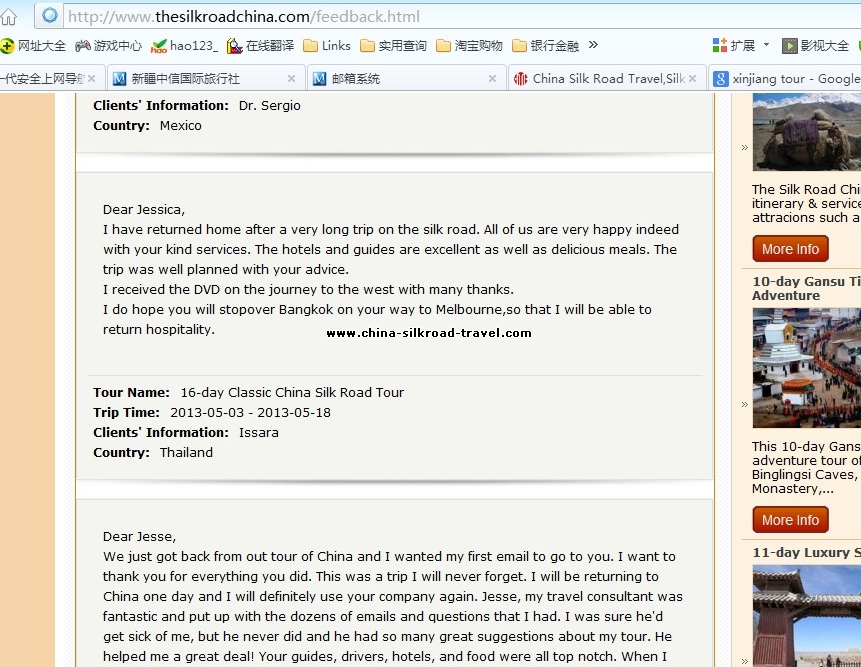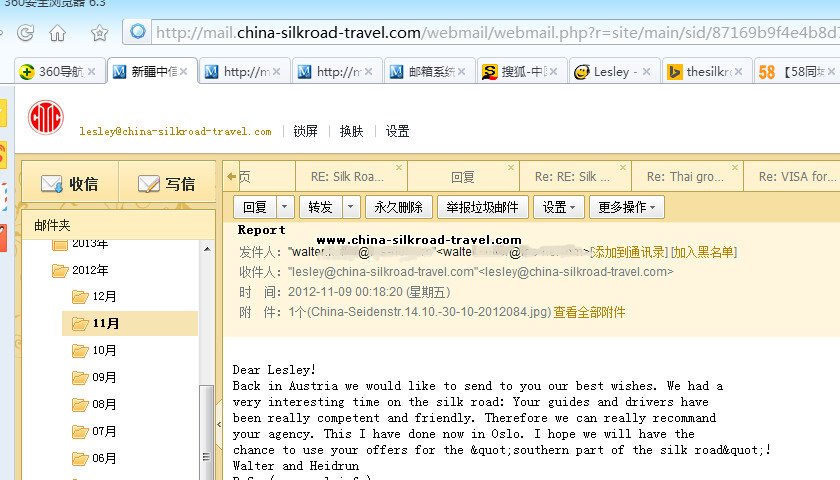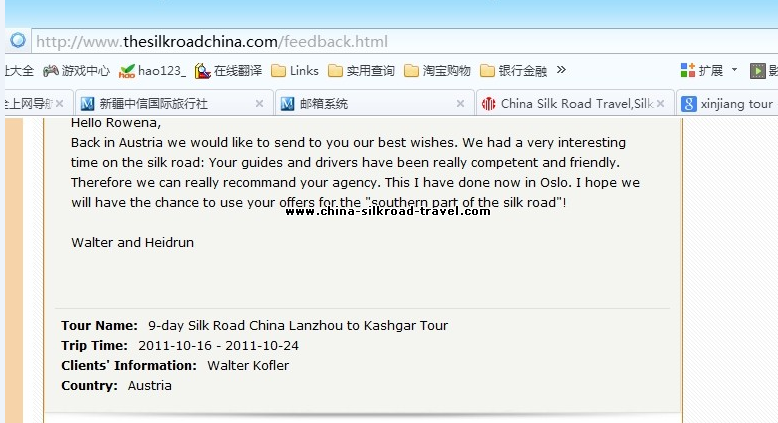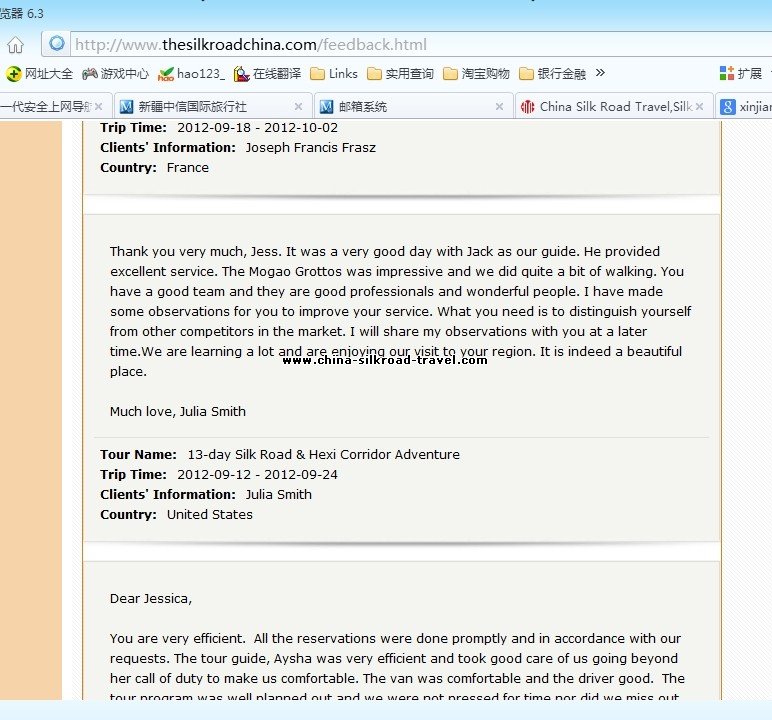 Xinjiang China Travel is specialiesed in organizing the Classic Ancient Silk Road Tour,and we are the professional Xinjiang Tour experts.We arrange both large and small group tours and specialize in vacation planning. We pride ourselves in helping people plan the vacation adventure that is right for them. Even only one person coming, we also can provide personalized service for you. With many years of experiencebehind us,we always offer the best value,most comfort and flexible tour for you,you will never feel rush and tired.