Bayinbuluk Swan Lake Natural Reserve
Post Time:2018-12-26 Views:
Bayinbuluk Swan Lake Natural Reserve
-The JEWEL OF Tianshan Mountains
Bayinbuluk means "Rich sources of spring" in mongolian, as early as 2600 AD, the ancient Mongolian - tribe turehot wasliving in here. Bayinbuluk Swan Lake Natural Reserve is located in south of Tianshan Mountain, the elevation here is approximately 2500 meters, and covering an area of 2201 square meters, which is the second largest prairie in China.
In today's Bayinbuluk, there are vast grasses as green carpet, the cattle and sheep flocks are everywhere. Prairie surrounded by hills, the river here has nine bends and eighteen bays. Wonderful environment which feed prairie's four major type of animals - tianshan horses, Bayinbuluk & Merino sheep and high land Yak.
All types of flowers bloom during every midsummer, making the prairie colourful and fragrant. The beautiful views just like a Tang Dynasty ancient Chinese poetry said - boundless sky, vast high grasses; only when the wind blows then you can see cows and sheep through the grasses.
Bayinbuluk prairie has reserved quite a lot rare species of animals because this reegion is less affected by human activities , which become a wonderful Breeding habitat for wild animals, including swans. There are 128 types of birds; 24 types of beasts; 4 types of reptiles; 2 types of amphibians; 5 types of fishes.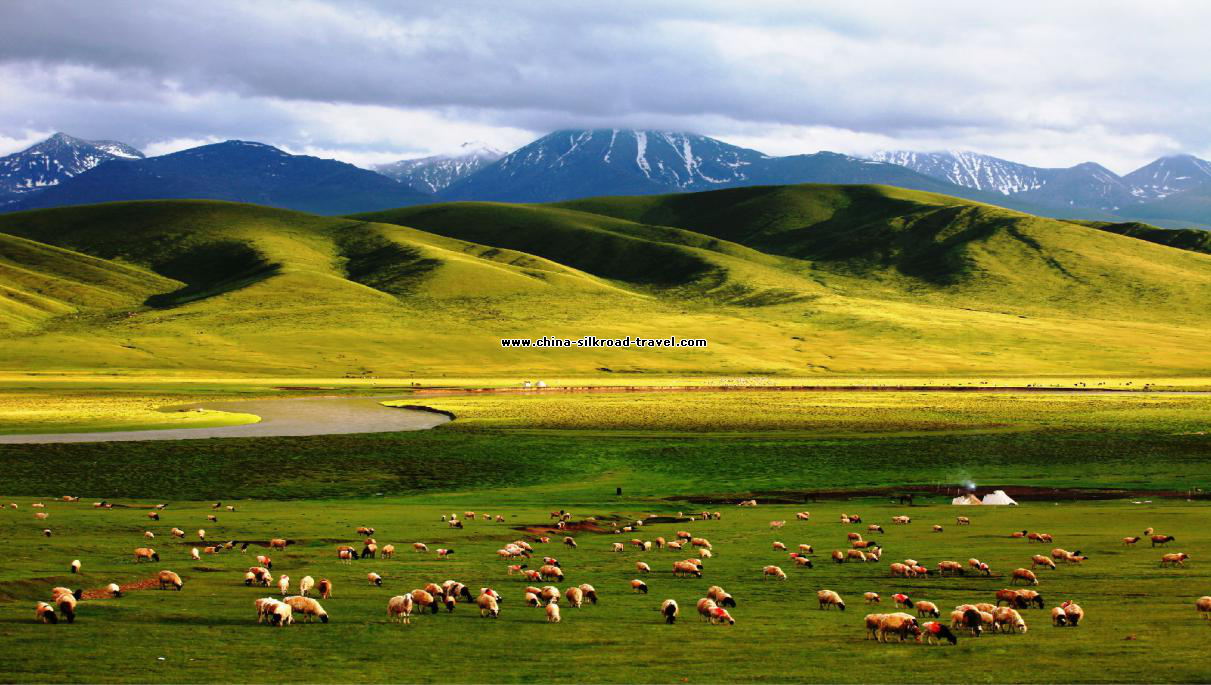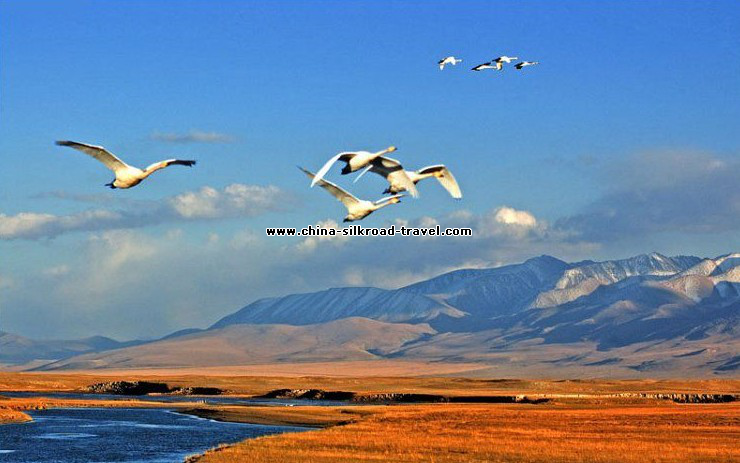 In 1986 it was listed by the Chinese Government as a national nature reserve. It is a paradise for flocks of swan. Those swans are wandering on the lake like white sails, carefree and contented, hence the name "Swan Lake". This natural reserve is abundant in birds, particularly water birds of various kinds in large quantity. In spring, flocks of great swans, little swans and swans with prominent nose nest are here to generate their offspring. According to investigation, the total number of great swans here are over 6,000-7,000. Mongolian herdsmen regard the swans as angels or happy birds. They also take good care of them. The Swan Lake is not only a cool resort in summer but also a fascinating tourist attraction.
Therefore the visitors call Bayinbuluk Swan Lake Natural Reserve as The JEWEL OF Tianshan Mountains.
Scenic spot nearby : kuqa, korla, Shanshan
Favorite travel period: June to September every year.

Xinjiang China Travel is specialiesed in organizing the Classic Ancient Silk Road Tour,and we are the professional Xinjiang Tour experts.We arrange both large and small group tours and specialize in vacation planning. We pride ourselves in helping people plan the vacation adventure that is right for them. Even only one person coming, we also can provide personalized service for you. With many years of experiencebehind us,we always offer the best value,most comfort and flexible tour for you,you will never feel rush and tired.