Group Tour 2019
Situated in the middle of Asia, Xinjiang is a vital gate way of the Silk Road, As a meeting place of the great cultures of East and West..There are 47 minorities, every ethnic group have their own culture and folklore which are unique and fascinating beautiful clothes, marvelous festival and their attractive celebration.Xinjiang is attracting more and more tourists from all of the world with its unique folklores and landscapes as well as the colorful tourism resources. We promise you an unforgetable tour for everyone of you
More Details

Duration: 11Days from: US$1380

Destination: Xian Dunhuang Turpan Urumqi Burqin

A couple from Malaysian have confirmed the tour start on 1st June, we promise you the small group tour with excellent service Highlights of the tour: Terracotta Warriors, Tangshow, UNESCO Mogao Caves,Eastern Meca-Tuyoq Village. Hemu village which is the last fairy-land in the world. Join Us! You w...
More Details

Duration: 13Days from: US$1920USD

Destination: Kashgar-Taxkorgan-Kuqa-Turpan-Urumqi-Dunhuang

Silk Road Travel to the south part of Xinjiang and Dunhuang is great experience for the clients who would like to know this ancient route and the histoircal sites,Buddhism culture and beautiful Lanscape of mysterious Pamir Plateau.Our specila arrangement to visit the lcal Tajik and Uighur families wi...
China Silk Road Tours
More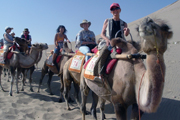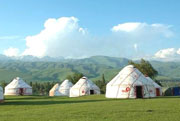 5 Days Xinjiang Impression Highlights ( from US$ 368 )
Destinations:

Urumqi, Heavenly Lake, Turpan

Xinjiang Panoramic Tour ( from US$ 2660 )
Destinations:

Urumqi, Kanas, Karamay, Sarym Lake, Bayinbuluk, Kuqa, Kashgar, Khotan, Turpan

14 Days Xinjiang Picture Landscape with Ethnic Flavor Tour ( from US$ 2580 )
Destinations:

Urumqi, Kanas, Yili, Bayinbuluk, Kuqa, Kashgar, Turpan