Xinjiang Arts and Crafts
Post Time:2020-01-19 Views:
Uygur Rugs
Xinjiang Uygur Autonomous Region has a 2,000-year history of rug production, and Uygur rugs enjoy a good reputation on the global market. They have been collected by many well-known museums and individual collectors. Uygur rugs are known as "oriental rugs" due to their exquisite craftsmanship and unique artistic style, and are popular souvenirs for domestic and foreign tourists
Yengsiar Knives
Yengisar is a county in Xinjiang Uygur Autonomous Region, and the Yengisar knives have been produced for 400 years. They are made with exquisite skill, coming out in beautiful shapes and decicate designs displaying the unique Uygur style. Then handle is smooth and bright, and the cutting edge is sharp and durable. Made of stainless steel, it can be put in boiling water and will not bend when cutting hard materials. Yengisar knives come in over 20 types with some 40 designs. These knives are not only a daily necessity, but an object of aesthetic beauty.
Adilis Silk
Adilis silk articles are the most popular silk among Uygur women. They are made with only natural silk and ancient tie-dying skills, reflecting the cultural and geological characteristics of Xinjiang. Adilis silk is soft and vivid with bright contrasting colors. The local people use it not only to make clothes, but also to decorate their rooms.
Uygur Embroidered Hats
The Uygur people, both old and young, men and women, like to wear the four or five-angled embroidered hat all year round. Made with exquisite workmanship, it is brightly colored and decorated with beads. These hats have become the symbol of the Uygur people.
Wood Block Printed Cloth Wood block printed cloth is used to make wall hangings, belts, table cloths, curtains and so on. Using red, pink, green and yellow, they are designed with flowers, fruit, plants and daily utensils, creating a unique artistic style.
Earthenware Among the pottery in Xinjiang, the much imitated earthenware is the most famous. Both traditional skills and innovations have helped meet present demand. The pottery is beautiful to look at and has a practical use as bowls, plates, pots and jars. Most representative of this style is a local pot used for hand washing, which comes in different shapes. Xinjiang earthenware has a special natural beauty that has always been attractive to domestic and foreign travelers.
Red Copper WareRed copper ware is one of the most important local crafts in Kashi Prefecture of Xinjiang. It has a long history and strong local characteristics. Red copper ware is made with superior craftsmanship and comes in beautiful shapes and designs. The local people use them both as daily necessities and as artistic treasures.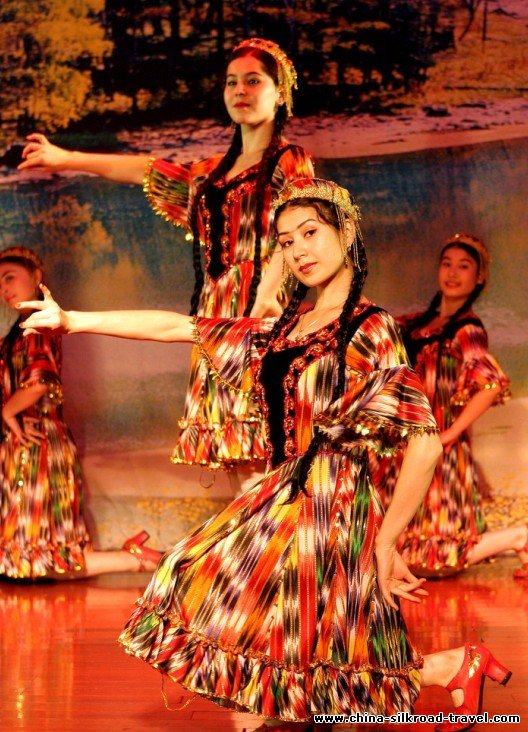 Traditional Instruments The Xinjiang people have long been known for their excellent singing and dancing skills, and Xinjiang song and dance is a category of its own among Chinese arts. There are many traditional instruments in Xinjiang Uygur Autonomous Region which have been influenced by the ancient Western Region ( a Han Dynasty term for the area west of Yumen Pass, including what is now Xinjiang and parts of Central Asia) and modern Western instruments. There are a dozen traditional Uygur instruments which are perfectly crafted and produce beautiful sound. It is quite an experience to watch the local craftsmen make these instruments.