Qinghai Route of Silk Road
Post Time:2019-12-05 Views:
Silk Road was once a business and cultural route way across the ancient Eurasian continent with over two thousand years of history from the two Han Dynasties to the end of Qing Dynasty. In terms of space. it stretches westward for 7,000 kilometers from Luoyang and Chang an through Qinghai to the ancient Rome. Silk Road goes across Gobi, deserts and snow-capped mountains, where Qinghai Route was a hub most featured with of Chinese civilization in terms of traffic. When the north and middle routes of Silk Road were blocked by war, Qinghai Route as a key part of the south route played an unprecedented role.
About Qinghai Route of Silk Road
Qinghai Route was once the south route of Silk Road, parallel to Hexi Corridor Silk Road, leading to the Western Regions during the old times. It started from the present Gushanyi, Minhe (the site of the ancient Jincheng County), passing through Xining, Duoba, Riyue Mountain and Tiebujia, entering the eastern edge of Chaidamu Basin, and going through Tianjun, Xiligou and Dulan Temple before turning to Ruoshan, Xinjiang and finally leading westward to Western Regions. The Route was once the trunk of traffic between China and the western countries during Wei, Jin, South and North Dynasties as well as Song Dynasty. Along the route, many military posts and religious historical sites or ruins still exist.
Along Qinghai Route, many cultural heritages are distributed, where many valuable cultural relics of Han and Tang Dynasties to Ming and Qing Dynasties have been unearthed, Especially, such Chinese and foreign textile products as gold coins of East Rome. silver coins of Persian Sassanian Dynasty, Sogdian silver ware found in Dulan Qinghai, are filled with exotic style and witness the glory of Qinghai Route of Silk Road.

What to See & When is the best time to visit
As most beautiful lake in China, and it has been selected as the first of the five most beautiful lakes in China's National Geography.
Qinghai Lake have the large area, the lake is surrounded by mountains and the vast grassland. The scenery is quite spectacular and beautiful, in addition, there are many landscapes for viewing, which is the most important scenic spot to visit Qinghai.
Every April to August is the best time to travel to Qinghai lake. July-August is the most beautiful, at this time there are plenty of rape flower and the yellow flower fields on the edge of the lake, which is quite spectacular.
April to June is the best time to see birds on Bird Island every year, it will absolutely feast your eyes.

Transportation
The best way to visit Qinghai Lake is chartered tour, the cost of chartered car in Xining is about 600-700 yuan in peak season, You can also travel by bus, it have many sightseeing buses to Qinghai Lake Scenic Spot and some buses to Bird Island Scenic Spot will be opened every year in the right season. Another way is to cycling around the lake, it has already become a popular, romantic and environmental way to travel around Qinghai Lake.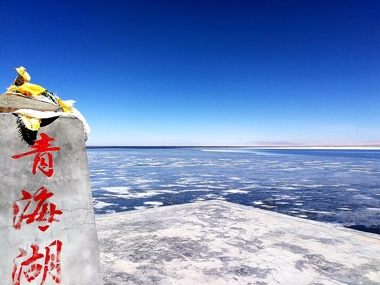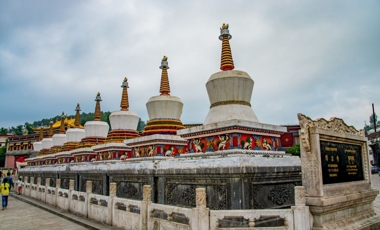 Ta'er Monastery
It is not only an important Tibetan Buddhist monasteries in Qinghai provinve, but also can experience the religious atmosphere. Ta'er Monastery is located in Xining City, with magnificent monasteries and numerous treasures, and it is one of the most popular tourist destinations in Xining.
Sightseeing overview
There are obvious differences in the architectural layout between the Ta'er Monastery and the Han Buddhist temples in the China, For instance,the architectural complex of the Ta'er Monastery is not axisymmetrical and penetrates in depth. Ta'er Monastery is an ancient building is composed of many halls, sutras, pagodas and colleges, every academy, hall and pagoda is irregularly distributed on a small hill.
If you don't go into a sutra or hall and just hang around outside, you don't need to buy tickets, but when you get into some open sutras or halls or it is your first time to come, and you have to buy tickets to visit. At present, it has more than a dozen courtyards and halls are open to tourists.

The Great Golden-tiled Hall
The Great Golden-tiled Hall is the centre of the whole complex, it is said that on the site where Zongkaba was born, now stands the Great Golden-tiled Hall, an umbrella-shaped Bohi tree came out as a result of red nectar dripping into the soil when his umbilical cord was cut. Later, the pagoda and the temple was built, hence the name of Ta'er Monastery. Nowadays, many Believers think that the tree and the tower are the embodiment of the Master.

Three Artistic Uniques: Butter sculptures, Murals and Embossed embroidery
Butter sculpture are painted with butter and sculpted into various statues, figures, flowers, birds, animals and pavilions, visitors can visit the refined butter sculptures in the Butter sculpture Hall of the temple. In the main halls, corridors, front porches and other places of the temple, they can enjoy many colourful frescoes and various piling embroideries. In the main hall of the monastery, two groups of national treasure-grade large-scale embroidery, namely "Sixteen Arhats show supernatural powers" and "Eight Immortals cross the sea", are hung on both sides of the temple.

The Four Religious Activities
Annually, four religious activities are held in Chinese lunar calendar of 8th to 18th January, 8th to 15th April, 3rd to 9th June and 20th to 23rd September respectively. On these occasions, tourists both from home and abroad swarm here to enjoy such various and colourful religious activities as 'the Grand Buddha Basking in the Sun', 'Lama Dance', 'Praying for Buddha', and so forth.
Related Articles & Posts
Recommended Qinghai Tours

Xinjiang China Travel is specialiesed in organizing the Classic Ancient Silk Road Tour,and we are the professional Xinjiang Tour experts.We arrange both large and small group tours and specialize in vacation planning. We pride ourselves in helping people plan the vacation adventure that is right for them. Even only one person coming, we also can provide personalized service for you. With many years of experiencebehind us,we always offer the best value,most comfort and flexible tour for you,you will never feel rush and tired.