Traditional local Uygur house
TRADITIONAL LOCAL UYGUR HOUSE

2000 years before, the ancient Uygur ended the nomadic life and settled down, the smart Uygur used the local materials such as mud & wood to build the house instead of live in tent, this housing structure construction method has been carry on for 2000 years. In nowadays , people still can see Traditional mud house in Xinjiang . The ancient Uygur use the wood pillars as the column and beams fix all with T shape wooden wedges to make the frame. But it's not the The seismic house. Then tie up the rattan of red meranti to the frame as the net to fasten the mud. Mix the mud with dry fraqgmentized achnatherum make the mud more dense, then laying the mud to red meranti net. The mud house are much suitable in Xinjiang due to the arid weather in this region and material technology limitation at old time , normally the rooftop of Uygur's mud houses are flat, people can sun cure the food and fruit on the rooftop.
In Kashgar , there is an ancient city preserved for travelers, all buildings are made of the mud, including shops, schools and the authority office. Gaotai slum which is in northeast of ancient city which leaning the hill, in Uygur language this place called "Cuoziqiya".House next to house, the narrow but clean path, the people are polite and simple in here, the slum resident live in there generation by generation.Some of them still running the shop here. Craftsman in here still using the traditional skill to make daily terrine and copper&iron products, children are play around, the smell of the roasted naan comes out from deep of the slum, pigeons fly around, you will feel peace and a slow-pace life like time is frozen .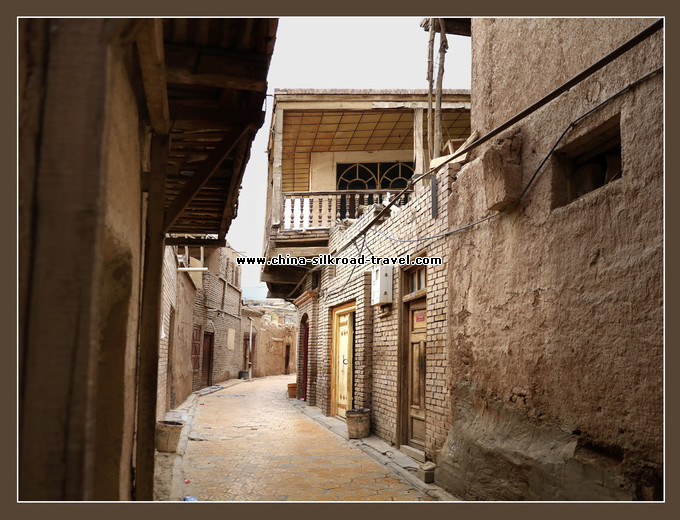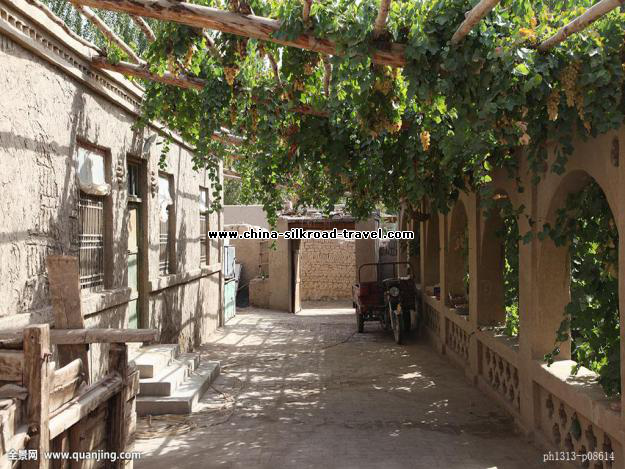 Uygur family like to plant trees and fruits, especially plant grape in yard. In Turpan, Shanshan Hami and south of Xinjiang, Uygur family normally set up the trellis in front of house, and plant the grapes near by the trellis. The second year, the grape grows up and cling to trellis, in the end the grape trellis will become pergola, host normally put one large bed with carpet under grape trellis for people to enjoy the shady under the grape trellis.

Xinjiang China Travel is specialiesed in organizing the Classic Ancient Silk Road Tour,and we are the professional Xinjiang Tour experts.We arrange both large and small group tours and specialize in vacation planning. We pride ourselves in helping people plan the vacation adventure that is right for them. Even only one person coming, we also can provide personalized service for you. With many years of experiencebehind us,we always offer the best value,most comfort and flexible tour for you,you will never feel rush and tired.