Travel Experience From Xi'an to Kashgar II
Post Time:2018-12-27 Views:
Sun set over sand dunes on the Silk Road study tour ( Contributed by our client: Linden Vargish)
Not far behind Dunhuang in the "most memorable" stakes was the experience of visiting the Mogao caves near Dunhuang and Kizil caves outside Kuqa.
"…The massive Buddha (at Mogao) looming above us. The stunningly beautiful Buddhist statues and murals, created in humble supplication or immense gratitude for a safe journey across the treacherous Taklamakan Desert by ancient Silk Road travelers." And of Kizil: "… The proximity of the murals just beyond your nose!... The lovely cool stream and the poplars facing the stark caves."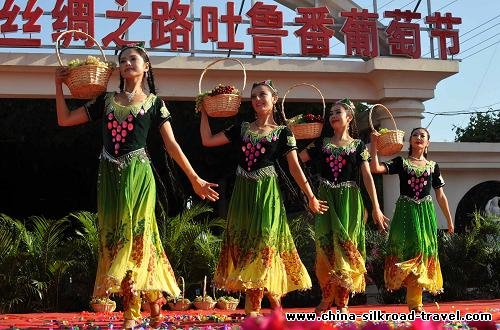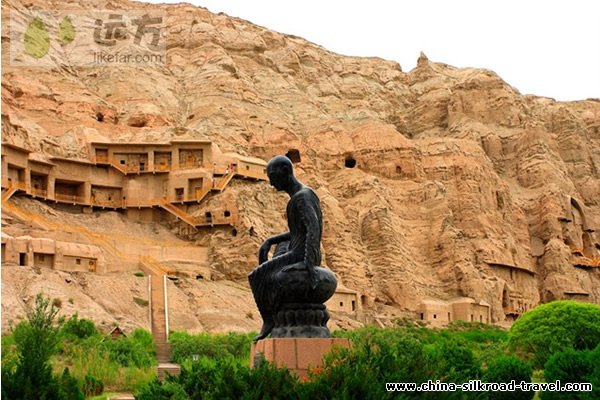 No one will dispute the specialness of the ruins of the ancient cities of Gaochang and Jiaohe, near Turpan. Our visit to Jiaohe, at sunset, was made magical by the fact that we were the only people there, so we could truly appreciate the fading sunlight glancing off the remains of the ancient buildings, and wonder about the lives of those who lived there 2000 years ago.
An experience unique to desert travel was that of being on the fringes of a sandstorm. One of our group remembers: "
we were travelling on the highway from Kuqa to Aksu, when suddenly about 50 yards to the left, a sandstorm appeared, sweeping across the desert, moving parallel to us, and I could see how the sight of that dense cloud of sand and dust could generate a deep fear in Silk Road travelers of getting lost amidst the miles of desert."
Another concern expressed before the tour was about the food: would we face a diet of unmitigated mutton fat and MSG? To our delight, we discovered that the flat breads (nann), succulent kebabs, samsas, pilafs, aubergines and other vegetables were excellent, and thanks to our clear leaders, we encountered very little MSG. In fact, the generous and tasty meals posed a threat to our waistlines. We also had one roadside picnic (by design), complete with local fried chicken and local red wine, when we stopped for lunch to break up a long-haul bus journey between Korla and Aksu. Throughout the trip we also snacked lavishly. Passing local foods purchased at rest stops and roadside stands around and around the bus during long rides between towns while we gazed at the scenery, listened to informative podcasts, chatted or napped. Any disappointment we may have harboured about not travelling by camel was dispelled when we metr Lala in the rose garden of the compound of the Abakh Hoja family Tomb in Kashgar. Much as we loved her (voted the most popular animal we met on the tour), we quickly realized that we were better off doing our serious travelling by modern conveyances and limiting camel-riding and donkey-cart travel, such as we did in Gaochang's ancient city, to short distances and photo opportunities.
The Silk Road Study Tour was wonderfully educational and very enjoyable. We spent 12 rewarding days and treasures, thanks to a knowledgeable, experienced and sensitive tour guide who had covered every base in advance and had been particularly diligent in selecting competent and efficient local guides. Let's hope we don't have to wait another 10 years before the next Silk Road Study Tour!

Xinjiang China Travel is specialiesed in organizing the Classic Ancient Silk Road Tour,and we are the professional Xinjiang Tour experts.We arrange both large and small group tours and specialize in vacation planning. We pride ourselves in helping people plan the vacation adventure that is right for them. Even only one person coming, we also can provide personalized service for you. With many years of experiencebehind us,we always offer the best value,most comfort and flexible tour for you,you will never feel rush and tired.