SOS Children's Village Urumqi
Post Time:2018-12-28 Views:
After the first night in Urumqi we spent a very sunny day in the city. In the morning we visited the University of Urumqi and had an insight in how students in China do their work. In the afternoon we had the great opportunity to share some unforgettable moments with children living in a SOS Children's Village. In the beginning we were welcomed by Assistant-director Mr. Wang, who was so kind as to pick us up with a bus at the hotel, and the Director of the SOS Children's Village. Mr. Wang gave us an introduction of the whole situation of the Children's Village with a little presentation. A lot of delicious melons were prepared for our comfort.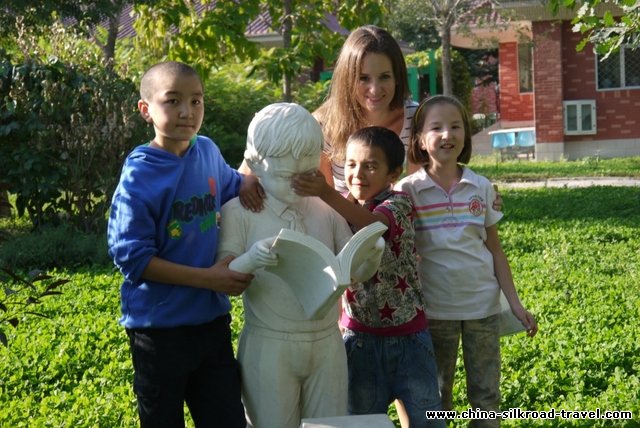 In the presentation I learned that this certain SOS Children Village is the only one in North-West China. It was founded in 1998, completed in 2000 and opened in 2001. 14 families with about 8 children per family live in the Children Village. There are also a kindergarten, a youth house, a small activity house and a mother's house. The reason why children have to live there is that they are abandoned by their parents. Often because they don't have enough money or that they are obliged to only have one child. Another reason is that they don't have parents anymore because of desease or accidents.
After the presentation and after answering all our questions we had the chance to get in touch with the children. First we were very warmly welcomed by the children with some performances of the children themselves: A little girl sang for us, another girl played the guitar and a boy played an Uighur guitar for us. It was very touching how they showed us so openly what they do best. Of course we had to show as well what we can do best, so some of us sang a song or showed some acrobatic performance which the children liked very much.
After that we all went to the gym and played basketball or just had a good time. It was very emotional to me to see those children enjoying our presence. I tried to imagine how they feel and how they deal with the fact that they will never know where they come from because their parents decided against them or because they don't have parents anymore. I remember the moment when a little boy just took my hand and asked to take some pictures with my camera. I have to confess that these pictures are some of the best of the whole trip. It gave me the opportunity to see the world through the eyes of a little child. I remember also the moment when I saw how grateful the little boys were to play with the boys of I also had the chance to see how these kids live in the SOS Children Village. They live in separated little houses. It was impressive how openly they presented their rooms.
All in all the afternoon in the SOS Children's village was one of the most emotional experiences of the trip. I hope that all of these children will have a good life. I also hope that all of the other orphans who don't have this kind of help at the moment will get support soon.

Xinjiang China Travel is specialiesed in organizing the Classic Ancient Silk Road Tour,and we are the professional Xinjiang Tour experts.We arrange both large and small group tours and specialize in vacation planning. We pride ourselves in helping people plan the vacation adventure that is right for them. Even only one person coming, we also can provide personalized service for you. With many years of experiencebehind us,we always offer the best value,most comfort and flexible tour for you,you will never feel rush and tired.