Silk Road Travel to South Xinjiang
Post Time:2019-01-02 Views:
Without visiting Tianshan, I won't know that Xinjiang Silk road is so broad and spectacular; without going to South Xinjiang, I won't know that Xinjiang is so vast and cultural. If not going to Kashgar, I do not know that Xinjiang has such a long history. From the south of Tianshan Mountains in Xinjiang, it is Tarim Basin. Everywhere you can see a thousand miles of vast desert, barren Yadan Canyon, and the Millennium Poplar Forest... All these show the mystery of Southern Xinjiang.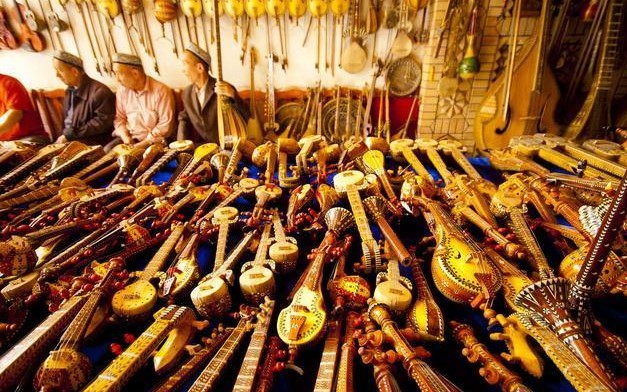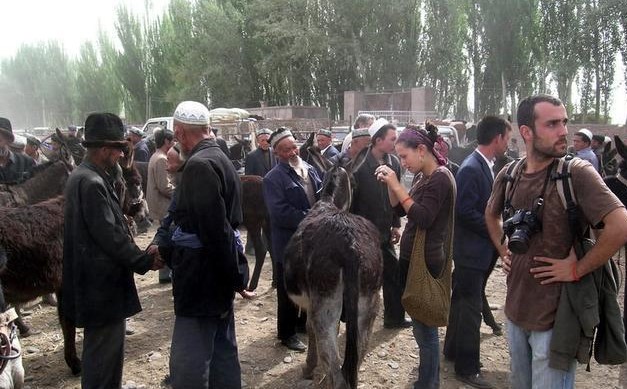 Although the long journey is exhausting, Kashgar is the last stop of our journey to southern Xinjiang, so everyone tries to keep the most devoted state for fear of missing a trace. Although it is 500 kilometers from Hetian to Kashgar, it took us only half a day to complete the whole day's journey. Before dusk, you can see the lights in the old city of Kashgar through the windshield.Kashgar's "Bazaar (Trade Fair) Kingdom" has a long history. In Silk road Xinjiang, there is a saying: without Xinjiang, we can't know the size of China, without Kashgar, we can't really know Xinjiang, without visiting East Bazaar, we can't appreciate the strange customs of Xinjiang.
On the second day we arrived in Kashgar, we went directly to the ancient city of Kashgar. This is also one of the most famous scenic spots in the area, and it is a national AAAAA-level scenic spot. The ancient city covers an area of about 20 square kilometers. It is said that in ancient times, it was regarded as the capital of the ancient country Shule, and it was renamed Panzhi City, the predecessor of the Shule City in the Western Han Dynasty. According to the textual research in recent years, Pangu Site is the ancient city of Eskesa in the southeast suburb of Kashgar City. It is located on the high port of the junction of the Kizil River and the Turman River. Geographically, this speculation is very likely, but it still needs further confirmation, "Shule State..." Wang Zhi Shule city. There is a list of cities ("Hanshu. Biography of Western Regions"). This is Zhang Qian's earliest written record of the ancient city of Kashgar more than 2100 years ago. The formation of Shule (today's Kashgar) will undoubtedly be one or two hundred years ahead of schedule. As for the estimation of the city's location and area in historical books, there is no reference at present.
On the third day, for the first time since we entered Xinjiang, we got up early, washed up, and headed to the East Bank of the Tuman River in the northeast of Kashgar City, which is the largest East Bazaar purchase in Xinjiang.
After a short walk out of the city, many tourists and locals were walking in the same direction. Among them are those driving donkey carts, cattle and sheep, those carrying burdens, foreigners, more Uygur people, and Han tourists like us. I guess in nine out of ten these people also went to drive East Bazaar. Because of the dense traffic, the speed of the convoy has also dropped from 30 kilometers per hour to about 5 kilometers, and finally it can not move forward at all. Stop by the roadside and join the march on foot.
East Bazaar has gathered almost all the trades in southern Xinjiang, and the handicraft products made by good craftsmen are dazzling. It is said that there are tens of thousands of kinds of goods sold in Dabazaar on weekdays. Every Sunday, farmers come to town to sell their own goods: long in the fields, flying in the sky, Sandy in the sand, swimming in the water, as small as a box of matches, a needle, as big as cars and tractors. They have everything and everything. Some of them even cross mountains and rivers, and some of them may be produced in their own backyard. Some are technological products on the assembly line, and more are unique pure handicraft products.
It's the clothing Bazaar at the entrance of the Grand Bazaar that the most attractive. All kinds of beautiful clothes, silk and headscarves, like a sea of beautiful flowers, almost become the most concentrated area of the whole Bazaar women. Uygur women love beauty and like to dress themselves up in bright and bright colors. Bright and colorful clothes are wrapped around them like a flowering flower. Girls of the same trade also joined the crowd of cloth selectors in a lively way. We big men lost no time in drilling into a row of hats next to Bazari. Each booth has its own characteristics: green men's hat, women's placard hat, children's Beaded hat, Hotan mink hat, Tajik Black Lamb Leather hat, Kazakh felt hat, Cossack high-top hat, Russian lady hat, and Guinness World Collection of "the smallest hat in the world" - Yu Tam hat!
TIPS:
Urumqi (Lianhuo Expressway, Tugao Expressway) - 750 km - Kuqa County (S210) - 65 km - Shaya County (S210) - 590 km - Hetian (G315) - 510 km - Kashgar City

Tips
1. From Urumqi to Kuqa, it is necessary to cross Tielimaidedaban, Tianshan, at an altitude of 3,400 meters, and through the longest highway tunnel in Xinjiang, which is 2,000 meters.

2. From Shaya to Hetian, the road condition of desert highway is good, but with limited speed of 100 km/h, please do not exceed the speed limit.

3. There are few gas stations along the Shaya-Hetian line. Fill up before you go. There are more gas stations in other sections.

4. The road from Hetian to Kashgar is relatively good. Although the road is not wide, it is a second-class highway. When driving, more attention should be paid to avoiding pedestrians and livestock cars.

5. In Kuche, Shaya, Hetian and other places, the city's animal-powered bicycles and motor vehicles intermingle. Some local people also turn a blind eye to traffic lights. Car users should pay more attention to them.

6. In dry season, the Tarim Basin in southern Silk road Xinjiang is windy and sandy. In case of windy and sandy weather, don't rush to the road in order to be safe.

Xinjiang China Travel is specialiesed in organizing the Classic Ancient Silk Road Tour,and we are the professional Xinjiang Tour experts.We arrange both large and small group tours and specialize in vacation planning. We pride ourselves in helping people plan the vacation adventure that is right for them. Even only one person coming, we also can provide personalized service for you. With many years of experiencebehind us,we always offer the best value,most comfort and flexible tour for you,you will never feel rush and tired.