Silk Road Travel to Gansu and Qinghai
Post Time:2020-02-03 Views:
Silk road travel: Lanzhou, Qinghai, Jiayuguan, Zhangye, Xining
In the northwest of China, my impression is that there are few people, desolate and desert areas. However, the Hexi Corridor is also our famous ancient Silk Road.
In my lifetime, I still have to feel the vegetation, the Gobi and the desert. It's a long way to go, so I chose the Xinjiang China Travel with good reputation.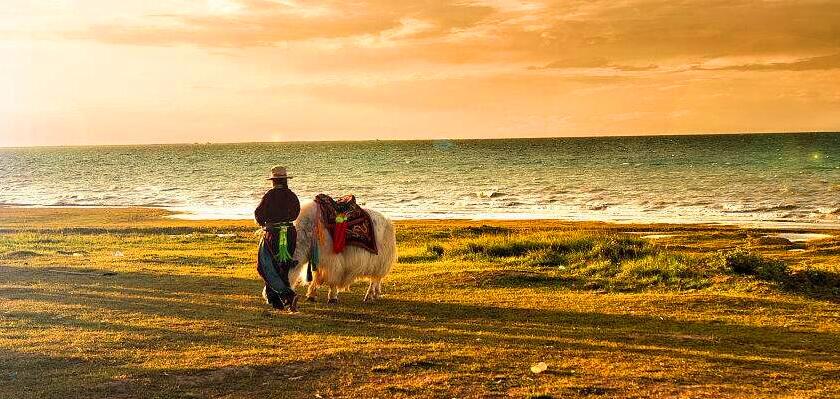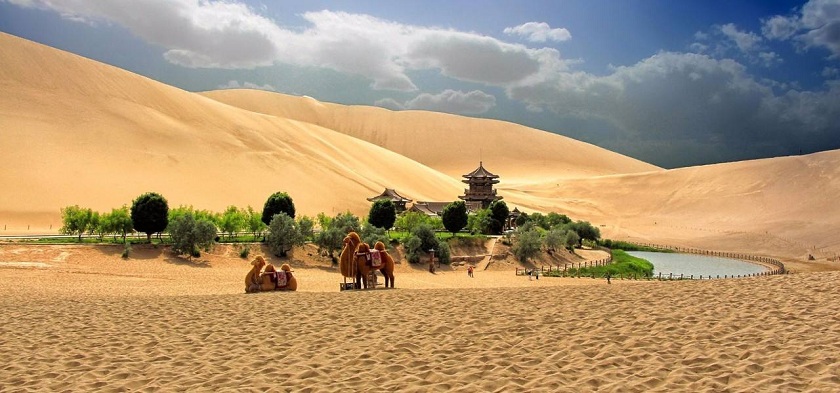 The first time to follow a Xinjiang China Travel's journey:
June 25 - July 2, 2018
6.25: All over Lanzhou to gather for hotel check-in
6.26: Lanzhou - Jinshawan - Qinghai Lake, Qinghai Lake
6.27: Qinghai Lake - Delingha - Chaka Salt Lake, Delingha.
6.28: Delingha - Dunhuang (also known as Valentine's Lake - Dachaidan) lives in Dunhuang
6.29:Dunhuang - Yangguan - Yadan Devil City - Mingsha Mountain - Crescent Moon Spring (originally to Yumenguan, Devil City can not go due to road construction), living in Dunhuang
6.30: Dunhuang - Jiayuguan (Mogao Grottoes, Guazhou), Jiayuguan
7.1: Jiayuguan - Zhangye,
7.2: Zhangye - Biandoukou - Menyuan - Xining

6.25: Arrive in Lanzhou
Arrive in Lanzhou, the airport to the railway station time is about 70 minutes, first come to the Hotel and check in.
The hotel is good and the traffic is very convenient.
Arrangement of accommodation, a simple lunch, ready to go to the Yellow River Scenic Line to see.
It's not far from the hotel, beside the railway station is the bus terminal. It's very convenient. We get off at Xiguan Cross on No. 1 Road and go straight on to Zhongshan Bridge. The bridge is Baita Temple. We get out of Baita Temple, cross the bridge and take bus No. 25 to get off at the Mother's Station of the Yellow River. We take pictures of the Mother of the Yellow River and the sheepskin raft on the Bank of the Yellow River. It's still interesting to go back to the hotel in the evening. Eating and transportation around the hotel are very convenient.

6.26: Lanzhou - Jinshawan - Qinghai Lake
We swim in the golden desert, the sand is so soft and delicate, sand skiing, beach motorcycles, people enjoy the fun. Forget altitude reaction, forget altitude. Beautiful Jinsha Bay, let's not miss it.
Qinghai Lake, also known as Tsuowenbu, Tibetan, and the blue sea, is the largest inland saltwater lake in China. The Qinghai Lake in July and August is the most beautiful with an average temperature of 15 degrees.
Around the lake, golden rapeseed flowers blossom, cattle and sheep are fat and grazing leisurely on the flowering meadow.
Qinghai Lake, I come to see your blue lake water, to see your magnificent sunrise and sunset, to see your unpredictable cloud cirrus.6.27: Qinghai Lake - Delingha - Chaka Salt Lake, Living in Delingha
Qinghai Lake takes more pictures of sunrise at 6:00 a.m., eats breakfast at 8:30 and leaves at 9:00 a.m. On the way over the rubber mountain of 3817 meters above sea level, we came to the town of Chaka for lunch.
Afternoon Teaka Salt Lake, the tour guide is a 1.86 metre handsome young man. He is very nice and responsible. He is also a beginner in photography. Thank you very much for your excellent leader.
Dawei, very experienced, want you not to forget to take slippers or sandals, later know, Salt Lake crude salt stuck feet.
Around 4 p.m., I got on the return train. It took me about 20 minutes to leave the beautiful Chaka Salt Lake and go to Delingha. Delingha was originally a military garrison. Later, the army did not open to the outside world until it arrived in Delingha by car for nearly two hours.A clean and quiet place.
The hotel is good, the facilities are OK, and there are fans, but today it's comfortable to take a bath. It's better not to take a bath at high altitude.
6.28: Delingha - crossing the Qaidam Basin - Dunhuang, living in Dunhuang
In the vast Gobi, we set out at 7:30 in the morning. An hour later, we arrived at the Valentine's Lake, a quiet lake, and the reeds were shaking slightly. We couldn't bear to break its silence.
Leaving the Valentine's Lake, we began to cross the Qaidam Basin, along the Gobi Desert, with no human habitat. Lunch in Dachaidan.
We crossed Dangjin Mountain at an altitude of 3,800 meters. Everyone is OK. There is nothing that is not suitable for us.
In the afternoon, we need to stop forcibly for 40 minutes. The leader leads us on foot. Or is our guide a basketball player?
Our leader used to be a strong donkey. When they walked outdoors, they said they could not walk for 30 minutes. It was still very hard for us to cut corners.
So hard is for the demolished Aksai old county town - Boluo Zhuanjing Town, approved by the Ministry of Civil Affairs on January 11, 1995, the Aksai Kazakh Autonomous County is located by Boluo Zhuanjing Town was relocated to Hongliu Town. In 1998, the Axel Government completed the relocation.
The hotel is very good, the facilities are very good, and the rooms are relatively large. This is what I used to think of as a desolate place, Dunhuang. To Dunhuang, in fact, it is not. It is a beautiful city, clean, prosperous and convenient to eat and live.
The biggest expectation of this trip is to visit Mt. Mingsha, Mogao Grottoes, which is also the most anticipated part of my trip.
The only time we don't need to change hotels is to stay in this hotel for two nights. There are many places downstairs for meals and the price is not expensive.
The city is not big enough. You can also visit the night market when you come out at night.
6,29: Dunhuang - Mogao Grottoes - Mingsha Mountain - Crescent Spring
Mogao Grottoes need to book tickets in advance. We agree that the hotel will be very close to Mogao Grottoes at 10:30 a.m., about 30 minutes'drive.
Starting from the Mogao Grottoes, I feel that there are not too many people to imagine. During this period of time, students have not had a holiday, and it will be much better.
Queuing into the digital cinema in the scenic spot, the leader is very experienced. He told you repeatedly that it would be more comfortable to sit behind. The first one is to watch 3D.
Introduce Zhang Qian's mission to the Western Regions for 20 minutes.
Then go to the second ring cinema. It's very magnificent. It takes 35 minutes to introduce Mogao Grottoes. It's very shocking and spectacular. At the end of the viewing, it's still reluctant to leave.
Some of the Mogao Grottoes introduced here are not open to the outside world. In order to protect these precious heritage, we can see exquisite murals and marvel at the long and ancient Chinese culture.
After several robberies, it is amazing that they are still in good condition.
Mogao Grottoes, commonly known as Thousand Buddhas Cave, is located in Dunhuang at the western end of Hexi Corridor. It was built in the pre-Qin period of the Sixteen Kingdoms and went through the Northern Dynasty, Sui Dynasty, Tang Dynasty, Five Dynasties, Western Xia Dynasty and Yuan Dynasty.
It has 735 caves, 45,000 meters murals and 2,415 clay sculptures. It is the largest and richest place of Buddhist art in the world.
In 1961, it was announced by the State Council as the first batch of national key cultural relics protection units. In 1987, Mogao Grottoes were listed as world cultural heritage.
Mogao Grottoes, Yungang Grottoes in Datong, Shanxi, Longmen Grottoes in Luoyang, Henan, and Maijishan Grottoes in Tianshui, Gansu are known as the four major Grottoes in China.
We are very lucky to have a look at the world-famous Mogao Grottoes in our lifetime. Photographs are not allowed in the caves. It's good to remember the magnificent murals with your eyes.
We visited eight caves in the Mogao Grottoes, including Cave 323, Cave 335, Cave 45, Cave 16-17, Cave 327, Cave 428 and the Ninth Floor, which are still very good.
Seeing these grottoes, I feel very satisfied. I don't know when, maybe I can't go to the grottoes to see the real scenery. I can only see the screen.
It's good to take a quick look without regret.
Return to the hotel at noon for a rest and prepare to leave at 5 p.m. to Mingsha Mountain and Crescent Spring, which are loved and expected.
Mingsha Mountain and Shapotou of Ningxia, Yinkentara Xiangsha Group of Dalat Banner of Inner Mongolia and Barikun Mingsha Mountain of Xinjiang.
It is known as China's four Mingsha Mountains. Mingsha Mountain in Dunhuang is named for the accumulation of quicksand and the sound of sand movement.
In the evening, I came back and visited the Shazhou Night Market, which is a street. There are many barbecued and noodled houses, one by one. One of the characteristics of Dunhuang is donkey meat yellow noodles. The most authentic locals told me that we were not in the night market, but a family close to the pedestrian street. We didn't go there. We didn't like eating meat very much. We strolled around the night market for a while. The woodcarving of Dunhuang at that time.
On the way back from the night market, when I saw the beautiful night scene, I temporarily got off and took some pictures. Before I came, I never thought that there would be such a beautiful night scene in Dunhuang in the northwest of China.
30 June: Dunhuang - Dunhuang Ancient City - Yangguan Ancient City - Guazhou - Jiayuguan Pass, stay at Jiayuguan Pass
Dunhuang is an ancient city with strong architectural style in the Western Regions. It has three gates, east, West and south. Dunhuang is under the jurisdiction of Jiuquan City. It has a population of 180,000 and more than 10 ethnic minorities live here again.
Dunhuang is an important tourist city in Western China. It has a long history and has been developed in Hexi since Emperor Wudi of Han Dynasty. According to Liangguan, the four counties of Lieshijun have a history of 100 years since the establishment of Dunhuang City.
Lunch settles itself. We eat dumplings. On the way to Jiayuguan Pass after dinner, the Xinjiang China Travel invited everyone to taste watermelon and Hami melon in Guazhou.
Arriving at Jiayuguan at about 7 p.m., another beautiful city.

July 1: Jiayuguan - the ancient city of Jiayuguan - Zhangye, stay in Zhangye
In the morning, I packed up and went to the park opposite the hotel. There were not many people doing morning exercises in twos and threes.
Today, I leave the beautiful town, Jiayuguan, and go to Zhangye.
The ancient city of Jiayuguan. Jiayuguan City is currently four prefecture-level cities without municipal jurisdiction in China. Three of them are located along the coast, Dongguan, Zhongshan and Sansha. The other is the earliest city built in these four cities. The only one located in the northwest of China is Jiayuguan.
Jiayuguan City is named after Jiayuguan, the "world's first grand pass". Jiayuguan is a cultural relic scenic spot, including Jiayuguan City, the first pier of the Great Wall, the hanging wall and so on.
In May 2007, it was rated as a national 5A tourist attraction.
Start at 1 p.m., go to Zhangye, stay in Zhangye at night.

July 2: Zhangye - Menyuan - Xining, in the evening, take Xining to Lanzhou West EMU to continue the next journey.
When Menyuan came, it was still earlier. Not all the rapeseed flowers were open, some were.
Driving to Biandoukou, where most of the rape flowers blossom.
Arriving at 6 p.m. in Xining, the old Silk Road in Northwest China, which I reluctantly reluctant to part with, is over and a new journey is about to begin.

Xinjiang China Travel is specialiesed in organizing the Classic Ancient Silk Road Tour,and we are the professional Xinjiang Tour experts.We arrange both large and small group tours and specialize in vacation planning. We pride ourselves in helping people plan the vacation adventure that is right for them. Even only one person coming, we also can provide personalized service for you. With many years of experiencebehind us,we always offer the best value,most comfort and flexible tour for you,you will never feel rush and tired.