Kashgar Travel Knowledge
Post Time:2020-01-05 Views:
Kashi is formerly known as Kashgar, it has been the largest city in southern of Xinjiang for hundreds of years, which is at the western end of the
silk road
. It has always been the traffic hub and commodity distribution centre of China and west, the trade is well developed. It has the advantage of 'Five ports to eight countries , all the ways to Europe and Asia' as its geographical location, National 5A scenic spot, covering area of twenty square kilometres, has 220000 residents.
Kashgar old city is one of the largest living constructions in the world. The native architecture itself has historical significance and value, which combines the characteristics of Han and Tang Dynasties, The Roman relics and Uyger's modern life. Kashgar old city's streets and lanes are crisscrossing, flexible layout, a winging path leading to a secluded spot, most houses are civil brick and timber structures, many of the dwellings have a history of hundreds of years, it is China's only Islamic culture as the characteristics of maze-style city block.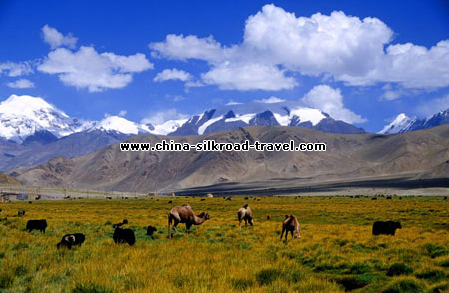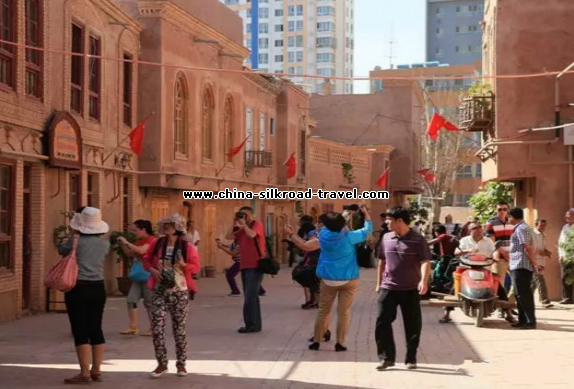 The earliest original record of Kashgar old city was made by Zhang Qian more than 2100 years ago. When ZhangQian came to the state of ShuLe, he mentioned "Wang Zhi ShuLe city and City series", however it is quite pity that he did not note the accurate location and perimetre of the city of ShuLe, which is hard to conclude that the city of ancient ShuLe is in today's Kashgar city.
Kashgar old city covers 6 categories of 171 tourism resource monomers, including natural landscape, ruins, building facilities, culture activities, tourism commodities, and has 1 world-class intangible cultural heritage and 14 national-level tourism resources. It main attractions are:
Atigar Mosque, is located in the city square, is the largest mosque in China. The total area of the temple is 16,800 square metres and composed of chapel, a Islamic church, a gate tower and other ancillary buildings. The temple gate is built of yellow brick, plaster joint, 4.7 metres high ,4.3 metres wide, the gatehouse is about 17 metres high. A 18-metre high minaret was erected on each side of the gate tower, and there was a crescent on the top of the tower. Annual Corban Festival, is attended by Muslims from all parts of the county and local worshipper can reach 20,000 to 30,000.
Pan Tuo Cheng is located in Southeast city of suburb of Kashgar city, south of TeBagh road .it is the site of a 17-year-old castle built by General Ban Chao of Eastern Han Dynasty from 74 to 91 A.D. he took Pan Tuo City as the base area to resist Huns and pacify the Western Regions, restored the central government's dominate over the Western region and reopened The Silk Road as well. Now the site of original ancient city of PanTuo City, covering an area of 14.5 acres, centred of the statue of BanChao, 36 the statue of warrior is symmetrical on both sides of Shinto, lined with 36 metres long and9 metres high , with large half-round relief screen walls, built with gates, ancient pavilions, stone archways, walls and beacon towers.

Xinjiang China Travel is specialiesed in organizing the Classic Ancient Silk Road Tour,and we are the professional Xinjiang Tour experts.We arrange both large and small group tours and specialize in vacation planning. We pride ourselves in helping people plan the vacation adventure that is right for them. Even only one person coming, we also can provide personalized service for you. With many years of experiencebehind us,we always offer the best value,most comfort and flexible tour for you,you will never feel rush and tired.