It's Time to Kanas (free ? maybe Yes)
Post Time:2018-12-26 Views:
The Kanas Lake (kā nà sī hú 喀纳斯湖), a frigid highland valley lake, nestling at the foot of the Youyi (Friendship) Peak of the Altai Mountains (ā ěr tài shān 阿尔泰山), is actually the widest section of the Kanas River, a tributary of the Erix River. Kanas is the only outstretched belt of Siberian taigas forest in China, the only distribution area of Siberian plants in China, the largest branch river head of Etix River—the only water system to the Arctic Ocean in China.
Kanas Lake
part 1 Location
The Kanas Lake, which means "beautiful, rich and mysterious" in Mongolian, can be found 150km north of Bu'erjin Town (bù ěr jīn 布尔津) in Xinjiang (xīn jiāng 新疆). Located in a valley in the Altai Mountains near the very northern tip of Xinjiang, the lake is 1,374m above sea level and covers an area of 45sqkm with the deepest point of 188m.
part 2 General Introduction
Kanas Lake was formed through severe glacial erosion by glaciers. The lake is estimated to be 200,000 years old and is China's deepest fresh water lake (184 meters in one spot). Kanas Lake Comprehensive Natural Reserve, a golden zone bordering four countries of Kazakhstan, Russia, Mongolia and China, is the only drainage basin of the Arctic Ocean in China. In Xinjiang, the reserve, minimally influenced by mankind, preserves the completeness of a primitive state with the largest number of tree species of coniferous forest and wildlife species.
Besides, the famous legends about "Kanas Monster" (kā nà sī hú guài 喀纳斯湖怪), the "Emei Spectacle" (é méi qí guān 峨眉奇观), which lights up the clouds after a morning rain, adds another air of mystery to the lake. The practices of the Tuwa Tribe and Altai Mountain rock-paintings have been attracting explorers and travelers to this area for decades.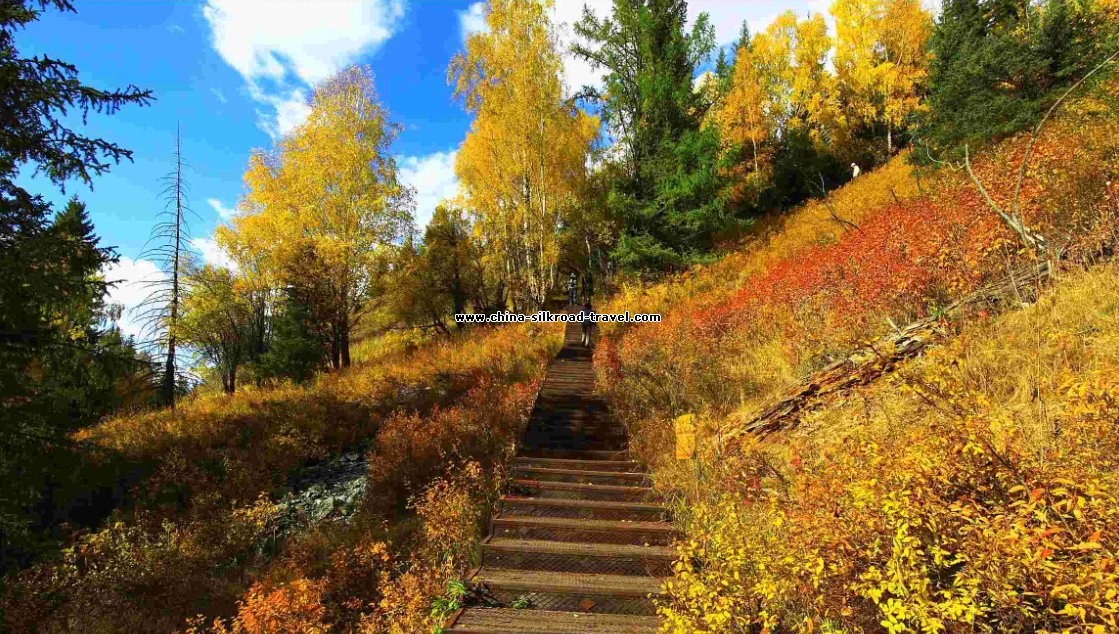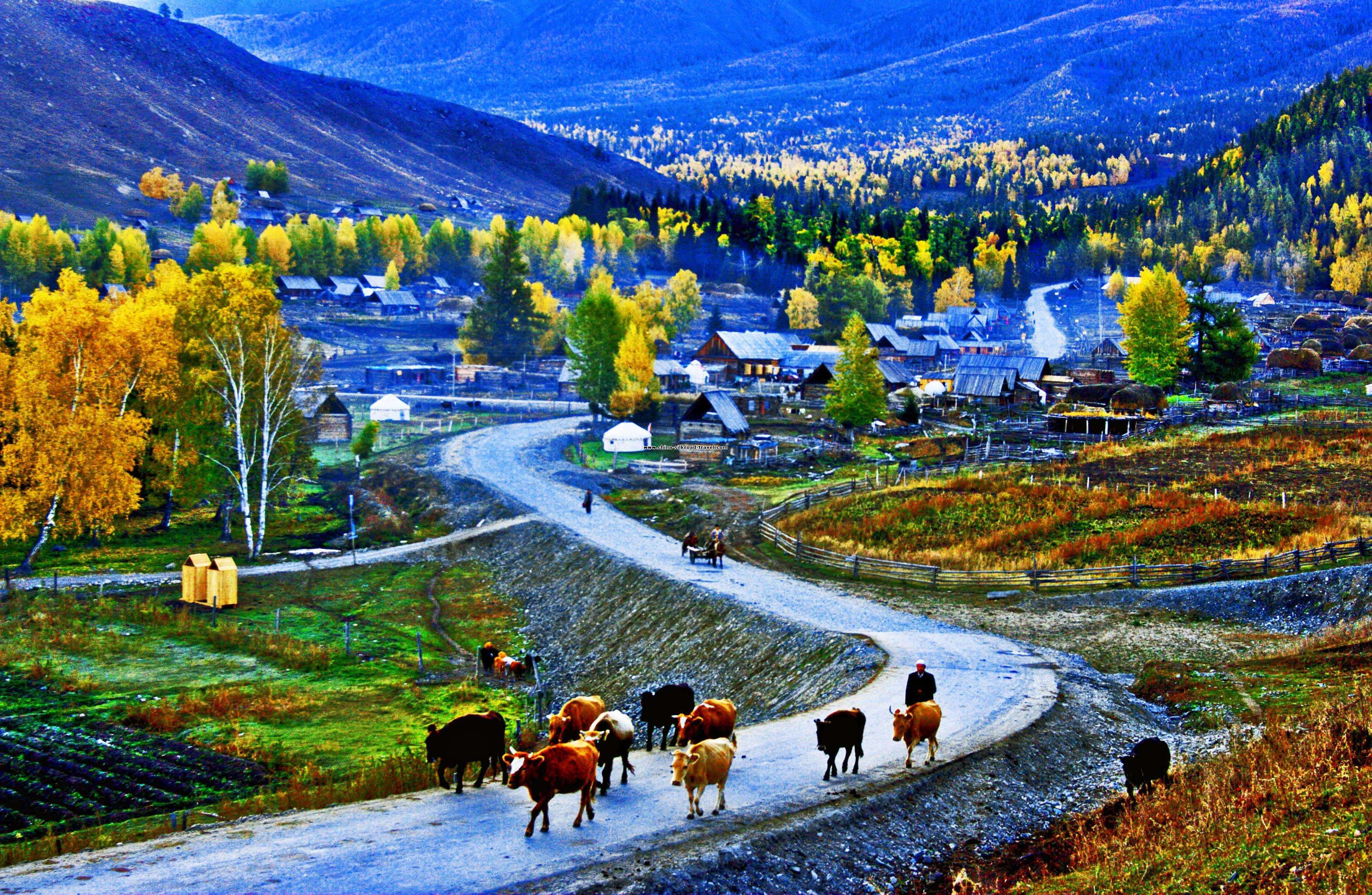 part 3 Animals and Plants
Embraced by snow-capped mountains, the Kanas Lake area is covered with dense forests and is the only region where animals and plants of South Siberia species can be found in China. A glorious stretch of primeval forest rings the lake, and the river which feeds it. Larch, red pine, spruce and birch, the classic continental trees still grow in profusion here, where they make a home for all manner of noble creature too self-respecting to linger near human settlements.
A thousand plant species, three hundred kinds of animals and a hundred of birds, big numbers that do little justice to an area of teeming biodiversity unique for being the southwest tail of the Siberian taiga.
part 4 Attractions
Monster in the Lake
Legend has it that huge monsters dwell in the lake's depths and they often has dragged horses and camels drinking into the water before swallowing them. It is said that the monster is actually a kind of rare fish named "Hucho taimen" in Chinese, also called "huge red fish", with the longest one measuring up to over 10 meters.
Buddha Halo Shining over Sea of Clouds (yún hǎi fó guāng 云海佛光)
After heavy rains in the early morning, one can appreciate the sunrise while standing in the Pavilion for Viewing Fish on the top of a peak. During sunrises, clouds and mist curl high up over the Kanas Lake. Sometimes, one can encounter the great spectacle of Buddha Halo, like that of Emei Mountain, with reflections of the pavilion and human figures in the halo.
Great Spectacle of Color-changing Lake (biàn sè hú 变色湖)
The Kanas Lake is famous for its changing colors. Colors of Kanas Lake vary in different seasons and weather. It changes several times in a day, from dark green to sky blue, then to gray and white. The long bean-shaped lake reflects the surrounding snowcapped mountains. In autumn, it presents a picturesque landscape of forests in a riot of colors with gold, red, blue and green, which excites your sights and senses.
Thousand-meter Long Bank with Withered Trees
On the lakeside, there are lots of withered trees with interlocked branches. Carried by strong wind or waves into the lake, these dead trees strangely flow against the current to the lake's north end and pile up in the upper reaches. With the elapse of time, a thousand-meter-long dike of dead trees came into being, forming a rare spectacle.
The Tuwa Tribe (tú wǎ zú 图瓦族)
A Mongolian tribe called Tuwa lives on the south bank of the Kanas Lake. It is a valiant ethic minority with a long history. Tuwa people speak Turkish, resembling the language of Kazakh, and live on hunting and graze. They also have a special folk custom. The Tuwa live in pine wood cabins. Hunters and herders, they get plenty of beef and dairy in their diets. A faith in Lama Buddhism still bears a rich strain of shamanistic ideology, expressed in their still close ties to the land, and deliberate distance from the outside world.
part 5 Transportation
Kanas Lake is 180km from Burqin County (bù ěr jīn xiàn 布尔津县) and 246km from Altay City (ā lè tài 阿勒泰). There are flights to Altay City and tourist coaches to Burqin County from Urumqi(wū lǔ mù qí 乌鲁木齐). You can enter the nature reserve by car or on horseback with local guides.
Step I - Urumqi to Bu'erjin
There is no train from Urumqi to Bu'erjin. The only means of transportation is by coach.Nianzigou Bus Station (niǎn zǐ gōu zhǎng tú kè chē zhàn 捻子沟长途客车站), 40 minutes from Urumqi airport, has daily buses to Bu'erjin. About CNY 200 for sleeper, 15-16 hrs journey.
Step II - Bu'erjin to Kanas, there are 2 options:
East route:Bu'erjin-> Jiadengyu (jiǎ dēng yù 贾登峪)(popular)
West route: Bu'erjin-> Habahe (hā bā hé 哈巴河)->Baihaba (bái hā bā 白哈巴) not open to foreigners
Jeeps and vans are available for rent, CNY 800-1000 per trip to Jiadengyu, you can share with other travelers. If you don't plan to trek, suggest you charter a vehicle for 3 days, which costs around CNY 2500, varying slightly according to vehicle type and condition.
Kanas Reserve Admission Fee: CNY 275 include shuttle bus.
part 6Best Time to Visit
Due to the long winter in the area, Kanas is open for tour only from June to October every year. The best time to visit is mid-May to June for its mountain blossom and fress grass before they are eaten by goats and cow; and September for its colorful autumn scenery. July and August are holidays and are crowded by local Chinese tourists.
Tips:
1. Kanas is located along the Chinese border, visitors must have a frontier permit for Burqin County.
2. Temperature changes sharply in Kanas from 14-15℃ in daytime to 4-5℃ at night. Bring enough warm clothes with you, even in summer.
part 7Northern Xinjiang and Turpan Join In Tour
Waiting for your Enquiry. from 860usd/person (departure date around 20th Sept)
our Information

Tour Name: 8 Days Turpan +Northern Xinjiang Tour
Tour Period: around 20thSept.
Hotel Standard: Comfort 4*
Group Tour: 4 to 12pax
D1 Arrive at Urumqi
Morning arrive at Urumqi, Be transferred to the hotel for rest
Overnight in Yilite Hotel
D2 : Urumqi - Turpan(200kms, 3hrs driving)
Morning your guide and driver will pickyou up in your hotel, then driving to Turpan. Visit the Tuyoq Village,constructed in eastern and western cliffs in Tuyoq valley . more than 40 caves,there are 10 preserving murals.BezeklikThousandBuddha Caves , is acomplex of Buddhist cave grottos dating from the 5th to 14th century betweenthe cities of Turpan and Shanshan (Loulan) at the north-east of the Taklamakan Desert in the Mutou Valley, a gorge in theFlamingMountains,China.AndJiaohe Ruins—with a history of 2,300 years lies between two riverson a loess plateau atop a cliff of over 30m. It is one of the best preservedruins of its ancient era inChina, it was includein the World Heritage List on June 22, 2014.
Meals: B
Overnight in Turpan HuozhouHotel
D3. : Turpan--Karamy(500kms, 6-7hrs driving)
After breakfast, driving to Karamy, travelalong the Gurbantunggut Desert to the Urho Ghost City, also known asWuerhe Wind City", a unique wind-eroded geological area commonly referredto as "wind city" because of the frequent howling winds.
Then continue journey to Karamy City.
Meals: B
Overnight in Boyu Hotel
D4 : Karamy--Kanas(458kms, 5-6hrs driving)
In the morning, we will drive to Kanas,visit the Kanas Nature Reserve, China's only European-likeecological site that has been awarded the title of the "Pure Landof the World" due to its unspoiled natural scenery. En-route, visit KanasLake, the lake is located in the heart of the Kanas Nature Reserve. Anotable feature of the lake is that the water changes its color with thechanging of the seasons and weather. Within a single day, the water's color mayturn from green to blue, gray or white.
Meals: B
Overnight in KanasNongshishi Hotel
D5 : Kanas--Hemu(55kms, 1hrs driving)
After breakfast, we'll head toHemu village,which is the one of the famous Tuvas village. You can experience the uniquelife style of Tuvas and enjoy the beautiful scenery.
Meals: B
Overnight in Hemu AhaInternational Youth Hotel
D6. : Hemu--Burqin(180kms, 4hrs driving)
After breakfast in the hotel, we willdrive to Burqin , we are going to the Five-Color Beach,which is located in the north of Xinjiang, and enjoy the sunset. Then back tohotel for rest.
Meals: B
Overnight in Sutong Hotel
D7. : Burqin--Urumqi(650kms,8-9hrs driving)
Morningbreakfast at the hotel, then we will drive back to Urumqi, arrive at Urumqi, transfer to thehotel and check in. visit the International Market for free shopping. farewell Dinner will be arranged tonight
Meals: B
Overnight in Yilite Hotel
D8 : Urumqi
Airport transfer based on your flightschedule.
Meals : B
if you can find 8persons to Join in the tour, you will be free of Charge !!!!
more information, please contact: info@toursxinjiang.com
Long press this QR code to join us
Find your travel companions and travel inquiries!
Xinjiang China International Travel
Your Best Silk Road & Xinjiang Tour Operator
Tel: 86-991 2699399 (24hrs)
website:www.578xj.com
www.china-silkroad-travel.com

Xinjiang China Travel is specialiesed in organizing the Classic Ancient Silk Road Tour,and we are the professional Xinjiang Tour experts.We arrange both large and small group tours and specialize in vacation planning. We pride ourselves in helping people plan the vacation adventure that is right for them. Even only one person coming, we also can provide personalized service for you. With many years of experiencebehind us,we always offer the best value,most comfort and flexible tour for you,you will never feel rush and tired.