A Bite of Xi'an
Post Time:2018-12-26 Views:
When we talk about Xi'an food, we are quite familiar with Roujiamo, Liangpi, Yangrou Paomo, Qishan minced noodles, and dumplings banquet to name just a few.There are many Yangrou Paomo restaurants in Xi'an city, However Sun's Paomo is one of the most famous in Xi'an city. In addition, some well- known Yangrou paomo restaurant such as Tongshengxiang, Xiguan and Tie Zhiming have been famous for a long time.
Xi'an Fangshang people are good at snack making and they are quite particular about the food ingredients and cooking styles. Yangrou Paomo (Pita bread soaked in Beef and Mutton Soup), preserved beef and mutton, steamed mutton, Honey Cold Zongzi, Niangpi, Mutton patty, Eight-treasures sweet porridge, Sticks the spicy soup, Liangpi, Mipi, rolled noodles, mutton dumplings, sour soup dumplings, steamed mutton dumplings, beef noodles, Jing gao(Mirror cake), Cake caldron, mutton dumplings, yellow cinnamon persimmon cake, fermented glutinous rice, Basin Mutton and other hundreds of snacks.
Roujiamo(Marinated meat in baked bun), is a kind of street food, originated from Shaanxi Province and now is widely consumed all over the China.
We usually use beef or pork (seasoned with cumin and pepper), The meat is then minced or chopped and stuffed in "Baijimo", a type of flat bread. An authentic Baijimo is made from a wheat flour dough with yeast and then baked in a clay oven, but now in many parts of China, Baijimo is made in a frying pan, giving taste diverges significantly from the authentic clay oven-baked version. Depending on the types of spices used to cook the meat and the way the bread is made, the taste of Roujiam
o can vary greatly from vendor to vendor.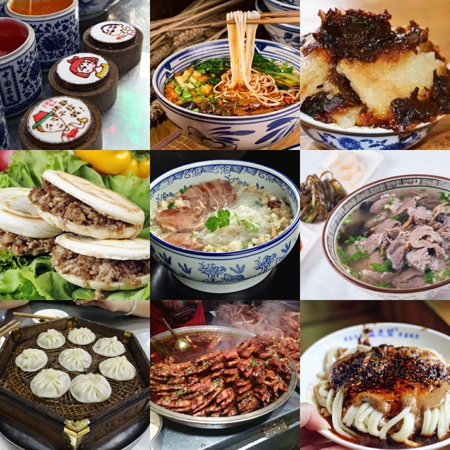 Roujiamo
is considered as the Chinese hamburger and meat sandwiches. Actually, Roujiamo coul
d be the world's oldest sandwich or hamburger, since baijimo dates back to the Qin dynasty (221–206 BC) and the meat to the Zhou dynasty (1045–256 BC).
Yangrou Paomo(Pita Bread Soaked in Lamb soup) is a specialty of Shaanxi cuisine and is a typical food eaten in the city of Xi'an. It is a hot stew of chopped-up steamed leavened bread (known regionally as mo), cooked in lamb broth and served with lamb meat, sometimes substituted with beef.
Pita Bread Soaked in Lamb soup is made of lamb soup and a great amount of flat bread. When making this dish, the cook breaks the bread into small pieces and adds them to the lamb soup and is always eaten with pickled garlic and chili sauce.
Jinggao(Mirror cake): Shaanxi's traditional snack is made by glutinous rice and is shaped like a round mirror. In the Qing Dynasty, there was a poem: "The willow shade leaves a long day, and the burden of the mirror cake is also fragrant." Before entering Huimin Street, you will see many small cars selling mirror cakes under the Drum Tower, they put the Mirror cakes in a very small drawers, and it has some seasonings, when they want to eat, they would dipped cakes in sesame seeds and sugar, which is quite tasty.

Zeng Gao(Cake caldron):It is also known as Shuijing Longfeng Gao(Crystal dragon and Phoenix cake) with glutinous rice, red dates as raw materials, and it is a traditional breakfast in Guanzhong area.

Xinjiang China Travel is specialiesed in organizing the Classic Ancient Silk Road Tour,and we are the professional Xinjiang Tour experts.We arrange both large and small group tours and specialize in vacation planning. We pride ourselves in helping people plan the vacation adventure that is right for them. Even only one person coming, we also can provide personalized service for you. With many years of experiencebehind us,we always offer the best value,most comfort and flexible tour for you,you will never feel rush and tired.