One Belt One Road
Post Time:2018-12-29 Views:
Present Xi's Proposal
On September 7, 2013, Xi put forward the idea in the speech at Kazakhstan Nazarbayev University.
China is willing to strengthen maritime cooperation with ASEAN, making good use of fund to develop marine partnership to build the "21 st century Marine Silk Road" .
On November 8, with the help of APEC held in Beijing. The blueprint and the implementation conditions of The Belt And Road became muture.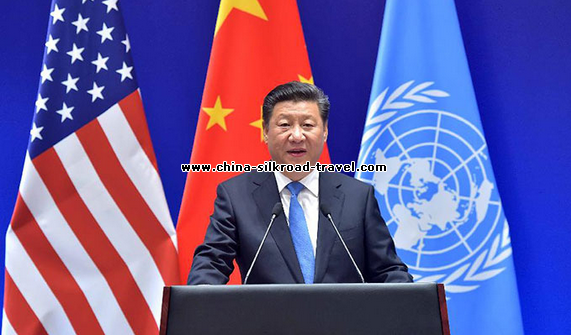 The Belt And Road
"The Belt And Road" refers to the"Silk Road Economic Belt" and "21 st Century Marine Silk Road" for short.
Ancient Silk Road
Ancient Silk Road started with Changan (now Xi'an) and Luoyang, via Gansu and Xinjiang, Finally
Reached Central Asia and West Asia. It also linked various Mediterranean countries.
Countries and regions besides Silk Road exchanged a lot of commodities including silk, furs, jade, jewelry and perfume. It promoted the friendly contacts between Asian and European countries and China.

International Background
The world's economic growth weakened, and it's recovery is weak. Many countries were facing economic hardship.
China took this opportunity to put forward OBOR strategy concerened about the countries mentioned to realize a win-win situation.
Domestic Background
The Belt And Road, as an important long-term national development strategy. It has five strategic issues including Overcapacity Problem, Resources Acquisition, National Security, and so on.
Overcapacity Problem
1. OBOR opens up new export markets to compete with America and Japan.
2. It helps emerging market countries and less developed countries in infrastructures construction, using the sufficient foreign exchange reserves to solve the overcapacity problem.
Resources Acquisition
China's oil and gas resources are highly dependent on overseas mineral resources.
OBOR will build some effective channels to get resources. It contributes to the resources diversification.
National Security
The industry and infrastructure of coastal region, western area and central area need to be protected from external concealed threats.
OBOR will improve the capability to strengthen the national security at risk of conflict.

Trade Initiative
OBOR will make China have a greater say in global market and regional economy.

Transportation Network
With building a transportation network in the neighboring area, OBOR will promote the export trade and mobilization of resources.

Suggestions from President Xi
1. To realize interconnectivity among Asian countries for the first time.
2. To build a transportation network on the basis of Economic Corridor.
3. To give priority in the project of highway and railway construction between China and neighboring countries.
4. Silk Road fund is open to the investors in and out of Asia.
5. To consolidate the foundation of Asian interconnectivity on the basis of cultural and educational exchanges.

International Significance
1. Strengthen effective cooperation with neighboring countries.
2. Two radiant effects give China important diplomatic and economic leverage
3. It promotes Chinese culture in an effective way.
Domestic Significance
1. Promote "Rise of Central China" and "Western Development"
2. Promote the transition and structure upgrading in Eastern Region.
3. Promote foreign investment.

Xinjiang China Travel is specialiesed in organizing the Classic Ancient Silk Road Tour,and we are the professional Xinjiang Tour experts.We arrange both large and small group tours and specialize in vacation planning. We pride ourselves in helping people plan the vacation adventure that is right for them. Even only one person coming, we also can provide personalized service for you. With many years of experiencebehind us,we always offer the best value,most comfort and flexible tour for you,you will never feel rush and tired.