Silk Road Travel: Following the steps of Marco Polo
Post Time:2019-12-26 Views:
From the ancient oasis towns of Central Asia, we retraced the epic journeys travelled along the Silk Road through desolate mountains and deserts, through busy bazaars and crumbling mud-brick towns.
Along the way, we followed the footsteps made by camel caravans to and from Central Asia and Europe by Marco Polo, Genghis Khan and Alexander the Great.
In ancient times, this legendary road - a series of routes collectively known as the Silk Road - was China's link with Central Asia and Europe.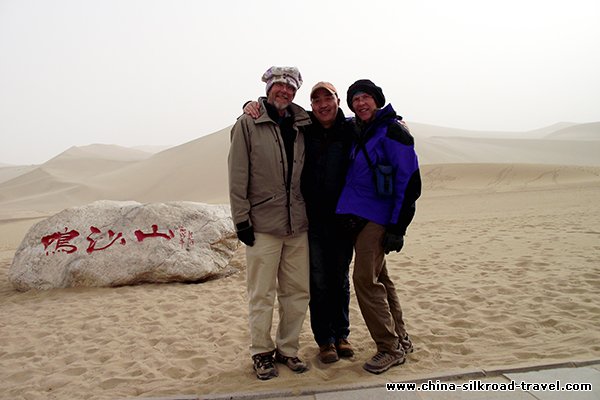 Advertisement: Story continues below
Travellers crossed through several different branches.
One was up the Gansu corridor to Dunhuang on the edge of the Taklamakan desert.
Another began on the fringes of the Gobi desert following the Tianshan, or heavenly mountains, and heading to the oasis trading post of Turpan before arriving at Kashgar, at the foot of the Pamirs.
Our group of three - myself, my mother and a friend - opted for a haphazard itinerary that started off with an air journey from Beijing to Urumqi, capital of the Xinjiang autonomous region.
From there, we flew to Kashghar and then jumped on a train that took us past the Taklamakan desert and dropped us 22 hours later in Turfan, famous for its grapes and melons.
Finally, we headed to Dunhuang, famous for its ancient Buddhist cave paintings, where we also rode in camel caravans as they did in ancient times.
Although some evidence points to a trade in jade along China's portion of the Silk Road, as far back as 7,000 years, the establishment of the trade route really occurred about 2,000 years ago in Roman times.
Silk, one of China's prime exports, was of course moved to Europe and elsewhere via the route. But so were exotic animals, ivory, gold and plants.
It also facilitated the flow of new ideas and languages between far-flung cultures.
Xinjiang, a predominantly Muslim region in China's far west, seemed a world away from Beijing.
The ethnic Uighur language, dress, the faces and the food all seemed more attuned to Central Asia than East Asia.
Still, images such as the enormous statue of China's late Chairman Mao Zedong in Kashghar's central square reminded us of Beijing's grip on this region.
Kashgar has been a trading centre for over 2,000 years, and this business drive continues to energise the city with endless negotiations at the famous bazaars, in the old town, and just about in any street corner.
If you want to haggle for a camel, or check out a horse's teeth before purchase, you are just a tractor's ride away from the livestock market. The Kashgar animal market is a wide, open space crowded with shouting hawkers, food stalls, and merchants shearing their sheep here, hair flying in the air.
There's another market for carpets, fine silks and other textiles. It's open daily in a formal building but sprawls with impromptu stalls out from every side.
One of the great aspects of travel in China is the food, and the Silk Road is no exception.
At the livestock market, peddlers hawk Xinjiang's famous sweet melons, watermelons, and homemade vanilla ice-cream churned in wooden buckets.
You can also try "opke," a broth made from goat's intestines and head. Less adventuresome travellers might want to try Xinjiang's staple delights such as kebabs, rice pullao, dumplings, noodles and a variety of flat breads or nans.
You can also find a culinary cousin of the Jewish bagel - the "girde" nan, which is cooked in a open pit oven.
We enjoyed choosing a freshly-slaughtered goat at the butcher's stall and then taking it to a nearby cook who boiled it into a delicious soup before our eyes.
To nourish your mind, you will find many wonderful archeological treasures at museums and digs along the Silk Route, excavated after hundreds of years from the Central Asian sands.
China, the United Nations and neighbouring Central Asian countries plan a program aimed at reviving the ancient Silk Road by boosting investment, trade and tourism.
The two-year Silk Road Project involves the governments of China, Kazakhstan, Kyrgyzstan, Tajikistan and Uzbekistan.

Xinjiang China Travel is specialiesed in organizing the Classic Ancient Silk Road Tour,and we are the professional Xinjiang Tour experts.We arrange both large and small group tours and specialize in vacation planning. We pride ourselves in helping people plan the vacation adventure that is right for them. Even only one person coming, we also can provide personalized service for you. With many years of experiencebehind us,we always offer the best value,most comfort and flexible tour for you,you will never feel rush and tired.