Dragon Boat Festival
Post Time:2018-12-27 Views:
Date:Date: 5th day of the 5th lunar month
Activities:Dragon Boat races and eating Zong Zi (pyramid shaped rice wrapped in reed or bamboo leaves
The Dragon Boat Festival, the 5th day of the 5th lunar month, has had a history of more than 2,000 years. It is usually in June in the Gregorian calendar.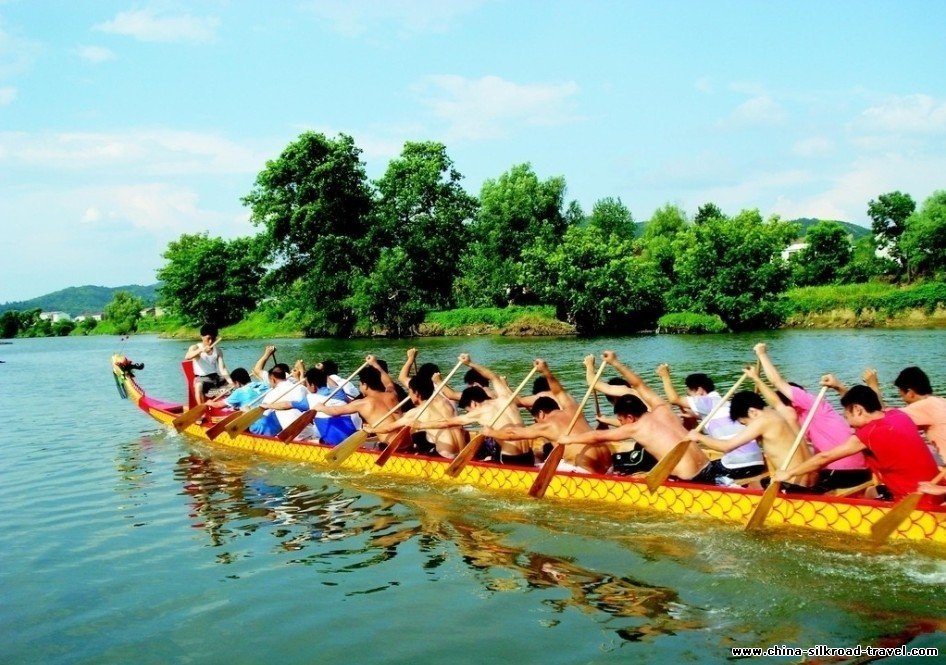 There are many legends about the evolution of the festival, the most popular of which is in commemoration of Qu Yuan (340~278 BC). Qu Yuan was minister of the State of Chu and one of China's earliest poets. In face of great pressure from the powerful Qin State, he advocated enriching the country and strengthening its military forces so as to fight against the Qin. However, he was opposed by aristocrats headed by Zi Lan, and later deposed and exiled by King Huai. In his exiled days, he still cared much for his country and people and composed immortal poems including Li Sao (The Lament), Tian Wen (Heavenly Questions) and Jiu Ge(Nine Songs), which had far-reaching influences. In 278 BC, he heard the news that Qin troops had finally conquered Chu's capital, so he finished his last piece Huai Sha (Embracing Sand) and plunged himself into the Miluo River, clasping his arms to a large stone. The day happened to be the 5th of the 5th month in the Chinese lunar calendar. After his death, the people of Chu crowded to the bank of the river to pay their respects to him. The fishermen sailed their boats up and down the river to look for his body. People threw into the waterzongzi (pyramid-shaped glutinous rice dumplings wrapped in reed or bamboo leaves) and eggs to divert possible fish or shrimp from attacking his body. An old doctor poured a jug of reaglar wine (Chinese liquor seasoned with realgar) into the water, hoping to turn all aquatic beasts drunk. That's why people later followed the customs such as dragon boat racing, eating zongzi and drinking realgar wine on that day.
Dragon boat racing is an indispensable part of the festival, held all over the country. As the gun is fired, people will see racers in dragon-shaped canoes pulling the oars harmoniously and hurriedly, accompanied by rapid drums, speeding toward their destination. Folk tales say the game originates from the activities of seeking Qu Yuan's body, but experts, after painstaking and meticulous research, conclude that dragon boat racing is a semi-religious, semi-entertaining program from the Warring States Period (475-221 BC). In the following thousands of years, the game spread to Japan, Vietnam and Britain as well as China's Taiwa

Xinjiang China Travel is specialiesed in organizing the Classic Ancient Silk Road Tour,and we are the professional Xinjiang Tour experts.We arrange both large and small group tours and specialize in vacation planning. We pride ourselves in helping people plan the vacation adventure that is right for them. Even only one person coming, we also can provide personalized service for you. With many years of experiencebehind us,we always offer the best value,most comfort and flexible tour for you,you will never feel rush and tired.