Hemu Village
Near
Kanas Lake 喀纳斯
in
Xinjiang Uygur Autonomous Region 新疆
lies a somewhat isolated and primitive village called Hemu 禾木. The locals still make a living from animal husbandry, keeping the ancient and straightforward lifestyle for generations. The whole town boasts a fascinating natural landscape, especially during autumn.
Hemu Village 禾木村
Located near
Kanas Lake 喀纳斯
in Burqin County ( 布尔津县 ),
Hemu Village 禾木村
boasts a picturesque natural landscape. Many might have already heard of the serene beauty of Kanas Lake 喀纳斯湖, but here in Hemu Village, the green grassland, boundless forest and misty snowcapped mountains welcome you to a hidden Chinese fairyland.
Must See in Hemu Village:
Hemu Village is a paradise for shutterbugs. Both sunrises and sunsets offer an excellent chance for stunning photos. When the night approaches, the sky adorned with numerous stars creates a mysterious and mesmerizing view. You can lie down on the ground, gaze at the stars, and empty your mind.
1.The Primitive Villages and Tuva Ethnic Group in Hemu
Hemu Village is the most remote and most significant of the three residences of Tuva ethnic group ( 图瓦人 ). The other two are Kanas 喀纳斯 and Baihaba 白哈巴, both in Xinjiang.
The locals have kept their ancient and straightforward lifestyle, and many still make a living by animal husbandry. Their residential area is characterized by wooden houses scattered across the village. The roof is nailed with wood, and each door opens to the east.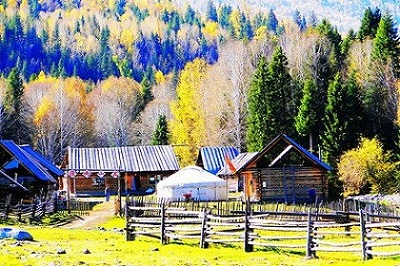 2.Hemu River and Viewing Platform
Opposite the residential area is the Hemu River ( 禾木河 ), whose water comes from the snow mountain. There are two bridges over the river that people usually call the Hemu Bridges (禾木桥). One is for visitors to walk across the river to the Hemu Viewing Platform ( 禾木观景台 ), and the other is mostly used for local herders and their livestock to cross.
3.Birch Forest in Hemu Village:
Around Hemu Village, you will see a large swathe of Birch Forest. When the leaves turn yellow in autumn, visitors may feel like they are walking in an oil painting or a fairyland.
4.Hemu Ice and Snow Park
Hemu Ice and Snow Park ( 禾木冰雪乐园 ), which developed in winter 2016, has integrated all the elements of ice and snow play into the majestic snow mountain range. There are more than 36 winter entertainment projects, including Folk Performances in the Viewing Area, Ice & Snow Projects in the Experience Area, Herdsmen's Folk Projects, Snowmobiles, Winter Sports Projects plus Home Visiting tour projects, etc.
Opening Hours & Admission Fee
Opening Hours
Peak season
1st May - 31st October ( 8:00-20:00 )
Off-season
1st November - 30th April of the next year ( 10:00-18:00 )
Admission Fee
CNY 102 ( Including Shuttle Bus )
Entertainment Projects in Hemu Village
1.Bonfire Party ( 篝火晚会 )
With the vigorous development of winter tourism, you will enjoy the variety of unique winter games in Hemu Village. Tourists enjoy the snow in the daytime and the evening bonfire party makes the night of Hemu Village more lively.
Bonfire party is a traditional form of celebration for herdsmen. In ancient times, people went out to hunt in the daytime, went back to the camp in the evening to enjoy the barbecue, and danced around the fire hand in hand to express their joy and happy mood. This form of celebration has continued to this day, forming a bonfire party, and it has become an essential part of traditional prairie culture to attract travelers from all over the world.
2.Hemu River Rafting ( 禾木漂流 )
Hemu River Rafting is one of the most exciting entertainment projects. The total length of the river rafting is 10km. The upper reaches of the river are mostly canyon areas with fast water flow. The river channels are mostly natural scoured channels with many river forks. In some places, the wave height can reach 1.5m-2m. Playing Hemu River Rafting is the best way to enjoy the thrill and of rafting into the Arctic water system, experience the icy water splashing in the face, and cross the swift water, which is joyful and exciting and frightening.
Enjoy the Hot Air-balloon in Hemu Village 禾木热气球:
To attract more visitors, In recent years, Hemu Village has launched the hot-air balloon project. The high altitude perspective also gives tourists a different sense of adventure.
| | |
| --- | --- |
| Bonfire Party | CNY 120 |
| Hemu River Rafting | CNY 200 |
| Hot Air-balloon | CNY280 |
Hemu Village Hiking Routes:
In recent years, hiking into Hemu Village is very popular, and there are here we recommended two hiking routes, one is from Jiadengyu 贾登峪, and the other is from Kanas Lake 喀纳斯. When you travel to Kanas, you many walkers on the path, they need to follow the team, and there is no need to ask for a guide. However, these two routes are quite proper for backpackers, outdoor enthusiasts, and young people to come. Hiking routes are accessible from May to October. In winter, there will be a lot of snow in the Scenic area, which is not suitable for hiking.
Route 1:
The hiking route from Jiadengyu 贾登峪 to Hemu Village is about 30 kilometers, and it will take about 10 hours to walk along the Hemu River. When you are walking on the alone the road, you will see the many magnificent sceneries such as grasslands, forests, and hills, to name just a few.
Route 2:
The hiking route from Kanas Lake 喀纳斯 to Hemu is about 40 kilometers, which takes about two days. Along the travel route, you will see the diverse and spectacular landscapes such as meadows, swamps, lakes, forests, mountains and rivers, and so on.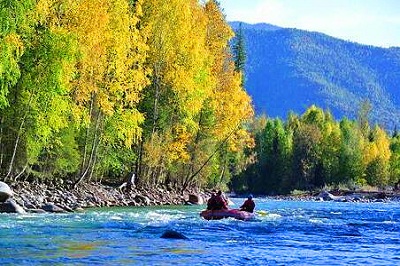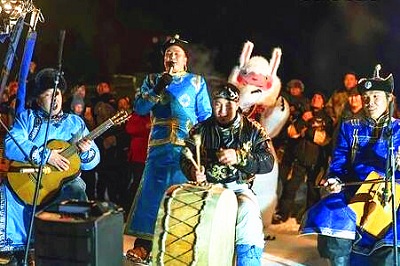 Best Time to Visit Hemu Village:
It is an important question that pops up in the mind of every tourist who is planning the Xinjiang travel in the future.
Every June to October are the best time to visit the Hemu Village, among them, from June to July, the grasslands are covered with a large number of beautiful wildflowers.
Many tourists can't resist the temptation to visit Hemu Village during the autumn season when the golden leaves cast a glow over the whole village. From September to October is the best time to take pictures, just like fairy tales, because at that time you will see the golden birch trees on both sides of the village. Furthermore, mountains and forests are reflected in the water, forming a surreal watercolor painting. You might also be able to witness the lake change its color several times a day.
Annual Temperature of the Year/℃ ( High-Low )
Jan.
Feb.
Mar.
Apr.
May
Jun.
-12/-22
-10/-22
-4/-17
15/1
19/7
25/12
July
Aug.
Sept.
Oct.
Nov.
Dec.
27/16
27/15
19/5
9/-2
-1/-12
-12/-21
How to Get to Hemu Village:
There are three ways to go to Hemu Village: Flight, Train, and Driving. Most tourists will choose to arrive at Burqin, and then take the sightseeing bus to the Scenic Area.
Drive to Hemu Village
·
Drive from Burqin county to Hemu Village is about 182.3 km ( 4 hrs )
·
Drive from Kanas National Park to Hemu Village is about 66 km ( 1 hour and 47 minutes ).
·
At present, the sightseeing vehicles in the scenic area have been opened, and private cars are not allowed to enter. The inter-district buses leave at 7:00 and 10:00 every day in Jiadengyu ( the departure time often changes ).
·
A road trip is highly recommended to get to the destination and also tour around Xinjiang.
Go to Hemu Village by Air:
·
Take the flight from Urumqi to Kanas Airport. Then change to a shuttle bus to Hemu Village ( The airfare is about 1200 CNY/pp include tax. Available from 10th June to 7th Oct).
·
Take a helicopter from Kanas to Hemu is about CNY 1000
Xinjiang Kanas Airport ( 喀纳斯机场 ) built close to a world-renowned scenic spot in northwest China's Xinjiang Uyghur Autonomous Region, and it is a seasonal airport that serves Burqin County and the nearby tourist destination Kanas Lake in Xinjiang. The airport was constructed in 2006 and opened on August 15, 2007.
Go to Hemu Village by Train:
Take the train from Urumqi - Beitun 北屯 ( the train fare is from 150-300 CNY/pp include tax ); you can choose to go to Beitun railway station, Beitun Railway Station ( 北屯站 ) is 270 kilometers away from Hemu Village. There are direct trains to Urumqi, Kuitun and Shihezi. You can take a bus from the railway station to Burqin, and then transfer from Burqin to Hemu.
Related Tour Package to Hemu Village
Northern Xinjiang Tour
Northern Xinjinag Tour to Kanas Lake and Narat Grassland includes all the natural wonders of North Xinjiang, vast lake, river and praire...
More
9 Days Classical Xinjiang Tour
Driving along the Fire mountain to Burqin town, enjoy the fish BBQ in the night market and enjoy the most beautiful landscape in Hemu...
More
12 days Photography Tour on Northern Xinjiang
Xinjiang Travel
to the Kanas National Park,enjoy the sunrise of Hemu village.what a relax and peaceful world...
More