Sunday Bazaar
You will never know the real
Xinjiang
if you've never been to
Kashgar
, and a journey to Kashgar is never complete without experience the local customs. As one of the best cities along the
silk road
, Kashgar was one of the leading commodity distribution centers at that time.
Kashgar Grand Bazaar
has a history of more than 2000 years, and it is the largest international trade market in the Northwest of China.
The History of Kashgar Sunday Bazaar:
In Uyghur language,
" Bazaar "
means a street where there are many small shops and stalls. As early as in 128 BC, when
Zhang Qian
was dispatched to the
Western Regions
by Emperor Wu of the Han Dynasty (206 BC-220), he was surprised to see the prosperous market here, full of dazzling goods and merchants came from different countries.
The traditional bazaar was initially held on Sundays. Still, it is currently divided into two sections; one is a livestock district that is only open on Sundays, and the other is an ordinary district, especially busy on Sundays, although open every day.
Sunday Livestock Bazaar
"Posh posh," vendors yell at their sheep while trying to shove them out of the truck, getting ready for trade—the livestock market in Kashgar, Xinjiang, about a 30-minute drive from downtown city.
This lively animal market is by far the largest and most popular, were yaks and camels are for sale, but so far, the most prevalent were sheep and goats. People come and trade almost every day, but Sunday attracts most people, including visitors.
Unlike traders who care much about how many deals they are about to make, I'm more attracted to the way they close the deal - handshakes by both sides after rounds of bargains by a third party, where you can still get a sense of long-kept traditions.

Original Bargaining Methods in Livestock Bazaar:
Bargain in sleeves:
People negotiating a price with one hand occasionally decorated their trellis with coats shook their heads or frowned, and their mood is quite changeable. After reaching an agreement, they nodded from both sides; therefore, this kind of bargaining method does not reveal business information to others, which can achieve the purpose of respectful to each other.
It is not allowed to start bargaining when selling dumb animals. Instead, it is up to the buyers and the animal agent to bargain in the sleeve. The specific gesture is to extend the fingers within 5: index finger 1, index finger and middle finger 2, middle finger, ring finger and little thumb 3, index finger to little thumb 4, thumb 5, 6, thumb and little thumb. 7, the index finger and middle finger are held together. 8, the index finger is extended separately and 9, the index finger is bent into a hook, The thumb and index finger are pinched in the shape of O, and the additional language is "this whole," "this zero" (the meaning of zero).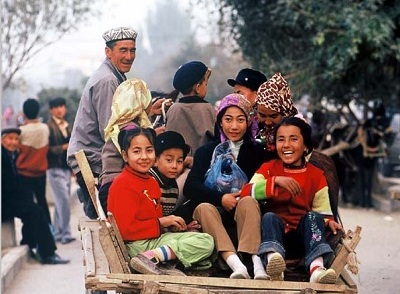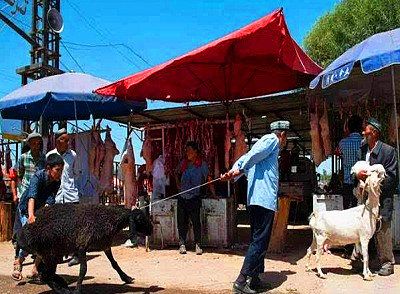 Why is it called Sunday Bazaar?
At present, there are more than 20 large scale bazaars in Kashgar, of which the one located at the East Gate of Kashgar City is the largest. This bazaar, also named " International Trade Market of Central and Western Asia," is the largest international trade market in Northwest China, enjoying the fame 'Material Fair of Central Asia.' Before 1992, Kashgar bazaar was only open on Sundays. So far, travelers and some tourism materials still call it "Sunday bazaar," and now it has changed to daily business.

What to Buy in Kashgar Bazaar?
The "International Trade Market of Central and Western Asia " is the largest agricultural trade market in Xinjiang, covering an area of 250 mu, with 21 specialized markets, more than 4,000 stalls, and food street. It has a wide range of commodities. The annual turnover is about 125 million. Every Sunday, more than 100000 people have shopping and worship here. Moreover, when you travel to Kashgar Grand Bazaar, you will see the various local products such as handicrafts, articles of daily use, dry fruits, fruits and vegetables, and livestock, to name just a few. So it can be said that this is the best place to reflect the Uyghur customs of Xinjiang.

The Advantage of Kashgar Bazaars:
Kashgar is a famous historical and cultural city on the ancient
Silk Road
, and also a commodity distribution center. The business group started from Xi'an, whether on the South Tianshan Road or the North Tianshan Road, converges here.
Kashgar has a long international trade history with neighboring countries. In the Bazaar, you can buy various things such as general merchandise, handicrafts, livestock, local specialties, vegetables, coat, and second-hand items as well as many other kinds of stuff from cattle and horses to needle and thread. Since
Khunjerab Pass
and Torugart Port
were opened, a large number of foreign merchants have come with a lot of goods. Thus, arts and crafts of Pakistan, scarves of Turkey, dry fruits of Saudi Arabia all can be bought at a reasonable price here. Meanwhile, in the early 1990s, there was also a Kyrgyz barter market in Grand Bazaar. Therefore, some domestic and foreign tourists call this bazaar
"Central Asia Material Expo."
Furthermore, you can experience an ancient peculiar trade form - barter.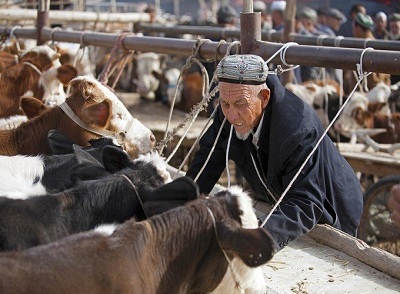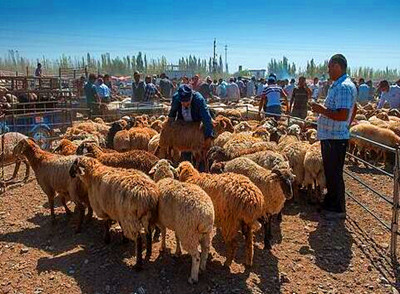 Gourmet Street in Kashgar Bazaar
There is also a gourmet street in Kashgar Grand Bazaar, which is full of Xinjiang special snacks and various fruits, such as Roast Mutton, Youtazi (Steamed Multilayer Bread) and Naan.

Trading Time & Livestock in Kashgar Bazaar:
Sunday Livestock Bazaar is a place where Uyghur people sell the livestock. It is traded on Saturday and Sunday every week. The market is enormous, with cattle, sheep, camels, and donkeys as the main trading varieties. Among them, the trading volume of sheep is unusually large, and the whole trading place is divided into different trading areas according to different variations, which is very spectacular. The most exciting thing is the trading zone of sheep. Take a closer look; you will find that in the process of trading, they will use ropes to cover the neck of the sheep and fix them on the stakes at both ends. Naturally, the sheep form a line. It's interesting to see the sheep being lined up.
| | |
| --- | --- |
| Admission Time | 9:00 |
| Trading Time | 11:00 |
| Lunch Time | 14:00 - 16:00 |

How to Get to Kashgar Bazaar?
Travelers can get off at People's Square Station by No. 2 bus or East Bridge Station by No. 17 bus, and then walk to Kashgar Grand Bazaar.
Opening Hours & Admission Fee
Opening Hours
11:00-20:00 (1st January - 31st December )
Note: Sunday is the best time for visit
Admission Fee
Free