Nalati Grassland
Located at the critical line of communications connecting
Southern and Northern Xinjiang 新疆
, the north part of
Nalati Grassland 那拉提草原
connects to
Gongliu 巩留
and
Xinyuan County 新源县
, and west part to
Hejing County 和静县
. East part comes from Aikendaban of northwest Hejing, and the western part reaches Wulandaban. It is about 150 kilometers long and 3,000-4,500 meters above sea level. The northern slope faces the wind, and yearly rainfall is 400-700mm. A vast stretch of wild apple trees has been found in Xinyuan County at the 1500-2,000 above sea level. It listed as a nature reserve. The No 218 National Highway runs across the Tianshan Mountains, along the north part of Nalat grassland. Furthermore, Nalati Grassland boasts a sub-alpine belt, and it has been a great state land ever since the ancient times, and there are wide river valley, high mountains, the crisscrossed deep gores, the flourishing forest, and open grassland. It crowned as the
"Sky Grassland 空中草原"
and
"Garden Highway 花园公路."
History of Nalati Grassland:
Nalati Grassland 那拉提草原
has a history of over 3,000 years and is home to the Kazakh minority, who are known for their hospitality and folkloric singing and dancing.
It is said that during
Genghis Khan's western expedition 成吉思汗西征
, a Mongolian troop was marching from the depths of the
Tianshan Mountains 天山
to
Ili 伊犁
. It was spring, but the snow-filled the mountains. Hunger and cold made the army exhausted. They didn't want to cross the mountains, and suddenly they saw a vast grassland full of flowers and brocade, the gurgling spring and streams murmured over the lush green grass. It looked like a marvelous wonderland, so soldiers shouted happily, "Nalati, Nalati."
What to Visit in Nalati Grassland:
Nalati Grassland is one of the popular travel destinations along the
silk road 丝绸之路
. Here you can enjoy snow peak, pine forest, hills, and meadows, to name just a few.
Wusun's Ancient Tomb 乌孙古墓
is the critical site to know the origin and development of Kazak, and it is one of the three cultural relics and wonders in Ili. The valley scenery, nomadic cooking smoke, and yurt riders are the unique charms of Kazak.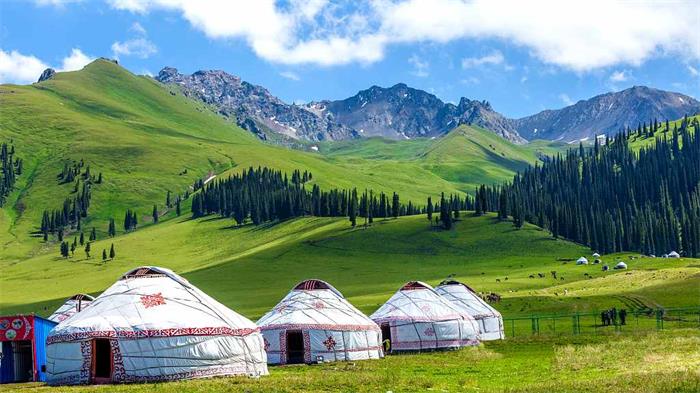 Sky Grassland 空中草原:
Summer pasture 夏牧场 is also known as "Sky Grassland,"
and the original name of air grassland is related to its altitude. The average elevation of summer pasture is 2200 meters; it is an Intermountain basin with beautiful grass, fertility, and water.
Every June to August is the golden season of Summer Pasture;
at that time, travelers can relax and enjoy the natural landscape.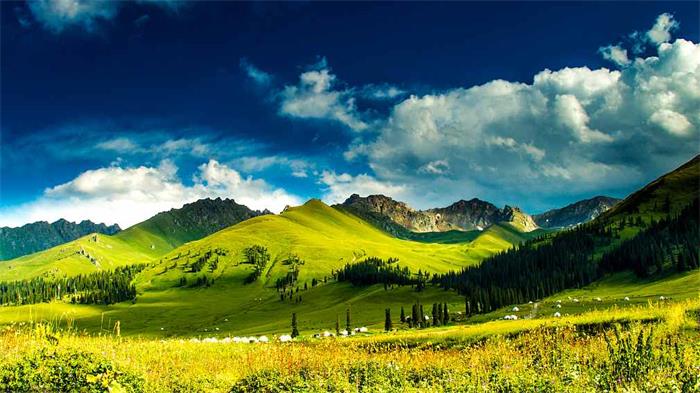 Wangtian Caves 望天洞:
From four kilometers north of Forest Park, you will see a cave surrounded by pale blue clouds all year-round, and that is the famous Wangtian Cave. The depth of the cave is 13 meters, the width of the cave is 21 meters, and the entrance of the cave is about ten meters away from the ground. The stone that leads it from the foot of the mountain looks like a ladder hanging in the air. Continue to visit; you will see a huge rectangular stone at the entrance of the cave, which adds an infinite magical charm to its legend.
Opening Hours & Admission Fee
| | |
| --- | --- |
| Opening Hours | 8:30 - 20:00 |
| Admission Fee | 135 CNY ( Including Shuttle Bus ) |
Nalati grassland is a middle mountain grassland. It is a crucial summer pasture in
Gongnaisi Grassland 巩乃斯草原
, which is connected with
Nalati Ridges 那拉提高岭
in the southeast and broken down along the valley at the upstream of Gongnaisi River in the northwest.
Nalati Grassland is situated in the hinterland of Tianshan Mountain, at the east end of Ili River Valley. Between 85 ° 17-28 E and 43 ° 01-15 n, the total planning area is 960 square kilometers.

Other Travel Information of Nalati Grassland:
About 15,298
Kazakh 哈萨克族
live in Nalati grassland, which is the most populated Kazak area in China. Therefore, Nalati grassland is listed as the most populous grassland in Guinness (China).
It will be the golden season of grassland after June every year. Because at that time, various gatherings and folk activities will be held in here, so there is a saying goes that Nalati is the resort of grassland gatherings.
Nalati Grassland has a continental semi-arid climate, with an average altitude of 1800 meters, annual rainfall of about 880 mm, and an average yearly temperature of about 20 ℃.
The best time to visit Nalati Grassland is between June and September
when the grassland carpeted with colorful wildflowers and wandering herds of goats, sheep, and cows.
Annual Temperature of the Year/℃ ( High-Low )
| | | | | | |
| --- | --- | --- | --- | --- | --- |
| Jan. | Feb. | Mar. | April. | May. | Jun. |
| -15/-26 | -10/-21 | 10/-1 | 15/3 | 20/10 | 30/17 |
| Jul. | Aug. | Sept. | Oct. | Nov. | Dec. |
| 30/15 | 28/10 | 21/10 | 17/5 | 0/-8 | -9/-20 |

How to Get to Nalati Grassland:
The Nalati National Forest Park can be reached via airplane or shuttle bus. Tourists can also depart from Yining City and drive 340 kilometers to the park.
Go to Nalati Grassland by Air:
1. Nalati airport is 58 kilometers away from Nalati Grassland. You can take a flight from
Urumqi
in summer and get there in 40-50 minutes.
2. The airfare from
Urumqi
to Yining is 400-800 cny/pp include tax.
3. Yining Airport is 247.2 kilometers away from Nalati Scenic Area.
Drive to Nalati Grassland:
1. From
Urumqi
to Nalati Grassland: Take 312 National Road, pass through
Sayram Lake 赛里木湖
, Jinghe 精河, and
Yining City 伊宁市
to reach Nalati scenic area, with a total length of 970km. Tourists visiting the northern Xinjiang ring road can choose this route.
2. Take the
Du-Ku Highway 独库公路
, pass Dushanzi 独山子, cross the Tianshan Mountain, with beautiful scenery and a total length of 450 kilometers. Tourists who would like to take Nalati scenic area as the destination or travel around the southern and Northern Xinjiang can choose this route.
3. Start from
Urumqi
, take the national highway 314, pass
Turpan 吐鲁番
,
Korla 库尔勒
, and Hejing 和静, then turn to the national road 218, and pass through Baluntai to Nalati scenic area, with a total length of about 1000 kilometers. Tourists visiting the North-South Xinjiang ring road can choose this route.
Nalati Travel Tips:
1. The temperature difference between day and night, so that a long-sleeved coat and trousers are necessary during the visit.
2. Tourists should prepare several bottles of water if you are first there. The local water is saline-alkaline water, so visitors may be hard to get accustomed to it.
3. A torch is advised to prepare at night because it is hard for you to tell the directions in the evening.
4. Sun cream, sun umbrellas, or hats are necessary for the local intense ultraviolet rays.
5. The safety needs to be paid more attention, because one may easily get lost if you drive or ride a horse out of designated areas.