Day 1 Urumqi

Welcome to Xinjiang! Today you will arrange your international flight to get to Urumqi, the capital city of Xinjiang. we will meet you at the airport based on your flight schedule and then bring you to downtown to check you in. The rest of the day is free for you to explore this citty or have a good rest. Tomorrow you will start your 8 days amazing tour in Xinjiang.
Accommodation: In Urumqi

Day 2 Urumqi

Heavenly Lake (120kms, 1.5hrs driving)
Today you will have the opportunity visit the Heavenly Lake, a picturesque Alpine lake. After breakfast, we will depart from the hotel to Heavenly Lake with about 1.5 hours driving. Upon arrival, you will change the scenic shuttle bus enjoy the different view up to the mountains. Blue sky, clouds, snow-capped mountain and pine trees, you will feel like in a nature fairyland full of oxygen. Spend a few hours to walk along the lake and enjoy the scenery of Tianshan Mountain. After the visit, you will take the shuttle bus down the mountain and return to the downtown Urumqi.
We will take a city tour in the afternoon. the first stop will be the Xinjiang Region Museum, here you will see archaeological treasures from the Silk Road and Xinjiang's minority cultures. After that, we will take you to the Xinjiang International Bazaar, the largest bazaar in Urumqi. You'll find a bustling market filled with fruit, clothing, crafts, knives, carpets and almost anything that you can imagine. you can buy some souvenirs or local dried fruits for your family and friends.Xinjiang Region Museum,
Accommodation: In Urumqi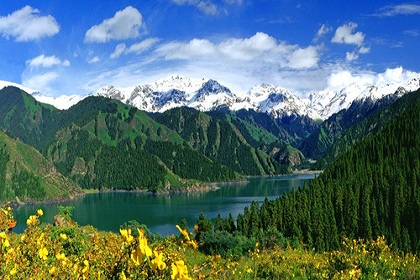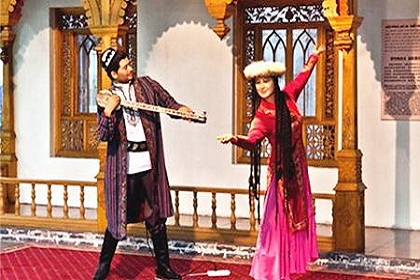 Heavenly Lake Xinjiang Regional Museum
Day 3 Urumqi

Turpan (200kms, 3hrs driving)
Depart from the hotel in the morning, we will drive on the highway from Urumqi to Turpan. You will have view the wind power station and Salt Lake en route. After a few hours driving, we will come to the first site in Turpan Tuyoq Village, a Muslim religious pilgrimage site, constructed in eastern and western cliffs in Tuyoq valley. more than 40 caves, 10 preserving murals. These grottoes are said to date from the West Jin Dynasty (265AD-316AD), and are considered to be the earliest in Turpan. Afterwards, bus transfer to visit the second stop Bezeklik Grottoes, which is a complex of Buddhist cave grottos dating from the 5th to 14th century between the cities of Turpan and Shanshan at the north-east of the Taklamakan Desert near the ancient ruins of Gaochang in the Mutou Valley.it has always been the Buddhist Center of Gaochang area, there are 57 existing caves and murals for you to visit. From here you can also enjoy the outlook of Flaming Mountain around the Grottoes. Thereafter, drive back to downtown for dinner and overnight stay.
Accommodation: In Turpan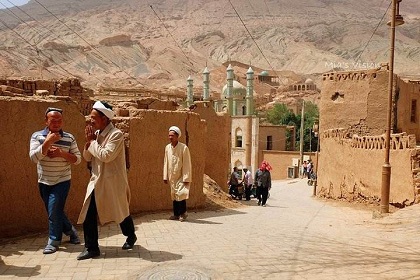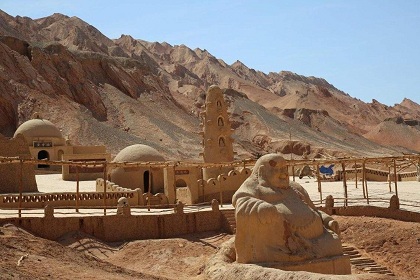 Tuyoq Village Bezekilk Thousand Buddha Caves
Day 4 Turpan

Urumqi

Kashgar
This morning you will take a Turpan city tour, we will first head to the Karez Irrigation system, ancient Irrigation System, which is still used today, is a unique irrigation system in Turpan. It takes advantage of the slopes, draws the underground water to flow by itself to irrigate farmland. It consists of four parts: vertical wells, underground channels, ground canals, and small reservoirs. then explore the Sugong Minaret, the minaret tower was built in the 41st year of the long reign of Qianlong Emperor during the Qing Dynasty. It is the embodiment of the ancient architectural arts of the Uighur people. The body of the tower is cylindroid in shape, built with bricks arranged in various symmetrical patterns on the outer wall. The tower has 14 windows and a spiral staircase inside going to the top. the final site is Jiaohe Ruins , The city's name means 'River City'. with a long history over 2,000 years. upon arrival, spend couple hours to wander around this ancient city, and pursue the past civilization along the ancient Silk Road.
After the visit, we will drive to Urumqi, and take the flight to Kashgar. the local guide and driver will meet you at the Kashgar airport, drive you to the hotel and check you in.
Accommodation: In Kashgar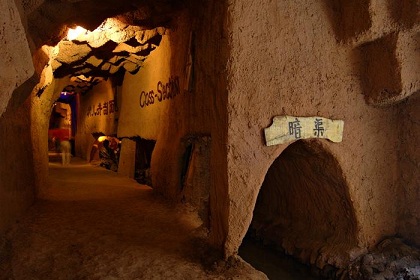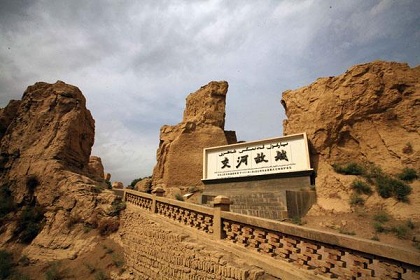 Karez Well Jiaohe Ruins
Day 5 Kashgar

Full day sightseeing tour in Kashgar city. the first stop we will visit for today is the Kashgar Old Town, stroll around the streets, one gets the sense of what this legendary Central Asian hub was like in the days when the Silk Road was at its zenith. Visit the small alleys to look at the characteristic Uygur residences. You will experience and enjoy the culture and history that has been retained in the small alleys and deep courtyards. Next, we are going to the 600-year-old Id Kah Mosque, which is a place for Muslim worship, also the largest Mosque in China and most famous one in Xinjiang. After that we visit the handcraft street can be described as hand-made crafts exhibition. Photo on the processing of making the pottery and Uyger instrument.
After the visit, drive you to the famous Sunday bazzar. Here we will watching the locals trade everything from woodwork and iron wear to sheep, donkeys, cattle, horses and camels before progressing onto the covered bazaar, believed to be the biggest in Central Asia.and then visit the Abakh Khoja Tomb, who was one of theimperial concubines of Emperor Qianlong in Qing Dynasty.
Accommodation: In Kashgar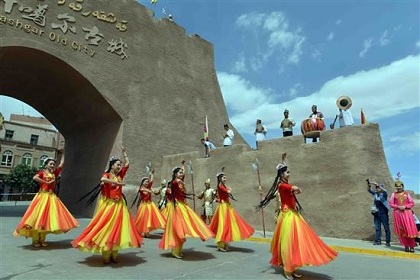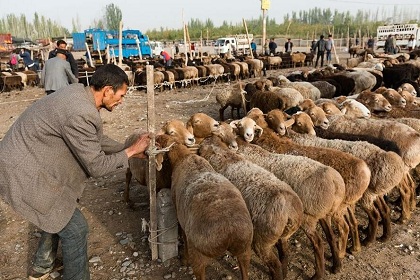 Old Town Sunday Bazaar
Day 6 Kashgar

Enjoy your breakfast at the hotel and then we will drive on to Chinese Karakorum highway, Karakorum high way is 1200 kilometers almost Sino Pakistan—Chinese friendship high way build since 1976. Ancient Silk Road Merchants often run Via over Karakorum, Wahan corridor with Hindi Kush Mountain to India, Pakistan until Iran. On the road, enjoy the scenery of the Mt. Muztag, with a stop to visit the Karakul Lake, the highest lake of the Pamirs plateau, In fine weather, silver peaks are reflected in blue water with landscapes of lakes and mountains integrated into a whole, and herds of livestock around the lakeside are reflected in lake and is extraordinarily graceful. where Kirghiz herdsmen usually settle down and graze their herds.
Thereafter, we will go back to Kashgar in the late afternoon.
Accommodation: In Kashgar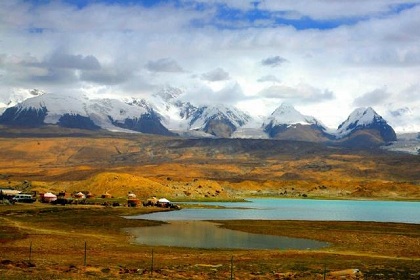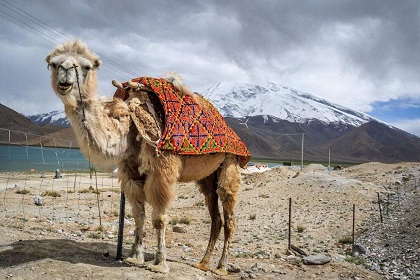 Karakul Lake Karakul Lake
Day 7 Kashgar

Your destination
In the morning, you can enjoy your breakfast at the hotel or pack breakfast if it is an early flight. and then we will arrange the airport transfer for you, wish you a pleasant journey home.
Travel in party of
Superior Class
★★★★★
Deluxe Class
★★★★
Tourist Class
★★★
2-5 persons
N
$
$
6-9 persons
N
$
$
10 persons & above
N
$
$
Single room Supplement
N
$
$
Service included:
√ Private transportation with Good AC
√ 4star Accommodation based on TWN rooms listed with breakfast;
√ Excellent English speaking guide
√ All sightseeing as specified in the itinerary;
√ 2nd class express train from Lanzhou to Zhangye
√ 2 bottle of water each person every day
√ Government tax
√ Travel insurance
√ Visa support if necessary
Service excluded:
× Flight arrive in Kashgar and leave from Urumqi
× Full board meals: all the lunches and dinners
× Personal expenses and tips to the guide and driver
× Some other activities such as boating, camel riding, culture show etc.
Booking and Get a Response Within 1 Working Day