Datong Travel Guide
Datong
, in north China's
Shanxi Province
, about 240 kilometers due west of
Beijing
, which follows, roughly, the border between present-day Shanxi Province and Inner Mongolia Autonomous Region. The city has one of China's most outstanding Buddhist treasures and the world's oldest wooden pagoda. Today, however, Datong, alongside its tourism-oriented role as an essential Chinese historical venue, provides one of the country's primary energy sources, as significant coal deposits have been found here, giving Datong the somewhat dubious title of China's "coal capital."
What to Visit in Datong?
Are you curious about the wonders in Datong, but don't know where to start? Or perhaps, you're an old hand looking to explore the several awe-inspiring historic sites. Here, we have recommended some well-known scenery, including Yungang Caves, as well as the Hanging Temple, and so on, that any foreigners traveling there are worth to visit. So Let's start our Datong Tours.
First, we will visit the fantastic
Yungang Grottoes
, one of the renowned Buddhist temple caves across the country, along with
Mogao Grottoes, Longmen Grottoes, and Maijishan Grottoes
. Entering this remarkable caves, you will be stunned by its outstanding Buddhist cave art achievement in ancient China.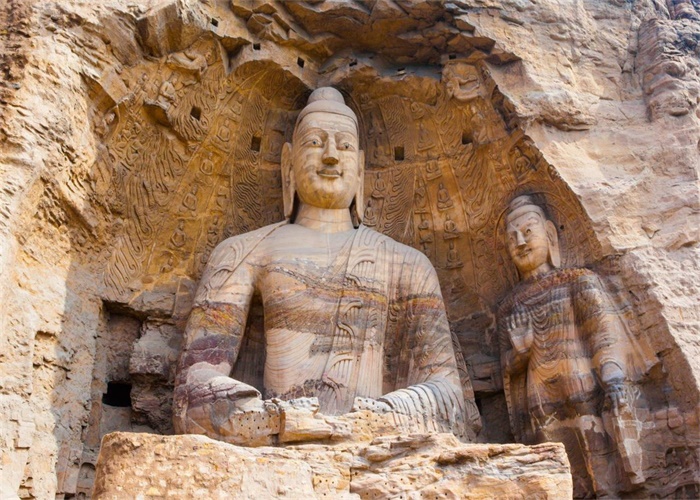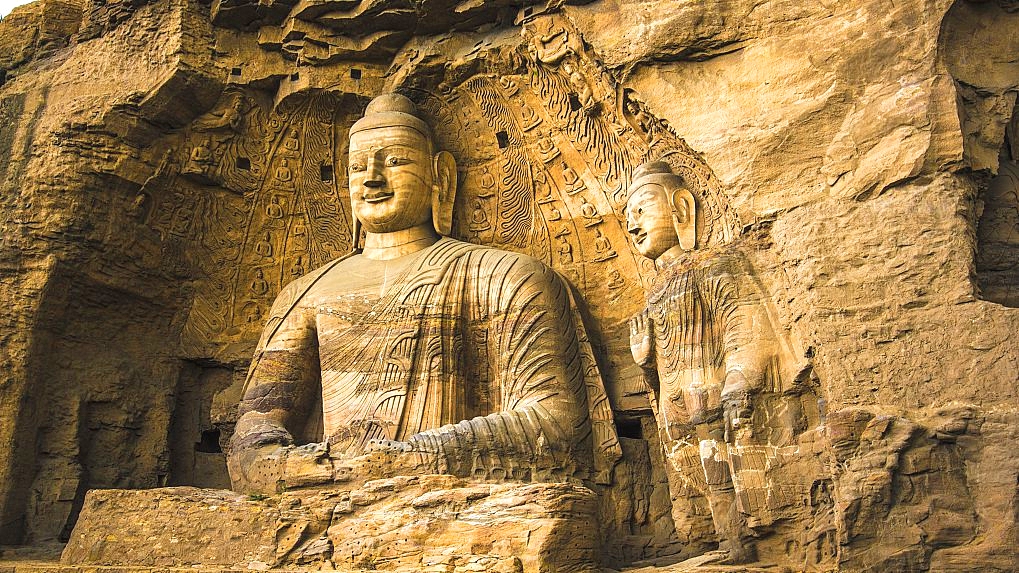 Then, we come to
Hanging Temple
, built more than 1,500 years ago. This temple is notable for its location on a sheer precipice and because it is the only existing temple that combines the three Chinese traditional religions. When you enter the Hanging Monastery, you can hear the wooden floor creak. It may be a little scary, but it is an unforgettable experience.
Unexpectedly, we come to
Yingxian Wooden Tower
, which is hard to believe that it has become one of the tallest wooden pagodas in the world after so many battles and natural disasters.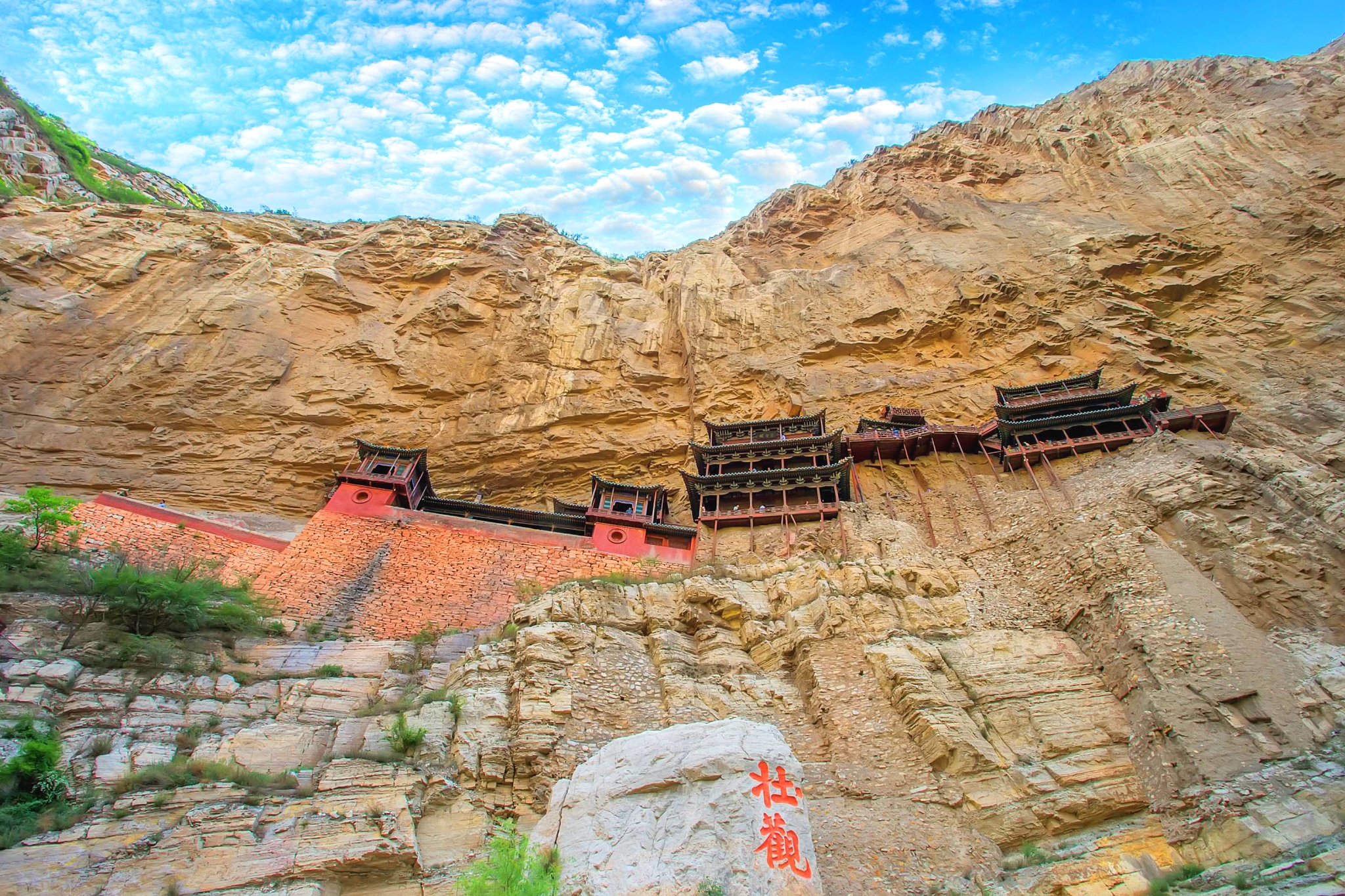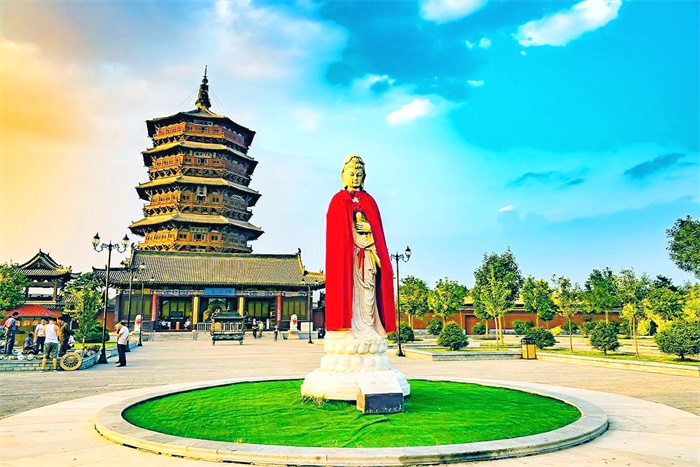 Note:
Because the wooden pagoda in Yingxian is leaning every year, to protect the ancient temple, you can only visit the pagoda's ground floor, but it doesn't affect your appreciation of this old millennium tower.
History of Datong:
Datong is a famous historical and cultural city in China; in ancient times, it was the capital of the Northern Wei Dynasty and a military stronghold whose mission was to hold back the hordes that frequently pushed south into China proper, from nomadic people, including Mongolian. Indeed, this was the political, economic, and military center of ancient China, which attracted many people from different countries for trade or commercial activities.
Weather and Climate of Datong:
Datong has a temperate continental monsoon climate and is affected by the monsoon with distinct seasons.
From April to October is the best time to Travel to Datong.
Spring:
The temperature rises quickly, the average temperature is 6.5 ~ 9.1 ℃, suitable for outings;
Summer:
With the moderate climate, and centralized rain, the average temperature is between 19~21.8℃, it is ideal options to visit the natural scenery, such as Hengshan scenic spots;
Autumn:
The temperature gradually drops, the average temperature is between 5.8~8.4℃, at this time the scenery is beautiful and the temperature is suitable for visiting the various scenic spots;
Winter:
The average temperature is between -12.8~-6.3℃; in January, the average temperature is -11.3℃. At this time, you can visit the ancient temples in Datong City.
Annual Temperature of the Year/℃ ( High-Low )
| | | | | | |
| --- | --- | --- | --- | --- | --- |
| Jan. | Feb. | Mar. | Apr. | May. | Jun. |
| -6/-18 | -2/-13 | 11/-5 | 17/4 | 25/11 | 29/15 |
| July | Aug. | Sept. | Oct. | Nov. | Dec. |
| 30/13 | 30/17 | 24/10 | 16/0 | 5/-6 | -4/-15 |

How to Get to Datong?
There are three ways to Datong: Flights, Trains, and Cars. Meanwhile, Datong is the gateway to the north of Shanxi, and it is also a bridge and hub which connecting Hubei and NW provinces in China.
1. Go to Datong by Air:
Datong Yungang Airport is about 15 kilometers away from Datong city; currently, it has direct flights to Beijing, Shanghai, Taiyuan, Tianjin, Nanjing, Shenzhen, Yuncheng, Changzhi, Guangzhou, Xi'an, Shenyang, and Xiamen.
2. Go to Datong by Train:
Datong is one of China's crucial transportation hubs; daily trains are departing to Beijing, Taiyuan, Xi'an, Hangzhou, Baotou, Guangzhou, Zhangjiakou, Tianjin, Shenyang, Yuncheng, and other places.
a
3. Drive to Datong:
Driving from Taiyuan to Datong takes about 3 hours ( 276.8 km )
Driving from Pingyao Ancient City to Datong takes about 4 hours and 30 mins ( 376.9 km )
Recommended Datong Tours