Samarkand
Samarkand is the mirror of the World, the Garden of the Soul, the Jewel of Islam, the Pearl of the East, the Center of the Universe. Lying in the river valley of the Zerafshan and flanked by Pamir-Altai mountain spurs, this fabled oasis at the fringes of the Kyzyl Kum desert has never lacked breathless admirers. Another name, City of Famous Shadows, reveals Samarkand as witness to the full sweep of Central Asian history. Up to 40,000 years ago, natural bounty drew Palaeolithic man to the area. The city proper claims equity with Rome and Babylon, for archaeologists date urban settlement at least to the sixth century BC.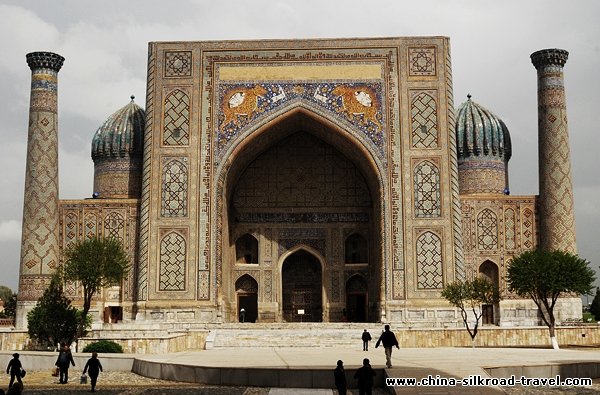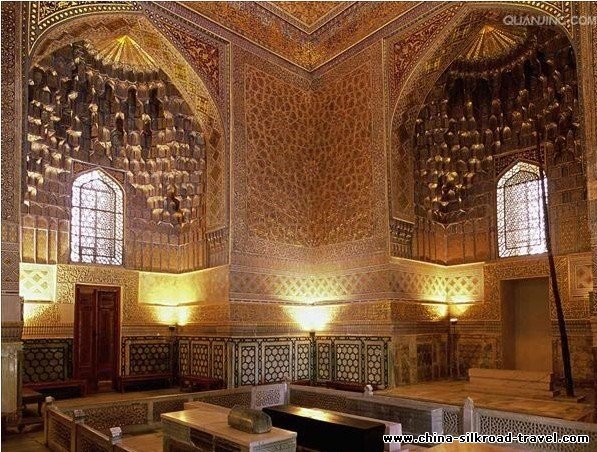 Until the 16th century, Samarkand was always the first city of Transoxiana in population, commerce and culture, for fertile earth rewards the farmer and trade routes west to Persia, east to China and south to India met here to form a major Silk Road crossroads and emporium. Among conquerors to cast their shadows were the Macedonian Alexander the Great, the Mongol Genghis Khan and, above all, Tamerlane, whose capital of fluted domes and sky-blue mosaic excites the traveler even today.
The Registan ensemble at the heart of Samarkand , restored to its original splendour, ranks first in Central Asia and among the greatest of all the grandiose and magnificent works of the Islamic world. Here lay the crossroads of Tamerlane's capital , where six arteries met under a domed bazaar, yet his grandson Ulug Beg envisaged a more cultural and political role. The Registan ensemble consists of three madrassahs: Ulugbek Madrassah, Shir Dor Madrassah and Tillya Kari Madrassah.
Tamerlane vowed to create Bibi Khanum Mosque without parallel in grandeur or decor throughout the Mislim world. Despite of ravages of time on one of his foremost expressions of power, the remains still captivate the visitor by their fantastic scale and romantic legend.In the shadow of Bibi Khanum lies Samarkand's main bazaar, focus of the old town. While officially it is the Siab collective farm market, and melons come by truck not camel. Beside cloth sacks of exotic spices, the famous Samarkand non (bread) fills barrows and pushchairs. These roundels of unleavened bread include some 20 varieties with individual pattern and name.
The holiest site in Samarkand is a necropolis of mausoleums Shah-i-Zinda climbing back in time from the northeast fringe of Tamerlane's capital over the old city wall and onto the southern slope of Ancient Afrosiyab. In the 14th and 15th centuries, it developed into an architectural testing ground whose celebration of ceramic art, unrivalled in Central Asia, makes this street of the dead perhaps the most visually stunning sight in a city of superlatives. In the foothills overlooking Afrosiyab History Museum to the northeast are the remains of a remarkable 15th- century observatory , the crowning achievement and path to disaster of Tamerlane's grandson, astronomer-king Ulug Beg.
Silk Road & Central Asia
Caucasus Travel