Amdo Tibetan-Huangnan & Guoluo
Amdo Tibetan- Huangnan & Guoluo
Brief Introduction of Huangnan:
Huangnan Tibetan Autonomous Prefecture is an autonomous prefecture of eastern Qinghai, China, bordering Gansu to the east. The prefecture has area of 17,921 km2 (6,919 sq mi) and its seat is in Tongren County.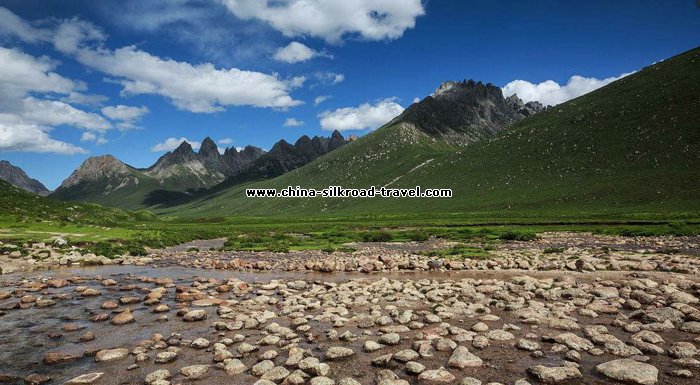 Popular attractions:
1.
Longwu Monastery
At the foot of a hill southwest of Longwu Town, the seat of Tongren County, are tens of scripture halls, Buddha palaces and thousands of monk houses This Buddhist garden architecture cluster is Longwu Monastery, 186km away from Xining. the most illustrious and largest Tibetan Buddhist monastery in South Qinghai. In Anduo region, it is only next to Labulen Monastery in Gansu Province and Ta'er Lamasery in Qinghai Province in its scale, position and influence.
This heavenly, massive and splendid lamasery, first built in 1301, now holds up a large variety of elaborate art works and rare cultural relics. During the Ming Dynasty, Emperor Xuande bestowed a plate inscribed with National Master of Great Expansion and Excellent Realization and another emperor gave a horizontal board inscribed with"Wonderland in the West"on it in 1622. In 1625, Xiaricang Gedanjiacuo I established Xianzong Academy in the temple, and since then Xiaricang has been expanded. The scripture halls and Bud aha palaces here are magnificent in architecture, splendid in ornamentation and abundant in historical relics. The Central Scripture Hall occupies an area of over 1, 700m, with 18 huge columns and 146 short columns in side. Inside the scripture hall are enshrined tens of finely sculptured statues of Sakyamuni and other Buddha bestowed by emperors in Ming Dynasty, one of Master Zongkaba's rochets, an 11 meters high gold leaf-covered, gold, jade and jewelry mounted resplendent statue of Master Zongkaba, with a base 26m in circumference. In addition, there are many musical instruments used in Buddhist mass, fine fresco, piled embroideries and Tangkas (color paintings)and a vast accumulation of Buddhist Scripture classes. It is another Buddhist art gallery in Qinghai Province and one of the key national historical reservations. It administers 18 temples, including Duhu Temple, Guomari Temple, Upper Wutun Temple and Lower Wutun Temple. Its major Buddhist ceremonies are the Praying Festival from lunar Jan 13 to 18, the Danni Festival in March, the Descending Festival in Sept and the Five-offering Festival in October.
2.
Wuntun Temple
Wutun Temple is also known as "Sengeyangxia Temple". the Temple has a large Sutra Hall, Maitreya Hall Protector Hall and tea house and the building covers an area about 80 acres. Among the monasteries are the Qing Dynasty sandalwood statues of Maitreya Buddha and other provincial cultural relics, and there are five Sakyamuni Buddha hairdressers from India, as treasures of the town temple worshipped in Sakyamuni Buddha statues. There are Important cultural relics in the temple include sandalwood carving, Maitreya Buddha and other provincial cultural relics in the Qing Dynasty. And some of the treasures are enshrined in the Buddha statues of Sakyamuni.
In addition, there are great deal of Buddhist Sutras in the temple, such as "Kanjur and Tanjur".
Outside the temple gate, there are eight white pagodas, called "Eight Pagodas of Liberation", which were donated by the villagers of Wutun.
3.
Kanbula National Forest Park
The Kanbul a national Forest Park is located in the northwest of Jianzha County, Huangnan, 130 kilometers away from Xining. The Park has a spectacular view, which is the typical Danxia landform. However Cambra is also the birthplace of Tibetan Buddhism after the Houhong period, Zhongzaxi Temple,Nanzong Temple, nun temple to name just a few, due to the rich cultural connotations, the Park has already become a holy place for Tibetan Buddhism.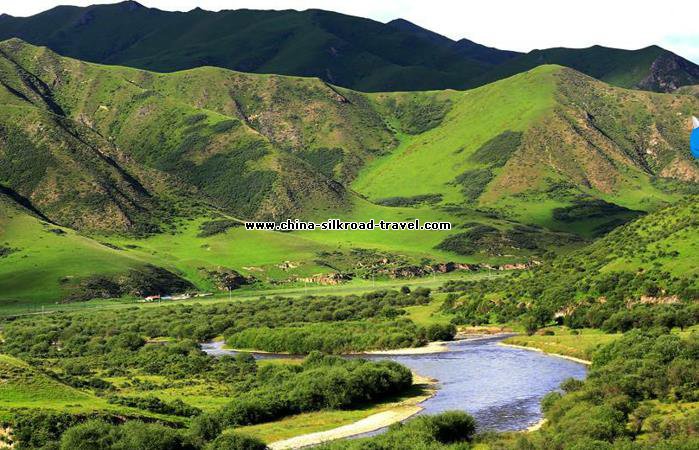 When to go:
The best time to travel to Huangnan is from: May to October.
Brief Introduction of Guoluo
Goluo Tibetan Autonomous Prefecture is an autonomous prefecture occupying the southeastern corner of Qinghai province, People's Republic of China. The prefecture has an area of 76,312 km2 (29,464 sq mi) and its seat is located in Maqên County.
Popular attractions:
1.Nianbaoyuze
As the highest peak of the Bayan Har Mountains, Nianbaoyuze Peak is 5, 369 meters above sea level and famous for its unique, magnificent and precipitous views Here, peaks rising one after another with the main peak covered in snow all year round The spectacular ice and the steep cliffs as well as the 180 lakes convey a mysterious veil. Now this place has been designated as a national geological park.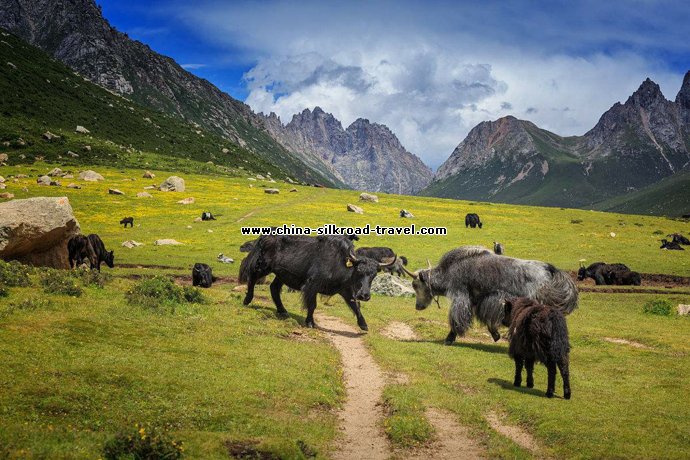 When to go:
The best time to travel to Nianbaoyuze is from: July to August.