Day 1
Urumqi

Today your flight will touch down in Urumqi, the capital city of Xinjiang. We will expect you at the airport after your baggage reclaim and customs clearance, and then escort you to check in at the hotel. Relax during the rest time of the day to recover from the jet leg and prepare for your tour.
Accommodation: In Urumqi

Day 2
Urumqi

Heavenly Lake (120kms, 1.5hrs driving)
Morning your guide and driver will pick you up from your hotel. Then you will start your journey from the Heavenly Lake, a picturesque Alpine lake, 2000m up in the Tianshan mountain range. which is surrounded by the snow mountains, blooming wildflowers, evergreen pine trees. There are eight beautiful scenic spots in the lake scenic area, you can stroll around these places or take a boat trip.
Afternoon, driving back to Urumqi, and tour at the Xinjiang regional museum to see archaeological treasures from the Silk Road and Xinjiang's minority cultures. After then, visit the Xinjiang International Bazaar, the largest bazaar in Urumqi. You'll find a bustling market filled with fruit, clothing, crafts, knives, carpets and almost anything that you can imagine.
Accommodation: In Urumqi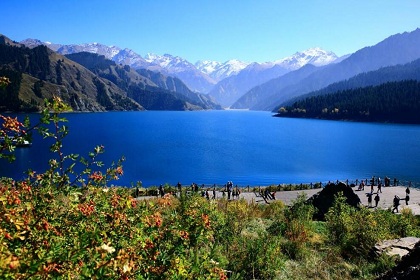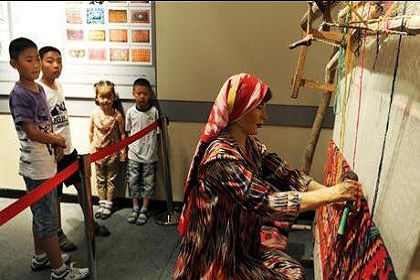 Day 3
Urumqi

Turpan (200kms, 3hrs driving)
Today you will finish your tour in Urumqi and drive about 3 hours to Turpan, see the largest wind power station and the Salt Lake en route. upon arrival, start your journey from the Bezeklik Grottoes, which is a complex of Buddhist cave grottos dating from the 5th to 14th century between the cities of Turpan and Shanshan at the north-east of the Taklamakan Desert near the ancient ruins of Gaochang in the Mutou Valley.it has always been the Buddhist Center of Gaochang area, there are 57 existing caves and murals for you to visit. Next, drive you to Tuyoq Valley. the oldest surviving Uygur village in Xinjiang. About a kilometer from the cave shrine is a group of grottoes that have some Buddhist and Nestorian artwork. These grottoes are said to date from the West Jin Dynasty (265AD-316AD), and are considered to be the earliest in Turpan. Most of the murals are damaged. Fortunately, 10 of the grottoes still have some of the preserved murals. These precious murals are very unique in style.
Accommodation: In Turpan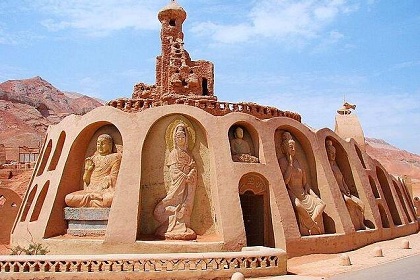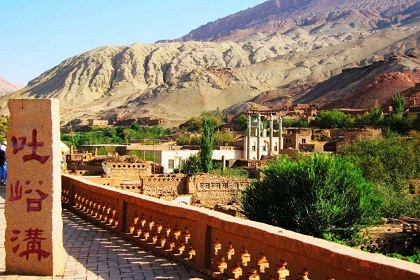 Day 4
Turpan

Urumqi

Kashgar
This morning you will take a Turpan city tour, we will first head to the Karez Irrigation system, ancient Irrigation System, which is still used today, is a unique irrigation system in Turpan. It takes advantage of the slopes, draws the underground water to flow by itself to irrigate farmland. It consists of four parts: vertical wells, underground channels, ground canals, and small reservoirs. then explore the Sugong Minaret, the minaret tower was built in the 41st year of the long reign of Qianlong Emperor during the Qing Dynasty. It is the embodiment of the ancient architectural arts of the Uighur people. The body of the tower is cylindroid in shape, built with bricks arranged in various symmetrical patterns on the outer wall. The tower has 14 windows and a spiral staircase inside going to the top. the final site is Jiaohe Ruins , The city's name means 'River City'. with a long history over 2,000 years. upon arrival, spend couple hours to wander around this ancient city, and pursue the past civilization along the ancient Silk Road.
After the visit, we will drive to Urumqi, and take the flight to Kashgar. the local guide and driver will meet you at the Kashgar airport, drive you to the hotel and check you in.
Accommodation: In Kashgar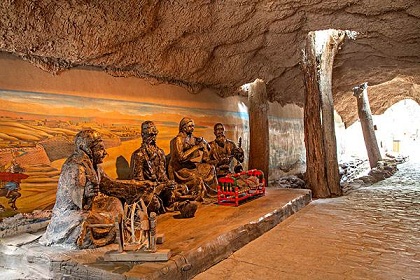 Day 5
Kashgar

Today is Sunday, we will do an exploration at the famous Sunday Bazaar (livestock Market) with farmers and buyers arriving by donkey cart, truck, bicycle, horseback, motorbike or on foot, with their animals. It's loud, lively and cheerful as they arrive, eat breakfast, set up their animals and check out the action. After the visit, transfer to the Apak Hoja Tomb, which is the holiest place in Xinjiang and an architectural treasure. and then take a city tour in Kashgar, the first stop we will visit is Old Town, to explore the special culture and life way of local people in Kashgar. Next, visit the Idigar Mosque, the largest Mosque in China and most famous one in Xinjiang. Walking along the Mosque, you will see the bustling Handicraft street, it gathered hundreds of handicraft workshops, which has become a boutique exhibition for handicraft in Kashgar and Central Asia.
Accommodation: In Kashgar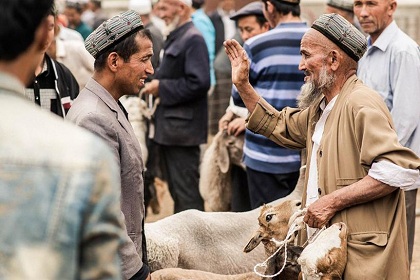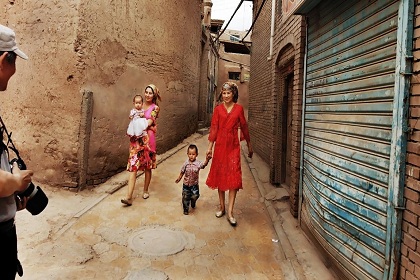 Day 6
Kashgar

Taxkorgan (320kms, 6hrs driving)
This morning drive on the China and Pakistan highway and enjoy the Pamir landscape, we will travel to Taxkorgan, a strategic pass in the Pamirs through which the ancient Silk Road crosses. The Tajik nationality lives in here. then with a stop on the way to visit the Karakul Lake, the highest lake of Pamir plateau, near the junction of the Pamir, Tian Shan and Kunlun Mountain ranges. Surrounded by mountains which remain snow-covered throughout the year, the three highest peaks visible from the lake are the Muztag Ata (7 546m), Kongur Tagh (7 649m) and Kongur Tiube (7 530 m). Then drive about 6hrs to Taxkorgan for rest.
Accommodation: In Taxkorgan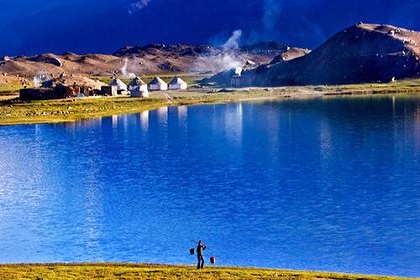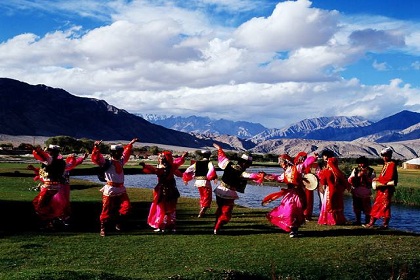 Day 7
Taxkorgan

Gulmit
After breakfast, head to Immigration office of custom and meet your guide from Pakistan. And drive to Sost, the former site of the Pakistan border check post. The check post is now located a few km north of Sust and has the name Afiyatabad. Sust is the jumping off point for people going to Kashgar and we will visit the bazaars of this border town. on arrival at Sost meet our Pakistani guide later will drive to Gulmit.
Accommodation: In Gulmit

Day 8
Gulmit

Morning hike to Ghulkin village on the way stop at one of our local family house for lunch this is where most of team came from, optional hike crossing Ghulkin glacier to Borith Lake , or drive there.drive back to Gulmit
Accommodation: In Gulmit

Day 9
Gulmit

Karimabad
Drive to Karimabad the capital of Hunza afternoon we will be visiting Baltit fort and walk around the village. Overnight in hotel.
Accommodation: In Karimabad

Day 10
Karimabad

Early morning tour to Duiker village for sunrise depends on the weather
Duiker Viewpoint - an early morning jeep excursion can be taken to Duiker Viewpoint from where you will see sunrise overlooking magnificent snow-covered peaks including Ultar (7388m), Rakaposhi (7788m) and Diran (7266m). Following breakfast at Duiker, return down to the villages to visit Altit.
And proceed to Hoper valley Nagar Valley - which can be seen from Duiker is on the opposite, eastern side of the Hunza River . This is another fertile valley and is predominantly Shia Muslim. A half day excursion to probably one of the world's fastest moving glaciers at Hoper. This glacier leads down from Karakoram Mountain range.
Accommodation: In Karimabad

Day 11
Fairy Meadow

This morning we will continue on the Karakorum Highway from Karimabad to Raikot Bridge on the east bank of Indus and cross the river at Raikot. Our first stop will be at the junction of Indus and Gilgit River , which is a unique place in the world where three mountain ranges meet i.e. Karakorum , Himalayas and Hindukush.
Before Raikot we will stop at a view point near Talich to have a view of Nanga Parbat . It was climbed on 3 rd July 1953 by Austrian climber Hermann Buhl for the first time. It is a nice view point to take pictures with Indus and Nanga Parbat beyond in the background.
From Raikot we will change into jeeps for a half an hour drive to Tato. From there we will start short a two hours trek to the lush green area of Fairy Meadows. Overnight in Huts at Fairy Meadow
Accommodation: In Huts

Day 12
Fairy Meadow

Bayal Camp Excursion (3450m)
This day we will take you further toward the base Camp of Nanga Parbat up to Bayal, the trek will take about one hour. You will be having free time to walk around and explore the area by yourself. Overnight in Huts.
Accommodation: In Huts

Day 13
Besham

Today we will trek back to Tato and take jeeps to Raikot bridge where coach will waiting to take us to Besham on the Karakorum Highway along the Indus, which divides the Karakorum and Himalayas as it enters Pakistan below Ladakh. During the journey the landscape changes almost after every 2 nd mile. KKH passes through Shatial, Komila and Dassu. There are many ancient rock inscriptions along the way left by Chinese pilgrims and ancient travelers. Out of these sites Chilas and Shatial is reachable easily and most of them are from 5 th century A.D.
We will follow the West bank of Indus to Besham (altitude 850 m) a small transit village fast becoming a town. It is at the junction of Swat valley. A road goes West via scenic Shangla Pass into the Swat valley. Overnight at hotel.
Accommodation: In Besham

Day 14
Besham

Taxila

Islamabad
Morning drive on KKH to Islamabad . En-route visit Taxila, 4 0 km north of Islamabad . Taxila ranks among the great archaeological site of the world. Conquered by Alexander the Great in 327 BC, it progressed under the Mauryans and the Great Kushans and became a learning centre. Destroyed by the White Huns it finally fell to the first great Muslim conqueror, Mahmud of Ghazni in 1000 AD. We will leave the Indus River at Thakot by crossing a bridge and continue through Chatar plains, Mansehra and Abbotabad to The Capital Islamabad Overnight at hotel
Accommodation: In Islamabad

Day 15
Islamabad

Half day tour of the capital city of Islamabad visit of Faisal Mosque, Shakra Parian view point and Rawalpindi Raja Bazar. Later transfer to the airport for onward flight.
Service included:
* Private transportation with Good AC ( China section: 37-41seats) and Pakistan section as following:
* 02 x 21 Seats Luxury Coaster Saloon for 25+30
* 01 x Luxury Coaster Saloon + 01 Hiace van for 20
* Jeeps: For Nagar, Duikar, Karimabad Sightseeing and Raikot to Tato to Raikot bridge
* Accommodation based on TWN rooms listed;
* Excellent English speaking guide
* Full board meals with a cup of soft drink
* All sightseeing (shuttle bus included)as specified in the itinerary;
* Flight from Urumqi to Kashgar
* Invitation if necessary.

Service excluded:
* International Airfares; airfare arrive in Urumqi and leave from Islamabad
* Tourist Visa;
* Camera and Video charges during sightseeing;
* Alcohol Drinks;
* Tips to the guide and driver.
* Personal expenses and optional like boating, camel riding, etc

Booking and Get a Response Within 1 Working Day