Turkmenbashy Ruhy Metjidi
Ruhy Mosque or Kipchak mosque is the largest mosque in Central Asia.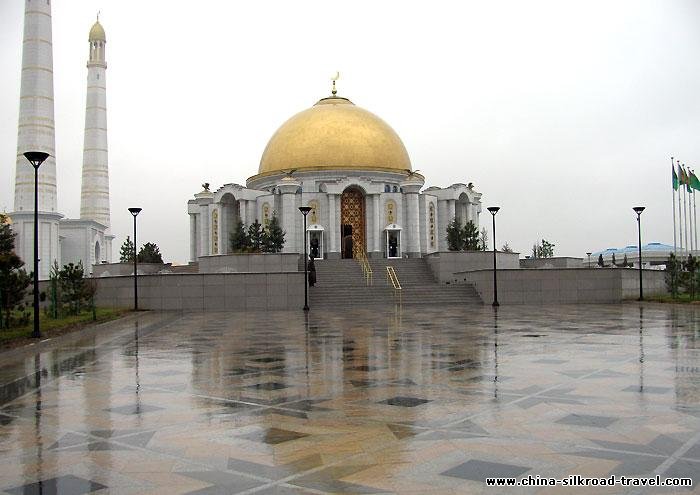 This is a new mosque, built in 2001 by the president Niyazov. Niyazov built this mosque at the place where his mother and tow brothers were killed by the earthquake of 1948.
Twenty thousand men and woman can pray at the same time. The floor of the mosque is covered in handmade Turkmen praying mats and an enormous eight-sided carpet decorates the very center of the mosque. It consists of two floors – on the first floor men pray; on the second, women. It has four minarets and a golden dome sits the central upper part of the mosque. The height of each minaret is 91m, and the dome is 50 m high, covered in gold. The mosque is surrounded by extravagant fountains and gardens.
This mosque has no Arabic texts from the Koran. What is written inside the mosque is in the Turkmen language. Texts from the Ruhnama, the important Turkmen book written by president Niyazov.
These days, people and guests of all ages come to see the mausoleum of the great leader and hero of Turkmenistan, Saparmyrat Turkmenbashy, who will live in the hearts of the Turkmen people forever as a symbol of humanism.
Silk Road & Central Asia
Caucasus Travel
Xinjiang China Travel is a branch of China Travel Agency Co. Ltd. (established 1987)
China Silkroad Travel Copyright © 2007. All Rights Reserved to Xinjiang China Travel. Design By: TravelCMS
Tourism Operating License: L--XB00212 Urumqi Tourism Bureau: 0991-2843661 We are the China Silk Road Travel Specialists! sitemap