Mausoleum of Turabek-Khanym
The largest building in the plain of Konye-Urgench was the Mausoleum of Turabek-Khanym. Turabek-Khanym was the daughter of Uzbek Khan who converted the area to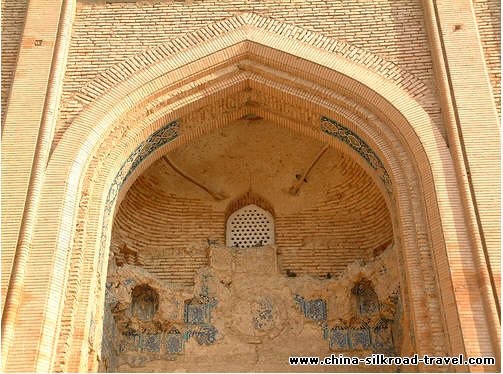 Islam. The building holds a mosaic of 365 interlocking geometric tiles that give the appearance of the night sky. There are arches and niches and tiling that suggest time keeping and calendar keeping.
Known as the pearl of Konye-Urgench, this mausoleum sports beautiful geometric patterns on its inside dome. There are 365 sections on the sparkling mosaic, 24 pointed arches, 12 bigger arches below that and four big windows (representing the weeks of the month). A plethora of symbolism in one tiled dome, by any measure... No one seems to know who is buried here, but the mausoleum is dedicated to the daughter of a Mongol Leader.
Turabek-Khanym was a real historic figure, a Mongolian princess, the favorite daughter of the governor of Golden Horde - Uzbek-khan and the spouse of his deputy in Khoresm Kutlug Timur. Turabek-Khanym was the patroness of women. Eventually she was canonized and declared a saint . The name of Turabek-Khanym was always surrunded by numerous romantic legends. According to one of them Turabek-Khanym promised to master Gulgardan, who was in love with her, to marry him if he constructed her a building the finest on the Earth. Gulgardan worked hard: the mausoleum he built, which later become a tomb of Sufi kings and her own, was flabbergasting; it still amazes with its accuracy of lines, wealth of interior decorations and beauty of multi-color ornaments. But the proud beauty did not fulfill her promise and preferred the governor of Khoresm Kutlug Timur. The deceived master could not cope with his dissapointment and threw himself from the top of the mausoleum.
The Mausoleum of Turabek-Khanym indeed became the most magnificent structure in the entire country. Amazing in its beauty and grace, it is the structure with the richest interior and exterior finish, with surprisingly open and light hexagonal hall with the area of about a hundred square meters, decorated with carved mosaic. It was crowned with a huge dome. It was, probably the most perfect dome in the entire Central Asian Turan. The dome is tied on the top according to the tradition of that time.

The inner part of the dome is covered by a fine mosaic panel with the ornament consisting of stars and flowers. The panel is a masterpiece of Oriental art which is equal to none in all medieval architecture. Long time ago above the building on a high drum with twelve apertures there was a dark blue glazed tabernacle. Unfortunately, it cannot be seen now: the structure was heavily damaged. But the tomb of Turabek-Khanym has always been the center of mass pilgrimage
Silk Road & Central Asia
Caucasus Travel
Xinjiang China Travel is a branch of China Travel Agency Co. Ltd. (established 1987)
China Silkroad Travel Copyright © 2007. All Rights Reserved to Xinjiang China Travel. Design By: TravelCMS
Tourism Operating License: L--XB00212 Urumqi Tourism Bureau: 0991-2843661 We are the China Silk Road Travel Specialists! sitemap