Altai Tavanbogd Natural Park
This stunningly beautiful park stretches south from Tavanbogd Uul and includes the three stunninglakes of Khoton Nuur, Khurgan Nuur and Dayan Nuur. It's remote area, divided from China by the high wall of snowcapped peaks, and known to local Kazakhs as the Syrgali region. All three lakes are the source of the Khovd Gol, which eventually flows into Khar Us Nuur in Khovd aimag. It's possible to make rafting trips down river from Dayan Nuur, though no agencies offer this at present. There are many archeological sites in the region. As the main road through the region swings towards the southern shore of Khurgan Nuur you can see a stupa-like construction and several burial sites. Nearby are balbal (Turkic stone statue) and the remains of a processional pathway. Further along the road is a wooden Khazakh mosque, with a ger-shaped roof. Further north-west, along the south-western shore of Khoton Nuur, the road deteriorates and there are several rivers ro cross as they flow into the lake. North-west of Khoton Nuur the mountain close in the there's some fine trekking possibilities.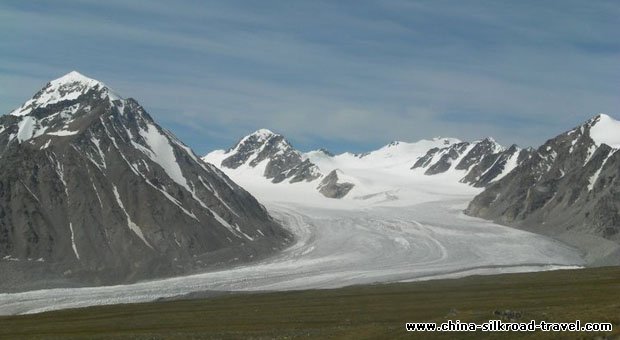 Tavanbogd (Five Saint) mountain rises 4374m above the borders of three nations, and for this reasons it is also known as Nairamdal (Friendship) Peak. If you it on the summit, you can simultaneously be in Mongolia, China and Russia. Tavanbogd is one of Mongolia's most spectacular peaks, of interest to professional climbers, and the only one in Bayan Ulgii to be permanently covered with large glaciers (including the 19 km long Potanii Glacier, the longest in Mongolia). It's fairly dangerous, and to climb it you need to be with an experienced group properly equipped with ice axes, crampons and ropes. Don't even consider attempting it solo. The best time to climb us July, August and September, after the worst of the summer rains. The massif is made up to five peaks (the five saints)- khuiten, Naran, Olgii, Buraed and Nairamdal – the highest of which is Khuiten (meaning 'cold') at 4374m.
Silk Road & Central Asia
Caucasus Travel
Xinjiang China Travel is a branch of China Travel Agency Co. Ltd. (established 1987)
China Silkroad Travel Copyright © 2007. All Rights Reserved to Xinjiang China Travel. Design By: TravelCMS
Tourism Operating License: L--XB00212 Urumqi Tourism Bureau: 0991-2843661 We are the China Silk Road Travel Specialists! sitemap