Turkistan
At Turkistan, 165kms northwest of Shymkent in the Syr-Darya valley. stands Kazakstan's greatest architectural monument and its most important site of pilgrimage. The mausoleum of the forst great Turkic Muslim holy man, Kozha Akhmed Yasaui, was built by Timur in the late 14th century on a grand scale comparable with his magnificent creations in Samarkand. Turkistan has no rivals in Kazakhstan for manm
ade beauty.
The whole city center consists of the historic and cultural reservation, Azret-Sultan. Aside from the mausoleum of Hodzha Ahmed Yassavi, the complex includes a preserved medieval bath, a hilvet were the great saint lived, the mausoleum of the great granddaughter of Timur Rabiyi-Sultan Begim, among other monuments. Among these, preserved by some miracle, is a house for underground meditation, Kumshik-Ata.
40 km to the North of Turkistan, among the dry steppes, also preserved by a miracle since the 17
th
century, are the picturesque ruins of the ancient town of Sairan, famous for the
Great Silk Road
.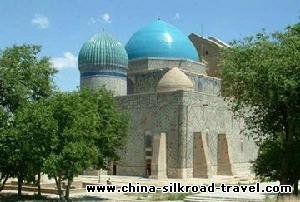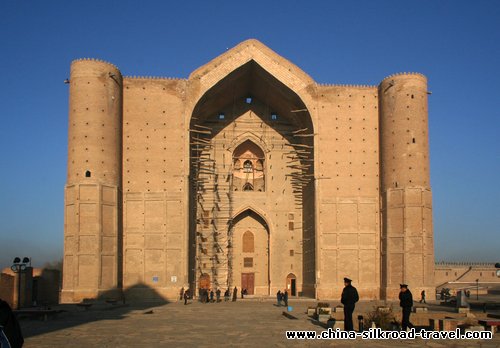 Deserving of mention among historical places is the Ordabasy rift, currently declared a historical reservation. Here, 30 km from Shymkent, at the beginning of the 18th c. Kazakhs united to resist invaders from Western Mongolia - the Dzungars.
There are monuments of architecture from the 19th c. in the region represented by mosques and medrassahs, among which is the distinguished architectural complex Appak-lshan, in the village of Charyn, as well as Orthodox churches built by Russian setters.In the steppe near Turkestan, on a hill, sits the Domalak-Ana mazar (tomb)(early 20th c.) It was built in honor of "the Great Mother Babishar, daughter of Aksultan ". Domalak-Ana was a clairvoyant noted for her prophetical talents. According to popular beliefs, the three Kazakh Zhuzes (tribes) are descended from her three grandsons Alban, Suan and Dulat. Dying Domalak-Ana asked to be laid on a white female camel.

Baidibek was a hero, who held a leading position in the unification of the Kazakh people and their struggle against their enemies. The mausoleum of Baidibek-Ata lies near the mausoleum of Domalak-Ana. Many people pay tributes of respect to their ancestors here.
Silk Road & Central Asia
Caucasus Travel