Kazakhstan Mosques
Nur-Astana Mosque , Astana
The Nur-Astana Mosque, is a mosque located in the city of Astana, the capital of Kazakhstan. It is the largest mosque of Kazakhstan and the biggest mosque in Central Asia. The 40-meter height symbolizes the age of the Prophet Muhammad of when he received the revelations, and the height of the minarets is 63 meters, the age Muhammad was when he died.
The mosque is located at the left riverbank in the city of Astana, construction first started in March 2005. The mosque was a gift in accordance with the agreement of the Kazakhstan President, Nursultan Nazarbayev and the Emir of Qatar, Hamad bin Khalifa. It has a capacity of 5,000 worshippers inside the mosque, including 2,000 for worshippers outside the mosque. The structure is made of glass, concrete, granite and alucobond measures.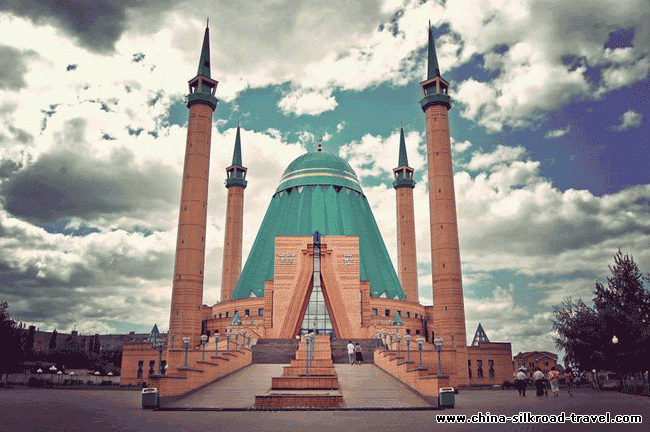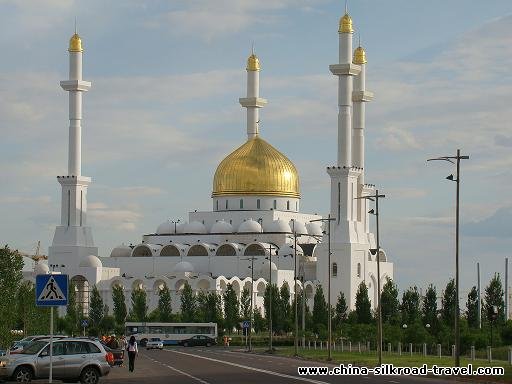 Great Mosque of Almaty
The Central Mosque was built in 1999 with public donations on the place of the small old one that had been functioning since 1890. It's the biggest mosque in the Central Asia for more than 3000 visitors. It is decorated with the local white marble and colored glazed tiles. The dome is 20 m diameter, 36 m height. The height of the minaret is 47 m.
A rectangular plan mosque with the entrance through an iwan into a central passage leading to the octagonal, dome-covered prayer hall. The mosque sits on a raised plaza.
The mosque is located on Pushkin street and is very closwed to famous Green Bazaar.
Pavlodar Mosque One of the main sights of Pavlodar is the architectural complex of the Main Mosque with 1500 seats and madrasah that is situated in the park with the 6 hectare area. It has basic entries from Kutuzov, Krivenko, Kairbaev streets.
Built in the city centre, the mosque has two prayer halls that can accommodate 1,200 men and 300 women respectively. It is adorned with an 8-axis star, a dome and 4 minarets. In addition to its religious facilities, it houses a school, wedding hall, Islamic culture museum, library, cinema, dinning room, and various other rooms. Monolithic iron concrete, brick, metal, alucobond, and aluminum were the primary building materials. The mosque has brought a new wave of spiritual and culture life back into the city and its architecture has influenced many other urban designs.Architect/Planner Tolegen Abilda
Date 2001
Century 21st
Decade 2000s
Silk Road & Central Asia
Caucasus Travel
Xinjiang China Travel is a branch of China Travel Agency Co. Ltd. (established 1987)
China Silkroad Travel Copyright © 2007. All Rights Reserved to Xinjiang China Travel. Design By: TravelCMS
Tourism Operating License: L--XB00212 Urumqi Tourism Bureau: 0991-2843661 We are the China Silk Road Travel Specialists! sitemap