SVANETI
SVANETI – TRAVEL IN THE PAST
A visit to Svaneti is one of Europe's last great adventures. The highest peaks of the Greater Caucasus tower at over 4000m, without a single ski-lift, luxury hotel or advertising hoarding to be seen. What you'll find instead is excitement, breath-taking views, pristine mountains, deep gorges, gushing rivers… and roads which are definitely not for the nervous driver!
Svaneti is a landscape of high snow-capped peaks, forested hills and spectacular valleys. Winding roads lead to hidden villages dotted with mediaeval watchtowers. There is something about the region that makes you feel as if time has stood still. The people of Svaneti are a race apart - the pace of life is different there, they have their own language and traditions, their own architectural styles, and for them ancient customs are still very much a part of everyday life.
Upper Svaneti is a UNESCO World Heritage Site!
Mestia is the administrative centre of Svaneti and a good place to become acquainted with the unique culture of the region. One of the typical Svanetian watchtower houses is open to the public, while the Museum of History & Ethnography has an excellent exhibition on Svanetian life as well as a superb treasury of mediaeval icons and processional crosses.
Ushguli - Built at an astonishing 2400m above sea-level, Ushguli is the highest permanent settlement in Europe and one of the most scenic spots in Georgia. The village's many mediaeval watchtowers are set against a background of alpine meadows, above which the great peak of Mt Shkhara towers at a height of 5068m - the highest in Georgia. The 12th century Lamaria church set against the backdrop of this snow-capped giant is a sight you will remember for the rest of your life.
Churches in Svaneti - With very few priests, but many of the so-called "family churches", Svaneti once again reminds us just how independent and self-sufficient the Svan people are and how their cultural and religious practices differ from those of the rest of Georgia. Painting the interior of the church is a centuries-old tradition, but in Svaneti frescoes are found outside the church as well and this is what makes the region unique. Visiting the medieval Lenjeri church, painted inside and out, you will understand that for the Svan people the church is much more than just a place of worship.
Highest peaks in Svaneti – Shkhara 5068m, Ushba 4700m, Tetnuldi 4617m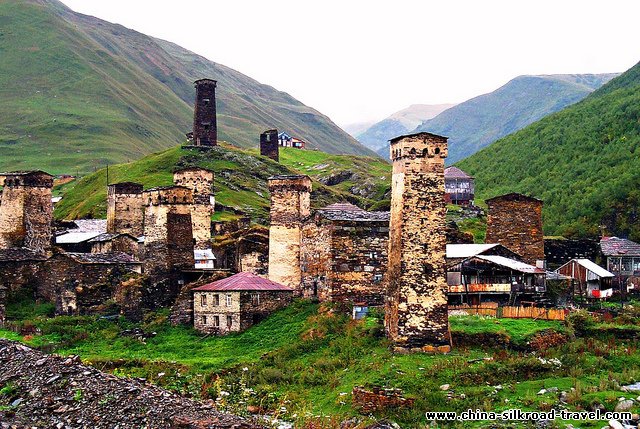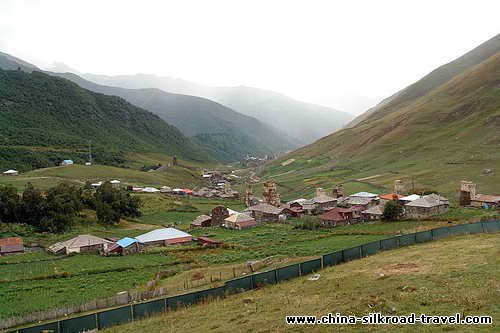 Silk Road & Central Asia
Caucasus Travel