11 Days Silk Road Tour
Client Name:Nieves
Country:Spain
Pax:2
Itinerary:Lanzhou-Jiayuguan-Dunhuang-Turpan-Urumqi-Kashgar-Tashorgan County
Group Code:

First of all, we want to say thank you for your services. We enjoyed the trip, discovering an amazing new part of China we had not been before and it is worth visiting.
Having said that, we would like to send you some feedback about our experience:
Travel Guides and Drivers: We believe that the quality of the guides and drivers is quite good. They provided us explanations when it was necessary and we were able to have time for ourselves when required. These are qualities we like in travel guides. Our schedule was a little bit tight but they knew how to visit all the spots with time enough to enjoy and take pictures. In a scale from 1 to 10 our impression was 8 for both, travel guides and drivers. So that was pretty good.
We also want to tell you that we are going to recommend your services to our friends and relatives, for sure. Because we think you are very professional and high standard travel agency and we have realized that you take very seriously the opinion of your customers and that is very important to us.
Thank you very much, good luck and best regards
Nieves and Julen
By the way, you can use some pictures of ours for your website, but please, use only the ones in which we look good ;)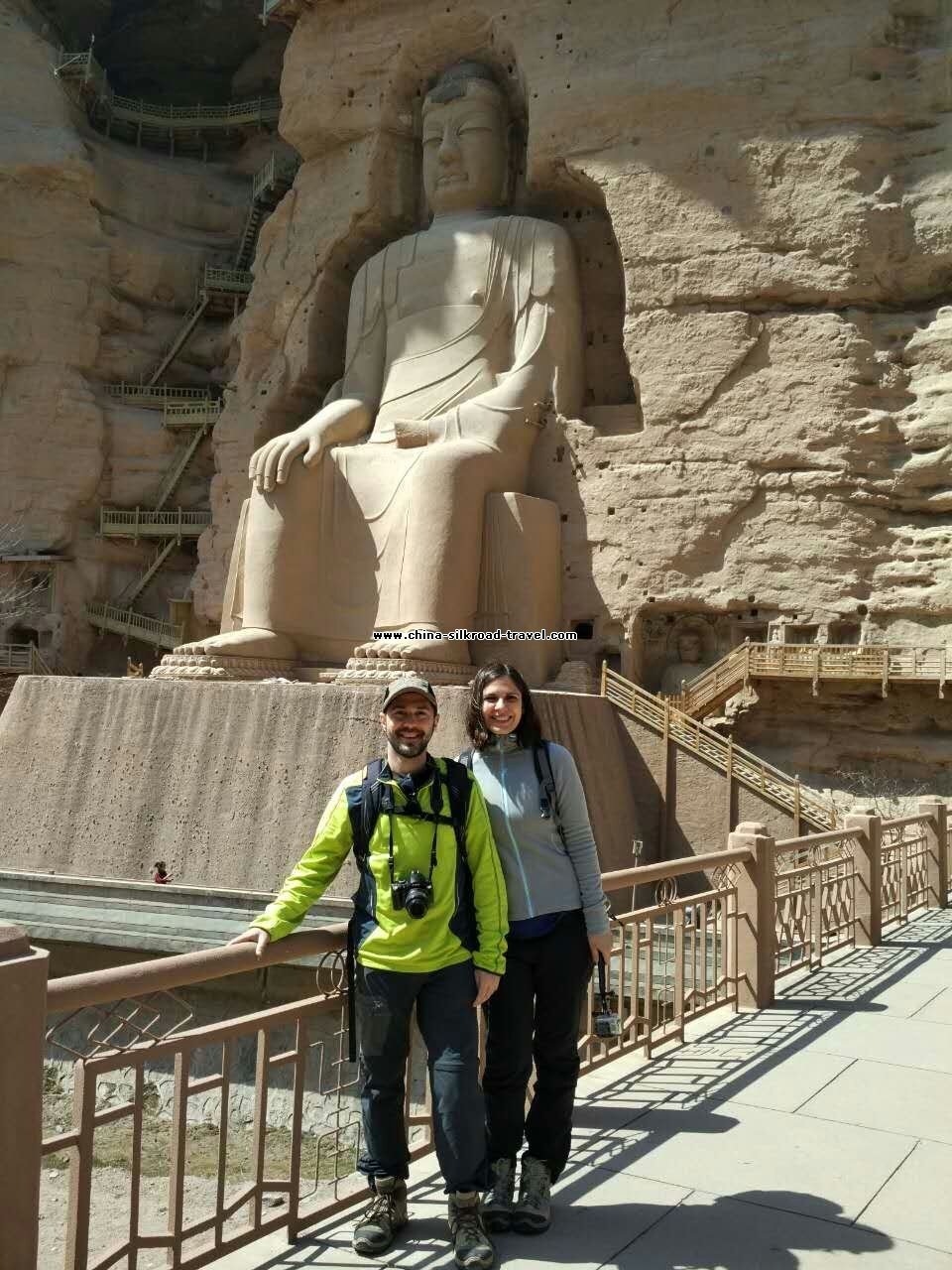 The following are their Itinerary
25th Mar

Shanghai/
Xi'an
Car/
Take the flight MU522 to Xi'an (21:15-23:45),check in to the hotel on your own
Will be informed
26th Mar

Tianshui
Our guide meet you in the airport JR1549(09:25-11:05) and then head to visit Maijishan Grottoes,.and after lunch take the train to Lanzhou.
Lanzhou Hotel
27th Mar

Lanzhou/
Jiayuguan
Train
Meet our nice guide and then visit the Binglingsi Grottoes Buddha Caves. after dinner take the soft sleeper train to Jiayuguan
Train(soft sleeper)
28th Mar

Jiayuguan/
Dunhuang
Car
Meet our guide at train station, have breakfast in the hotel. Visit The Jiayuguan Pass,After breakfast head to Dunhuang. Visit the Yulin Grottoes en route and visit the Shazhou Night Market upon arrival.
Yangguan Hotel
29th Mar

Dunhuang/Turpan
Car
After breakfast visit the Mogao Grottoes , Echoing-Sand Mountain and Crescent Lake.And then be transferred to the railway station to catch the express train to Turpan.
Karez Hotel
30th Mar

Turpan/
Urumqi
Train
After breakfastl Visit Tuyoq Village,Flaming Mountain,Karez Well, Grape Valley,Jiaohe Ancient City.and head to Urumqi and visit Grand Bazaar
Jingu Hotel
31st Mar

Urumqi/
Kashgar
Car
Flight
After breakfast head to visit the Heavenly Lake ,then take the flight to Kashgar.
Seman Hotel
1st April

Kashgar/
Taxkorgan
Car
After breakfast drive about 4hrs (240kms) on the China and Pakistan highway (Karakom Highway) to visit the Karakul Lake and enjoy the Pamir landscape, where you will have lunch and then head to Tashkorgan county.
Beileixing Hotel
2nd April
Taxkorgan /Kashgar
Car
After breakfast visit the Stone City.and then back to Kashgar
Seman Hotel
3rd April

Kashgar
Coach
Today you will have the opportunity to visit the famous livestock market of Sunday bazaar, Then visit Apak Hoja Tombs and walking in the old town, Idigar Mosque and Handicraft street.then we suggest the long-sleeved clothes for you today for visiting the mosque.
Seman Hotel
4th April
Kashgar/
Car
After breakfast you will be free and our driver will meet you in the hotel lobby at 14:00pm, and please check out the hotel on your own around 13:50,airport transfer. MU5634( 15:55-23:20)