17 Days Xinjiang and Dunhuang Tour
Client Name:Jaume
Country:Spain
Pax:4
Itinerary:Urumqi-Turpan-Kashgar-Taxkorgan-Hotan-Minfeng-Kuqa-Dunhuang-Jiayuguan
Group Code:CITA-0730

Hi Lesley,
Back home, we write you to thank the guides, drivers and you for the very good and professional work that we have enjoyed during our journey.
We have discovered an beautiful and amazing part of China with incredibles ancient cultures, with very friendly people, with delicious food, with prettyu landscapes...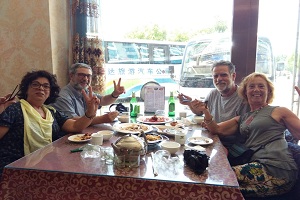 Also, we want to make some comments about certain aspects that we think may be positive for you thinking about future trips of another people:
- Due the security checkpoints, speed limits and because the police mandate the drivers rest. It would be positive that you adjust this times with the purpose of planning better the route and schedule.
- The day Mingfeng-Kucha (750 km aprox.) crossing the desert it's too hard for only one driver. He must stop and rest because otherwise he can fall in sleep with the obvious dangerous consequences. We have found cycle-tourists who cross the desert in five days and they sleep in the blue workers houses. We don't know but maybe it's possible too divide this 750km in two days with overnight in those houses.
We are completely satisfied about your services and your kindly attention all the time, the above comments are only as suggestions.
Thank you very much!!!
We hope that you have a nice day and a succesfull present and future for your company.
Best regards!!!!
Jaume Fado, Maria Josep Guixot, Josep Valles & Ursula Vinolas