Binggou Danxia Landform
Situated on the edge of the
Silk Road
( 丝绸之路 ),
Binggou Danxia Landform
( 冰沟丹霞 ) in Sunan Yugur Autonomous County ( 肃南裕固族自治县 ), Zhangye ( 张掖 ), northwest China's Gansu Province, has a spectacular Danxia landform that covers an area of more than 300 square kilometers. Compared with the
Zhangye Danxia National Geopark
( 张掖丹霞国家地质公园 ), the color of Danxia is relatively simple and has a little different. However, the most prominent feature is that the shape of the Binggou Danxia Landform is unique, with various styles of modeling, and the scale is quite spectacular.
Binggou Danxia is the most significant geological and geomorphic relic of the window lattice palace in China, mainly composed of sandstone geomorphic relic landscape. It is the geological naming place of " Window Lattice Palace Danxia," and rated as "The Head of Danxia in Chinese window lattice Palace." Danxia precipices, stone columns, Aiguilles, and hills are distributed in this region. The narrow ridges in the Ice Valley are all pointing to the sky, making this valley the Red Stone Forest of the Great Northwest. From a distance, the rolling hills look like temples, pagodas, and figures of Buddha, making the valley a natural Buddhist land.
Binggou Danxia is known as the "No.1 wonder in the world"
; it has been rated as " one of the most beautiful Danxia Landforms in China" by China Geographic magazine and the U.S. National Geographic magazine, and one of the "top 10 magic geographical wonders in the world".
How was the Binggou Danxia Formed?
Binggou ( Ice Valley, 冰沟 ) Danxia
, with an altitude of 1500-2550m, as an ancient geomorphic development happened in about the Jurassic period. It is a result of red sandstone erosion, together with its geological structure and long-term desert conditions, wind and water erosion. During the mid-Cretaceous age, iron and other elements contained in the sediment started to exchange and oxidize, which formed different layers of colors in different strata. It is cut by vertical or high angle cleavage. Under the comprehensive action of differential weathering, gravity collapse, water dissolution, wind erosion, etc., it forms a castle-like, pagoda-like, needle-like, column-like, rod-like, mountain-like or peak forest-like terrain with cliffs.
Zhangye Overview:
Zhangye 张掖, located in the northwest of Gansu Province 甘肃, China, in the middle of Hexi corridor 河西走廊. It was called "Ganzhou 甘州 " is known as "the land of mulberry and hemp 桑麻之地" and "the land of fish and rice 渔米之乡." Zhangye is one of the famous historical and cultural cities in China, and it is an essential route for connecting China to the Western world in Gansu Province via the Silk Road.
Must see in Zhangye Binggou Danxia Landform:
The area of the Binggou Danxia Scenic spot is vast, and the developed part of the Scenic Area is about 10 kilometers.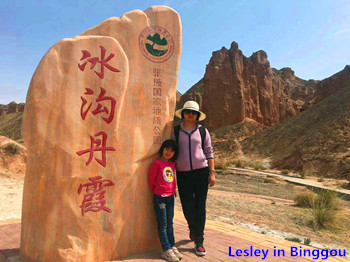 Tourists can take sightseeing buses to visit Xiaoxitian 小西天 and Daxitian 大西天, each of which has a large sightseeing area. Tourists need to walk along the sightseeing trail to the observation platform on the mountain to shoot or sightsee. It will take about half a day to visit the whole scenic area.
· Xiaoxitian ( 小西天 )
The first stop is the Xiaoxitian, it has a 1-kilometer walk stool, and you can visit the sightseeing platform, it takes about an hour to visit. Furthermore, there are several famous sceneries in Danxia landscapes, such as camel greeting, Loulan merchant camel, the root of the earth, God guard and maid worship Buddha, these landscapes are very picturesque. When you walk to the sightseeing platform at the end of the trestle road, you can enjoy the reddish Danxia landscape around you and take a panoramic picture. After the tour, you need to return to the sightseeing bus parking spot and take a bus to the next area.
· Daxitian( 大西天 )
Daxitian is the essential scenic area of the Binggou Danxia Landform. The main beautiful places are the Blissful palace 极乐宫, Braha Palace 婆娑宫, Liuli Palace 琉璃宫, the Left-handed Conch 左旋法螺, and Golden Camel 金驼, to name just a few. The view in this area is very splendid, and it is also the paradise of photographers.
Opening Hours & Entrance Fee
Opening Hours
Peak season
1st May to 10th October ( 6:00 to 20:00 )
Off-season
1th October to 30th April ( 7:00 to 19:00 )
Entrance Fee
CNY 60 ( Including Shuttle Bus )
Recommended Time For Visit
1 - 3 Hours
The Ethnic Minorities & Customs in Zhangye Binggou Danxia Landform:
Yugurs ( 裕固族, In Chinese )
are ethnic minorities in Gansu Province, China, about 14378 people (the sixth national census in 2010), the descendants of Uyghurs. They have no written language and are fluent in Chinese. Yugurs believe in Tibetan Buddhism, mainly engaged in animal husbandry and agriculture; Yugurs advocate horse riding and archery.
Climate and Weather of Zhangye:
Zhangye is a typical temperate continental arid climate, with long sunshine time, sufficient light and heat resources, cold winter and warm summer, four distinct seasons plus little precipitation, and the average temperature is about seven degrees Celsius. The annual rainfall is 130 mm. June to September is the best time to travel to Zhangye, because, at this time the rain is relatively concentrated and the humid air will make people feel more comfortable.
Annual Temperature of the Year/℃ ( High-Low )
Jan.
Feb.
Mar.
Apr.
May
Jun.
-2/-15
-2/-10
15/-2
15/1
25/19
28/14
July
Aug.
Sept.
Oct.
Nov.
Dec.
31/17
30/15
22/5
15/0
6/-10
3/-16
Best Time to Visit Binggou Danxia Landform:
Every Summer to Autumn ( June - September ) is the best time to visit Zhangye Binggou Danxia Landform. During the rainy season, the water can cool you from the summer heat and add moisture to the air.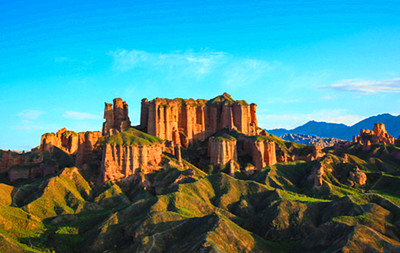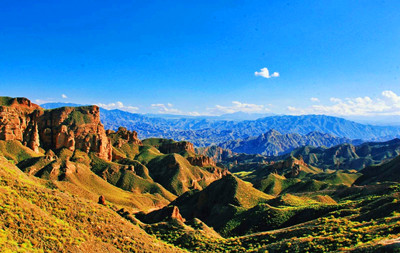 How to Get to Binggou Danxia Landform
There are three ways to get to the Danxia geopark: Flight, Train, and Bus
a) Arrive at Zhangye Bingggou Danxia By Air:
·
There are direct flights from Zhangye to Lanzhou 兰州, 西安, Urumqi 乌鲁木齐, and Dunhuang 敦煌 ( the airfare is from 300 -1000 CNY/pp include tax).
·
Zhangye Ganzhou Airport ( 张掖甘州机场 in Chinese ) is about 80km away from Binggou Danxia Landform, which takes 1 hour and 20 minutes to drive.
·
Zhangye Ganzhou Airport is a dual-use military and civil airport serving the city of Zhangye in Gansu Province, China. It is located 24 kilometers from the city center. Construction began in May 2010 to convert the airbase to a dual-use airport. The airport was opened on 1 November 2011.
b) Arrive at Zhangye Danxia By Train:
·
Zhangye West Railway Station, located in Zhangye City, Gansu Province, China. It operates the high-speed trains to/from Xi'an, Lanzhou, Urumqi, Jiayuguan.
·
Zhangye West Railway Station is about 3 km from the city center, about 52 km from Binggou Danxia Landform.
·
The train far from Lanzhou to Zhangye is 200-300 CNY/pp include tax.
c) Drive to Binggou Danxia Landform:
·
Starting from Zhangye City to the West, drive into S213 Zhang Su ( Zhangye to Sunan ) Highway, West to Xindun town, and Ganjun Town, continue straight West to the destination [Binggou Danxia scenic area].
·
Tourists can take bus No.4 to Binggou Danxia. Departure time: 7:30-6:30, fare: 11 yuan, get off at the Binggou Danxia Scenic Spot.
Zhangye Binggou Danxia Tips:
1. Zhangye has a dry climate, and it has intense ultraviolet and sunshine on sunny days. It is suggested to prepare sunscreen and dust-proof equipment such as sunshade caps, sunglasses, and headscarves.
2. Shopping in the scenic area is inconvenient, so the tourists are also suggested to take some snacks and drinks, etc.
Related Tour Package to Binggou Danxia
Day Tour to Zhangye Danxia Landform
We are having a full day to explore the two most typical Danxia Landform in Zhangye. Discover the magnificent Binggou Danxia with palace style, and enjoy...
More