Xinjiang Overland Tours
Situated in the middle of Asia, Xinjiang is a vital gate way of the Silk Road, As a meeting place of the great cultures of East and West..There are 47 minorities, every ethnic group have their own culture and folklore which are unique and fascinating beautiful clothes, marvelous festival and their attractive celebration.Xinjiang is attracting more and more tourists from all of the world with its unique folklores and landscapes as well as the colorful tourism resources. We promise you an unforgetable tour for everyone of you
More Details

Duration: 12Days from: US$1550

Destinations: Kanas-Bayinbuluk-Kuqa-Turpan

Private transportation with good AC (19-33seats) Excellent English/China Speaking guide service. Meals listed in the itinerary (Full board meals: 11breakfast +10lunches+10dinners) Hotels listed in the itinerary with breakfast (twins shared room) Entrance fee listed in the itinerary (All Shuttle bus i...
More Details

Duration: 14Days from: US$3600usd

Destinations: Kashgar,Yecheng,Hongliutan,Nagri,Zhada,Tarchen,Saga,Lhatse,Shigatse,Lhasa

The Xinjiang-Tibet Highway is probably the most difficult route among the four roads. It's very remote and its average altitude is even higher than the Qinghai-Tibet Highway. However, the unique scenery along the road draws many people to risk the difficulty of the journey. Driving along the Xinjia...
China Silk Road Adventure
More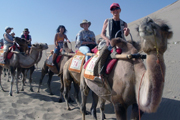 10 Days Silk Road Travel from Urumqi to Bishkek via Kashgar ( from US$ 1278 )
Destinations:

Urumqi,Turpan,Kashgar,Torugart Border,Naryn,Bishkek

11 Days Silk Road Travel from Kashgar to Beijing ( from US$ 1598 )
Destinations:

Kashgar,Urumqu,Turpan,Dunhuang,Xian

9 Days Classic Silk Road Travel ( from US$ 1483 )
Destinations:

Lanzhou, Jiayuguan, Dunhuang, Turpan, Urumqi, Kashgar