China Silk Road Tour
Client Name:Chunglau
Country:America
Pax:14
Itinerary:Urumqi-Turpan-Dunhuang-Jiayuguan-Zhangye-Lanzhou
Group Code:Private tour

We got back from a wonderful 10 day/9 night tour of the Chinese Silk Road cities. Since our tour was in early to mid-October, we started from Urumqi,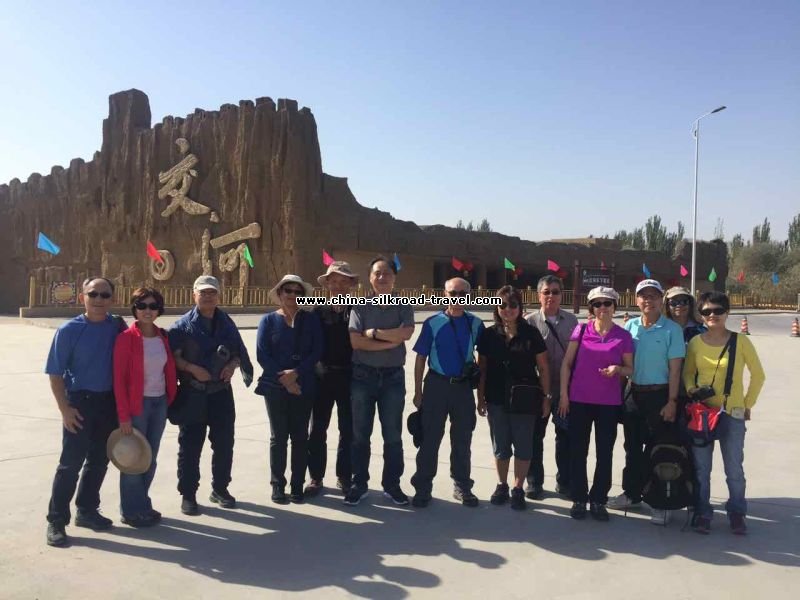 and traversed the Hexi Corridor in the east direction, stopping in Turpan, Dunhuang, Jiuquan, Jiayuguan, Zhangye and ended in Lanzhou. We have a group of 14, and arranged a private tour with CITIC Xinjiang, one of the major tour companies in Xinjiang. We spent a lot of time choosing a tour operator, and fortunately picked a great one. We worked with Lesley, and she was very organized, and addressed all our concerns quickly. I could not recommend her enough. The total cost turned out to be less than the pre-packaged tours sold by many travel agents.
The biggest advantage of forming our private tour is that we picked all the hotels and the restaurants. We ordered the food in every meal from menus, and there were no standard preset tour meals on our trip. The tour guides, and we had three of them, one for each segment of the trip, were all top-notch. They knew which are the important and interesting places to see, and kept us from tourist traps (like Flaming Mountain in Turpan). We also travelled in very comfortable buses, as well as on the excellent high-speed rail system. We took full advantage of our flexible schedule, and got to the attractions at the best times of the day. Also, mid-October is the best time to visit China, with smaller crowds everywhere and much nicer weather. Try to avoid big crowds at all costs!
I have visited China several times, and this trip is my best experience, by far. The attractions on the Silk Road are very interesting, unless you have no interest at all in history. Of all the cities, I enjoyed Dunhuang the most. The Mogao caves are very impressive, and the Mingsha Dunes were magnificent. The Silk Road Dunhuang hotel, in front of Mingsha Dunes, is probably our favorite hotel on this trip. But all the cities have wonderful and unique attractions, with good hotels and restaurants.
My recommendation is to go with a private tour, avoid national holidays or summer travel peaks, stay in good hotels, choose good restaurants, and be flexible with schedule. This is a once-in-a-lifetime kind of tour!
Contact Center
xinjiangtravel@hotmail.com
silkroadtrip@hotmail.com