GEORGIAN MILITARY HIGHWAY
North from Tbilisi and up though the Caucasus to the Russian border runs the famed Georgian Military Highway, celebrated by poets and feared by military leaders over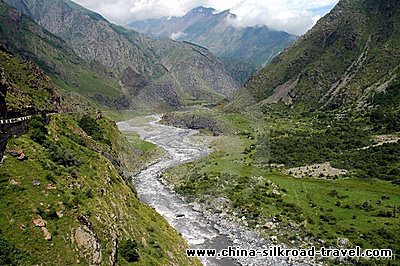 many long centuries. It has served as an important link between Europe and Asia since ancient times, though it was only after Russia's annexation of east Georgia in the 19th century and the subsequent improvement of the track for troop movements that it became known as the "Military Highway". Today it serves as the best route via which we can enjoy the dramatic scenery, crystal-clear air and indescribable grandeur of the mighty Caucasus Mountains.
The fortified church complex of Ananuri
(17th century) is undoubtedly one of the most attractive sights along the Georgian Military Highway. The mirrored surface of the Zhinvali reservoir and forested foothills of the mountains provide a picturesque backdrop for its handsome towers and battlements.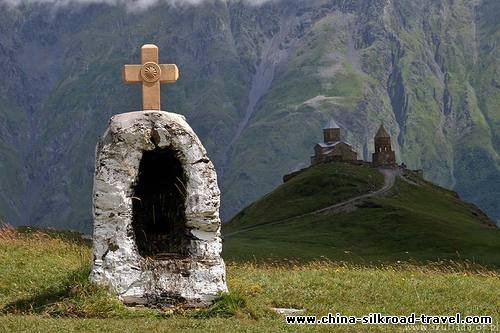 Cross Pass at 2395m is the highest point on the Military Highway. The pass gets its name from a red cross put here by Russian General Yermolov in 1824 to replace the one originally placed here by King David the Builder in the 12th century
A pleasant walk from the town of Kazbegi brings you to the much-photographed 14th century Gergeti Trinity Church, set against the perpetually snowy peak of Mt Kazbegi at an altitude of 2170m. The path takes a varied route through wildflower meadows, deciduous woodland and conifer belts, providing a changing tapestry of flora and fauna as you walk
Mount Kazbegi – In Georgian known as Mkinvartsveri ("Ice-Top"), this perpetually snow-covered giant is, at 5047m, one of the highest peaks in the Caucasus. Kazbegi is steeped in legend: the ancient Greeks believed that Prometheus was chained to the rocky flanks of the mountain as a punishment for stealing fire from the Gods and giving it to mortals, while Christian legend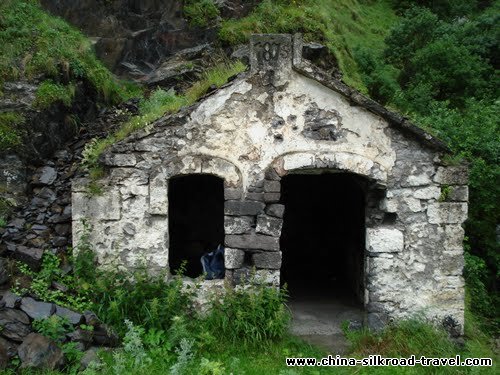 tells that the manger of Christ was brought to Kazbegi and is still hidden somewhere hereabouts. Whether you believe these tales or not, climbing the mountain is sure to be an unforgettable experience.
Dariali Gorge – one of the most spectacular gorges along the Tergi river stretching from the town of Kazbegi to the Georgian-Russian (North Ossetian) border. The name comes from the Persian 'Dar-y-Alan' meaning 'Gate of the Alans' as the gorge marked the beginning of the territory of the ancient Alans – ancestors of the present-day Ossetians.
Sno Gorge – Located in Khevi province Sno gorge is a popular place among hikers as it gives you the chance to enjoy breath-taking views, virgin nature and get to know the every-day life of locals. A little path through the gorge will take you to another attractive part of the Caucasus – Khevsureti region.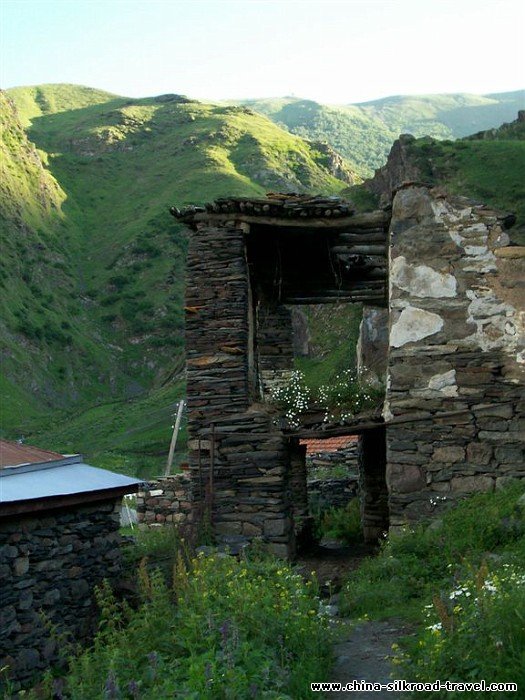 Truso Gorge – The wonderful scenery of Truso gorge is sure to make an unforgettable impression on you. You will see some remote villages with defensive towers as you travel alongside the Tergi river. The area is also rich in mineral springs that flow down the rocks and change their colour.
Khada Gorge is famous for its beautiful nature and a number of watchtowers.
Silk Road & Central Asia
Caucasus Travel
Contact Center
xinjiangtravel@hotmail.com
silkroadtrip@hotmail.com